An abundance of news, insightful interviews, a revealing research study, a particularly notable product demonstration and even a few predictions about the future were the highlights of Aruba Networks' Atmosphere event. The main takeaway, though, was that the world is changing and businesses better be ready.
Held in Algarve, Portugal, Atmosphere 2016 was a large event in every meaning of the word, virtually taking over several resorts to house its 1500 strong participants over its duration. An abundance of keynote sessions, demonstrations and industry sessions was matched just by the breadth of the implications of its pronouncements on the digital workforce and the implications ahead for enterprises, and working life, alike.
Looking back and looking ahead
Dominic Orr, the president of HP Enterprise (HPE) Aruba (Aruba Networks), began by highlighting a few examples of how much has changed in the IT industry as well as in the world at large in a mere year. Just one example given was Tesla, which has made much noise about driverless cars; a scenario that not too long ago was seemingly reserved for science fiction movies. More importantly though, Orr pointed out that Tesla's approach to vehicles has demonstrated the dominance of software over machinery, with users being able to download greater driving capabilities merely by updating their car.
However, the role of both software and network connectivity, extends far beyond the borders of the road, with significant ramifications for businesses and workers.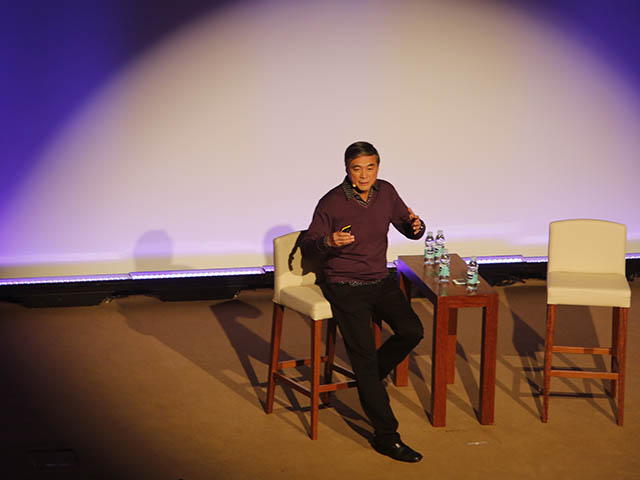 Dominic Orr, president of HP Enterprise Aruba.
The next generation
More specifically, enterprises need to contend with the scope of the digital workplace and what the company dubbed GenMobile (generation mobile). Contrary to the natural assumption, this doesn't necessarily refer to millennials exclusively, but rather to early adopters of technology, as opposed to those who prefer a wait and see approach to the latest technology (referred to as laggards). The digital workspace, meanwhile, was described as being a space in which constant connectivity was available, fostering collaboration for purposes of innovation, with familiar elements, like hotdesks, offering workers the fluidity to collaborate as and how the need arose.
Chris Kozup, vice president of Marketing at Aruba, explained that GenMobile employees are a demographic not identified by age or the year they were born, but are better defined by their reliance upon and affinity for mobile devices. "Not only are early adopters more valuable employees, the views they hold today may well become the majority view in the future as mobile technology becomes even more widespread. CIOs would therefore be well advised to take note of and address their concerns," he stressed.
Numbers don't lie
According to a new study, sponsored by Aruba Networks and done by The Economist Intelligence Unit (EIU), GenMobile were found significantly more likely to report that mobile technology makes them more productive (72% of this group agree with this statement, compared to 50% of laggards), satisfied in their jobs (59% versus 48%), creative (52% versus 40%), and loyal to their employer (44% versus 31%). In an era where there is a virtual war going on for attracting and retaining top talent, it is the latter statistic that may well drive enterprises to make mobility and digital workspaces a top priority.
This is not the only reason to take the digital workplace seriously though. GenMobile respondents are also more demanding, with 40% saying they would never work for a company that did not allow them to use their own mobile devices for work, compared to 22% of all employees.
Kozap noted that companies are only as good as their talent, pointing out there is a risk of employers missing out on huge talent pools through not addressing mobility in full. "The way we work is changing to suit the needs of GenMobile and if companies do not stay ahead of the curve they may inadvertently be creating less productive working environments that are overlooked by the best candidates," he warned.
Chris Kozup, vice president of marketing, Aruba Networks.
A perfect storm of change
Further compounding the push to a mobile workforce is another phenomenon, reminiscent of a perfect storm. Orr explained that the next generation of workers is crossing paths with three major streams of technology innovations - mobility, cloud and the Internet of Things (IoT).
"It's imperative now when creating a digital workplace to consider how a business can increase collaboration, with a mobile first approach that enables productivity and enhances the customer and employee experience," he explained.
"However, how one combines mobility, cloud and IoT tech is a front and centre concern for any IT company that wants to remain relevant," Orr asserted.
What quickly became apparent is that these trends are far from being the hype they were once accused of, but rather genuine influencing factors on the workplace of the future. With this overview laid out, the attentions then turned to specific products launched by Aruba Networks, and pragmatic ways of enabling the digital workplace (continued in Unpacking the Products).
However, by the end of the first day of the conference, already the old, restrictive ways of working that have become de rigeur for so long looked like dinosaurs in comparison to the picture painted of how work can be approached in the 21st century.