BlackBerry first broke the news of its collaboration with Samsung late last year, as the company aimed to realign itself within the Enterprise Mobility Management (EMM) space. Part of that process lies in making BlackBerry's enterprise solution, BES12 (the latest iteration to date), a wider cross-platform offering.
A Natural Partnership
To that end, BlackBerry sought to partner with Samsung, and more specifically with the Korean company's KNOX enterprise management tool. As such, now all EMM environments utilising BES12 will now have full cross-platform functionality with KNOX, which should help corporate IT deal more effectively with the pervasive nature of BYOD, according to BlackBerry.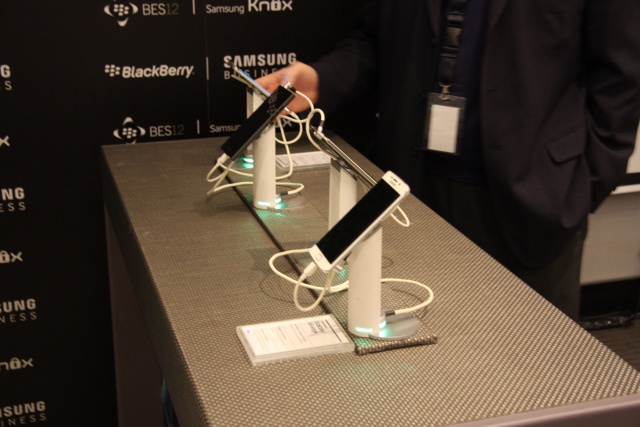 Speaking yesterday, representatives from both organisations discussed how the collaboration came about, and what the business advantages it will hold for enterprises moving forward.
From BlackBerry's side, Nader Henein, regional director of Advance Security Solutions, was called upon to go through each aspect of BES12, and what makes it a prized asset for companies to implement. Billing BlackBerry as a "mobility-focused" organisation, Henein explain that the confluence of devices in the workplace environment now makes security and protection of business assets and tools all the more important. Currently, BES12 is a solution that caters to that, and with the integration of Samsung's KNOX, it further enhances that position, according to Henein.
Speaking on behalf of Samsung was Paulo Ferreira, enterprise mobility director of Samsung Mobile South Africa. Along with taking attendees through the KNOX workspace and the different layers of its Android-based security protection, he also enthused about the potential that this new partnership holds. The collaboration between BlackBerry and Samsung means that the range of devices entering the workspace (smartphones, TVs and wearables) can be controlled to a greater degree.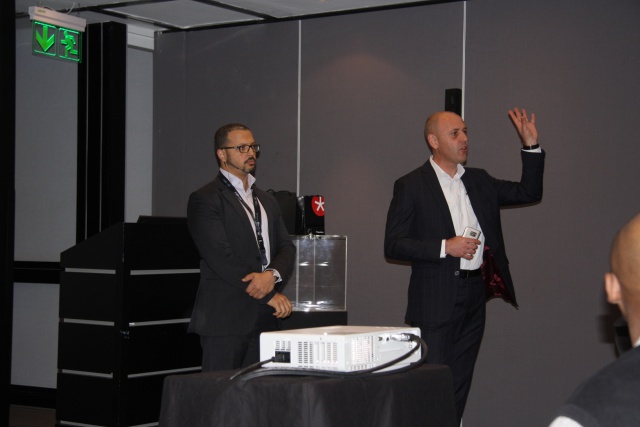 Nader Henein (left) and Paulo Ferreira (right).
Greater Enterprise Offering
As far as the implications for enterprise customers goes, they will have a new choice. An integrated, end-to-end secure solution that brings together BES12 as a cross-platform EMM solution by BlackBerry, and Samsung Galaxy devices embedded with Samsung KNOX.
"We shared the goal to provide enterprises with the most secure mobility solutions through this partnership with BlackBerry," said Injong Rhee, senior vice president of KNOX Business Group at Samsung Electronics. Rhee adds, "Samsung KNOX is focused on delivering secure mobility solutions to enterprises and, combined with BES12, we now offer more options for customers that need enhanced levels of security on Android devices."
"BlackBerry has developed a very close partnership with Samsung and we're committed to deepening the interaction between our engineering and product development teams for the long-term," notes John Sims, president of Global Enterprise Services at BlackBerry. "It is a natural progression in our path to providing our customers with more alternatives to meet their evolving mobile needs. Samsung KNOX offers a number of hardware and software security features, and our partnership allows us to tightly integrate these capabilities with BES12," Sims concludes.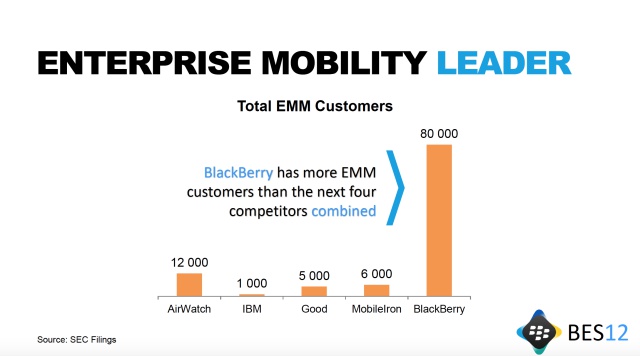 With regard to service delivery, Samsung will resell BES12 to joint customers and BlackBerry will offer KNOX support as part of their Gold family of BES12 subscriptions. Pricing will be announced upon availability later this year. For more information on BES12, visit. www.BlackBerry.com/bes12.