Canon Europe today announces the launch of the imageRUNNER 1435 series, which consists of two new compact A4 black and white multifunctional devices (MFDs) to address the document and cost challenges of busy small workgroups.
Rayner Botha, product manager: Office and Laser at Canon South Africa comments: "Businesses today are increasingly looking for operational efficiencies. In addition to a lower total cost of ownership, the new imageRUNNER 1435 series removes the administrative and management burden of print and streamline document workflows to reduce the total cost of print. This allows our customers to save valuable time to focus on business priorities."
Streamline document handling and printing
The new imageRUNNER 1435i and 1435iF combine the core functionality of print, copy, scan, send and fax (imageRUNNER 1435iF only) in a single compact and robust device which can easily handle peak workloads of up to 60,000 pages a month with speeds of 35ppm. To optimise workflows, the devices allow users to capture paper documents into searchable digital format and send directly to a range of destinations removing the need for any PC-based processing.
The imageRUNNER 1435 series also offers extensive connectivity options for mobile workers, from printing and scanning to USB to a range of mobile printing solutions, giving users more flexibility in accessing and printing documents.
Easy management and administration
The new MFDs come with a separate toner and a user-replaceable drum, making them an ideal cost-effective solution for busy workgroups. As with the imageRUNNER ADVANCE range, the new imageRUNNER controller allows easy and efficient management of the devices. Remote service capabilities for automatic toner management, diagnostics and meter collection remove back-office burdens from customers.
For larger fleets, the imageRUNNER 1435 series also includes remote batch configuration and firmware updating capabilities to provide simple and consistent fleet management. Embedded compatibility with the industry's leading output and capture management software uniFLOW enables businesses to centrally recover, allocate and control print costs across a fleet.
Newly added native support for industry standards such as PCL and Genuine Adobe PostScript 3 allows the devices to be integrated with customer IT environments without complication.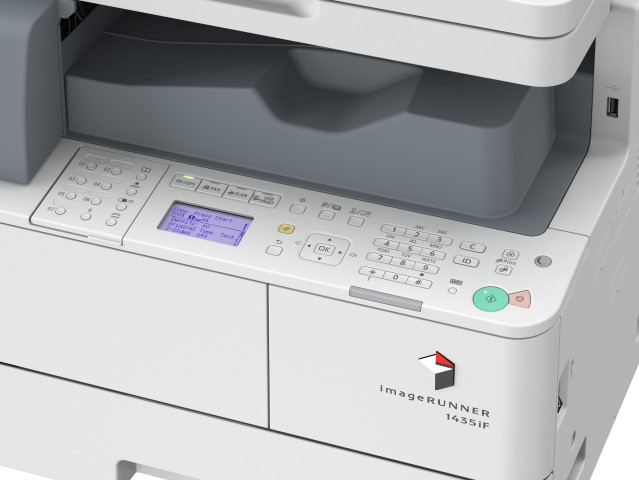 The Canon imageRUNNER 1435if
Secure confidential information
To help organisations reduce the risk of print-related data breaches, the new devices also incorporate secure printing, iPSec, Department ID and authorised send as standard. The option to encrypt PDF documents has also been added to further secure scanned data. For larger fleets and enterprises, using uniFLOW, customers can benefit from My Print Anywhere secure release, card reader integration and centralised access control.
Energy efficient
The new devices consume less than 2 watt of energy during sleep mode and are Energy Star certified, which gives them some of the lowest TEC ratings in the industry.
Availability and further expansion of model offering
The imageRUNNER 1435i and 1435iF models will be available across Europe from July 2015. Later this year, in September, Canon will further expand this range by adding a third model to the series – the imageRUNNER 1435. This device is optimised for the needs of very cost-conscious environments and will be exclusively available to customers in emerging markets such as Eastern Europe, Russia, Africa and the Middle East. The imageRUNNER 1435 will offer the basic functionality of print, copy and scanning at a very attractive price point thanks to scaled down economical configuration design. As part of the out-of-box solution, the imageRUNNER 1435 will include a full-capacity toner bottle to enable further running cost savings for customers.
imageRUNNER 1435iF key specs:
· Efficient mono A4 output at 35 ppm
· Standard Print, Copy, Scan, Send and Fax functionality
· Duplex automatic document feeder
· Up to 1,100 sheet capacity and automatic double-sided output
· Desktop or floor-standing use
· PCL and Genuine Adobe Postscript 3
· Separate toner and drum engine technology
· Support for mobile working
· Centralised and remote device management capabilities
· Embedded compatibility with uniFLOW output management software
imageRUNNER 1435i key specs:
· Efficient mono A4 output at 35 ppm
· Standard Print, Copy, Scan and Send functionality
· Duplex automatic document feeder
· Up to 1,100 sheet capacity and automatic double-sided output
· Desktop or floor-standing use
· PCL and Genuine Adobe Postscript 3
· Separate toner and drum engine technology
· Support for mobile working
· Centralised and remote device management capabilities
· Embedded compatibility with uniFLOW output management software
imageRUNNER 1435 key specs:
· Efficient mono A4 output at 35 ppm
· Standard Print, Copy, and Scan functionality
· Standard reader with a platen cover
· Up to 1,100 sheet capacity and automatic double-sided printing
· Desktop or floor-standing use
· UFRII and PCL printing
· Separate toner and drum engine technology
· First toner included
· Support for mobile working
· Centralised and remote device management capabilities
· Embedded compatibility with uniFLOW output management software