Canon, world-leader in imaging solutions, has today announced a significant update to its imageRUNNER ADVANCE Third Generation fleet. The 2nd Edition Portfolio combines Canon's latest hardware and software technologies, to provide businesses with secure and consistent cloud-based document solutions.
PROTECT BUSINESS INVESTMENTS WITH UNIVERSAL FIRMWARE PLATFORM
The new imageRUNNER ADVANCE portfolio will operate on the Unified Firmware Platform (UFP) which offers a more consistent user and management experience than ever before. Always-on monitoring checks for vulnerabilities before they emerge, saving businesses both time and expense. By continually pushing the latest features and updates out to devices, equipment remains fully functional and fully secure with minimal input from users. Thanks to the UFP, customers are secure in the knowledge that their investment is safe, removing the need to change device fleets with every update.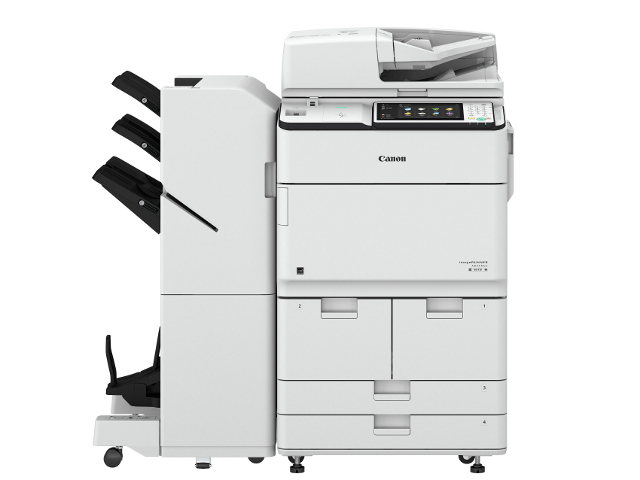 Canon iR ADV 8500 II
CLOUD CONNECTIVITY WITH UNIFLOW ONLINE EXPRESS
Designed to seamlessly connect office technology to the cloud, the imageRUNNER ADVANCE Third Generation 2nd Edition portfolio offers a wide range of models to suit every customer requirement. The upgraded devices offer integrated solutions including a powerful scan to cloud and output management solution, uniFLOW Online Express, as well as device-based authentication solution, Universal Login Manager. Track and report on the activity and easily generate graphical reports in the uniFLOW Online Express portal. The dashboard allows drag & drop of widgets according to personal needs and displays an overview of the organization's print, scan and copy environment, giving different detailed reports for user and device. uniFLOW Online Express allows administrators to track the organization's printing, copying, faxing and scanning costs which fa­cilitates correct cost allocation to individual users.
The updated imageRUNNER Advance portfolio can also integrate with other capture and document management solutions including uniFLOW and Therefore Online. True cloud connectivity allows businesses to match specific document workflow requirements to their device. Straightforward to install and manage, the uniFLOW platform accesses modern cloud-based technologies to streamline business processes and increase productivity by enabling employee focus on core activities.
The uniFLOW Online Express and uniFLOW Online solutions will also support Canon's extensive hardware portfolio, including the imageRUNNER C3000 series and i-SENSYS products launched in 2017, as well as new black and white i-SENSYS products to be launched this year, enabling Canon to offer a wide range of solutions to the market in 2018.
SECURE BY DESIGN
The imageRUNNER ADVANCE Third Generation 2nd Edition platform boasts robust security and print fleet control, with seamless integration of hardware and software.
User authentication login at device means even jobs sent from mobiles can be held securely until released – protecting confidentiality. To help prevent unauthorised distribution of sensitive information, various device functions can be disabled for individual users, while visual and audible Original Reminder notifications alert users when information from scanned originals is left at the device. uniFLOW Online Express offers complete visibility over print behaviours, enables managers to manage print costs and limit or restrict access to features or devices by department, workgroup or individual. Guest printing also enables secure ad-hoc mobile printing without access to the company network.

Canon iR ADV 8500 II

FLEXIBLE WORKING FOR THE BUSY MODERN OFFICE
The imageRUNNER ADVANCE Third Generation 2nd Edition portfolio can minimize downtime as well as administrative interventions. Thanks to the imageWARE Management Console, users can check device status and consumables, remotely. In addition, employees can securely capture or print documents on the move and quickly link their mobile devices directly into business workflows. The imageRUNNER ADVANCE portfolio offers multiple ways to connect smart devices including QR Code pairing, Optional NFC and Optional Bluetooth low energy plus support for common applications such as Google Cloud Print, AirPrint and Mopria.
Daniel Woodstock, Product Marketing Manager, Canon Europe commented: "At Canon we take the security requirements of our customers extremely seriously and we strongly believe that businesses can have robust security measures that don't hamper efficiency, but rather, improve it. Our commitment to innovation is a result of continually listening to our customers' requirements and ensuring that we're always responding to feedback to develop the best possible solutions for their business."
AWARD WINNING PEDIGREE
The imageRUNNER ADVANCE second edition products are part of an award-winning family of technology that has won the prestigious A3 MFP Line of Year award from Keypoint Intelligence - Buyers Lab (BLI) for the third year in a row. BLI, the world's leading authority on document imaging devices and software solutions, presents its most coveted honour once annually to the vendor whose product line is determined to be the best overall, with models at every level that excel in BLI's rigorous laboratory evaluations.
"The models in Canon's A3 MFP line-up are running three years strong and setting the bar to a new high in their respective segments," said David Sweetnam Director of Research and Lab Services, EMEA / Asia, Keypoint Intelligence - Buyers Lab. "Each of the current selling models that BLI has tested support easily-replaceable components, extraordinarily comprehensive usability and an astonishing overall misfeed rate of just 1 every 426,000 impressions, making them some of the most productive and reliable machines to pass through our labs to date. The surplus of workflow-expediting, cost-cutting solutions each device supports are the icing on the cake, and the machines will produce high quality printed and copied output that businesses of all types will be ecstatic about."
"We are honoured to receive the BLI award for A3 MFP Line of the Year for the third consecutive year," concluded Daniel Woodstock, "It is with great pride that we continue to develop high calibre, efficient office solutions that keep digital security top of mind and can readily help businesses to streamline workflow operations in the era of the Office of the Future."
KEY FEATURES
imageRUNNER ADVANCE C256/356 II series
imageRUNNER ADVANCE C3500 II series
Colour

20ppm/25ppm/35ppm

A3
imageRUNNER ADVANCE C5500 II series
Colour

35ppm/40ppm/50ppm/60ppm

A3
imageRUNNER ADVANCE C7500 II series
Colour

65ppm/70ppm/80ppm

A3
imageRUNNER ADVANCE 4500 II series
Mono

25ppm/35ppm/45ppm/51ppm

A3
imageRUNNER ADVANCE 6500 II series
Colour

55ppm/65ppm/75ppm

A3
imageRUNNER ADVANCE 8500 II series