If you are the outdoor type, chances are you can roll with the punches. The question is, can your phone do the same? With the Infinity KO, Hisense is introducing a new type of rugged smartphone. One that's not only water-, dust- and shock proof, but also has both the specs and looks to back itself in the boardroom. All for a decent recommended price of R3 999.
In the past, if you were in the market for a smartphone that will survive the great outdoors, you had to be content with sub-par performance. Hisense says no to that. Under the bonnet of the Infinity KO lies a screaming fast Qualcomm Snapdragon 415 MSM8929 chipset, running a 1.36GHz octa-core processor. This multitasking powerhouse is further supported by 3GB of RAM, translating to a device that simply doesn't step aside for any other.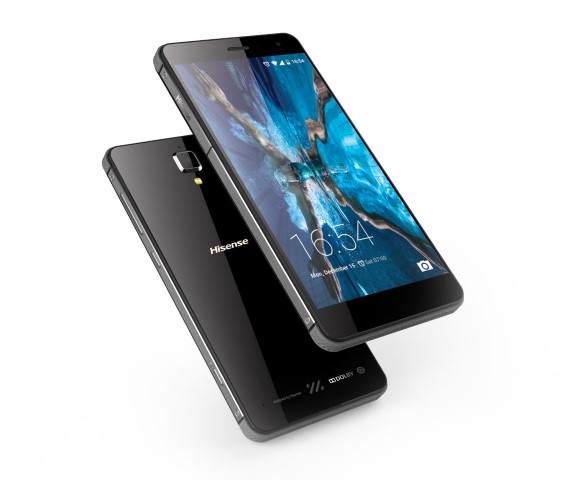 The speed you need
Talking about being fast – Hisense equipped the Infinity KO with not one, but dual 4G LTE capable SIM slots. If sharing photos and videos of your latest adventure is a priority, then rapid up- and download speeds from LTE connectivity will be just what's needed. And with two SIM slots to choose from, you can decide which cellular network you want to use to help save on data and call costs.
Back to the Infinity KO's rugged design, which is certified with an IP67 rating. This means it's totally dust proof, plus, thanks to a waterproofing seal in-between the phone and the back cover, it can withstand being submerged underwater at a depth of one metre, for up to 30 minutes. Can it take a tumble? You bet, in no small part due to shock absorbing material around the body edges. Plus, the 5" screen is protected by Corning Gorilla Glass 4, which goes a long way in securing the screen against unplanned drops and damage from sharp objects.
And the looks too
With a 5" HD screen, the Infinity KO provides enough screen real-estate to easily read email or ebooks, play games, browse web pages or watch videos, which with Dolby Sound is a pleasure. At this size, the device remains easy to manage and can be carried on-person while out cycling on the trail. Also, the Infinity KO's sizeable 3200mAh battery, with quick charge, ensures that a drained phone will be the least of your worries.
If you're going where angels fear to tread, there's no need to risk carrying your obtrusive regular camera anymore. Hisense incorporates a 13 megapixel main camera, which thanks to its Phase Detection autofocus can be on-target in just 0.1 second. If that's too long to wait, how about shooting directly from standby mode? Simply hold down the volume button to quickly snap a shot before the moment disappears. If you would rather capture the action via video, the Infinity KO has you sorted with Full HD video recording, with all your clips and images saved on a spacious 32GB worth of storage.
There need only be one
For Hisense, ease of operation remains top of mind, so this Android Lollipop device (5.1) comes with the intuitive Hisense Vision UI, which helps unify the smartphone experience. Indeed, that is exactly what the Hisense Infinity KO is all about – providing a rugged, outdoor-ready device that stands its ground on the specification front, all in a beautifully designed package. If you're looking for a phone that can provide the best of both worlds, well, there can be only one: the Hisense Infinity KO.