Locally the market towards hosted servers is becoming more accessible to SMEs. But what are the pros and cons of going this route, and what should SMEs look for in their service providers? Iwan Pienaar looks closer.
With small to medium enterprises (SMEs) under increasing pressure to operate as cost effectively as possible, business owners are looking at the cloud to provide an alternative to on-premise hardware and software solutions. Even in South Africa the past 12 months have seen marked interest in going with a hosted server solution versus having a dedicated server in-house, with especially smaller companies that stand to benefit the most.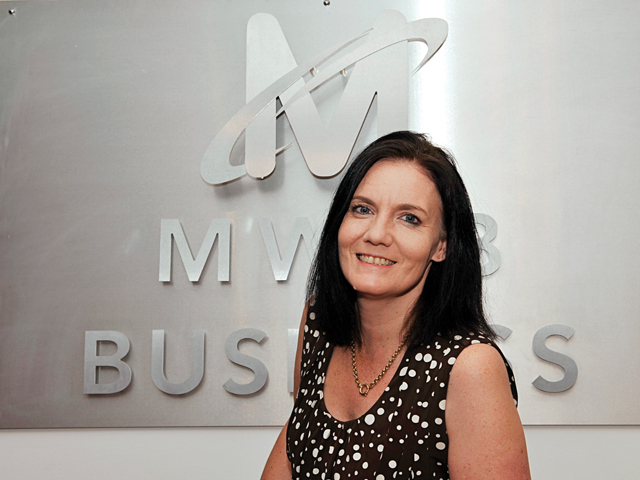 Debbie Pretorius, MD, MWEB Business
"Colocation, or server hosting, has become increasingly affordable over the years. Connectivity prices have been on a downward trajectory for some years and now hosting costs are starting to come down too," notes Debbie Pretorius, GM at MWEB Business. She says the interest in hosted servers is further helped along by companies' concern about both the cost and reliability of the local electricity supply.
For Richard Vester, the director of EOH Cloud Services, it has become very much a capital expense versus an operational expense issue. "Many organisations do not have huge amounts of cash to invest in infrastructure. The majority of SMEs also do not have the right type of data centres or server rooms. So for them to facilitate their own hosting and build the right environment becomes too expensive," he says. Unlike larger organisations with IT departments that have to comply with a host of regulatory and security policies, SMEs are significantly more agile and can easily adopt a hosted strategy. "SMEs are also able to leverage the skills of the service provider and do not have to be concerned about getting additional staff on board to manage the infrastructure," he says.

Richard Vester, Director of Cloud Services, EOH
Not just a silver lining
For all the advantages that server hosting provides companies, there are pitfalls to be mindful of. Muggie van Staden, MD of open source technology solutions provider Obsidian Systems, says Edward Snowden is probably the best sales person to highlight the risks of the cloud. "Thanks to Snowden and his leaking of sensitive information, people are now asking whether their data is safe on these massive public cloud providers. Companies of all sizes need to understand the implications of the cloud and what it means for their data. Corporate governance like the Protection of Personal Information Act is further contributing to this awareness and are raising many questions around cloud and the services associated to it," says van Staden.
Another concern is what would happen if the hosting provider goes down? How would you access your corporate data and what impact would it have on customer services and revenue? "There is still a lot of education to be done when it comes to these and other issues in the hosted environment. For example, when you take your data out of the country by going with someone like Amazon, you are relying on reputation and have no sight of where they keep their servers and whether they are secure," says Vester. Locally, he says, the service providers want to work more closely with their customers and show them not only the facilities being used for hosting but also that the necessary security standards are in place.

Muggie van Staden, MD , Obsidian Systems
What to look for
Crispin Russell, CEO of Cape Town-based ArcAqua, says the company experienced a few issues when migrating their email to an exchange in Johannesburg where people lost some messages and they could not access the server for a few days. "Despite this, now that all the teething issues have been resolved I would not hesitate to do it again."
"Smaller companies looking at the cloud need to make sure that the provider has serious security and redundancy in place should the worst happen. If their server topples over, you do not want to feel it," says Russell. He adds that start-ups and smaller companies need to shop around for hosting providers that best meet their needs. Some charge an absolute fortune while others expect a long-term commitment. "You should also look at how easy it is to get your data back from the cloud should you cancel your contract. Some suppliers might want you to settle the outstanding contract amount before you export the information so be mindful of the policies that are in place," he notes.
Vester believes that the second-tier service providers have click-and-play solutions that are very SME-focused. "This means that there is no touch between the customer and the service provider. An SME will buy a virtual machine online and deploy it as needed with support offered via email or online. No relationship is needed." However, Vester says, SMEs should remain cautious when purchasing something off the internet as there is normally very little offered in terms of customisability. "A larger service provider gives customers the ability to not only have a more tailored service offering but is also able to leverage computing resources within its environment and give the SME more flexibility around what is offered." Ultimately the cloud, irrespective of service offered, is all about flexibility. "The service provider should give the SME the opportunity to move when they want to and not lock them into a long-term contract. If an SME wants to move to a different provider, it should be able to do so," adds Vester.
Given the penchant for SMEs to be fast-moving and able to adapt to change quicker than their larger brethren, this freedom and ability to choose the best solution for their hosting needs cannot be over-valued. Once more SMEs start adopting the cloud-based approach, the benefits will continue to outweigh the concerns that some might still have on not having their servers sitting in their office back-room.
CLOUD HOSTING BY THE NUMBERS
The worldwide market for public cloud services has reached a total size of $45.7 billion. This is according to the Worldwide Semi-annual Public Cloud Services Tracker (published on 7 July) of the International Data Corporation (IDC). Furthermore, the expectation is that the market will show a compound annual growth rate of 23% until 2018.
Of the various cloud services, the IDC has found that the Infrastructure-as-a-Service (IaaS) market (comprising server and basic storage) drove $3.6 billion in 2013 spending. But while the spending sounds significant, it is still small when compared to the overall global technology spending of $2.04 trillion in 2013 (IDC Worldwide Black Book). However, expectations are that there will be significant growth in the IaaS sector over the coming years.
Article first appeared in TechSmart Business 6, July/Aug 2014, download the PDF here.