NetApp's Insight 2014 conference held in Las Vegas, Nevada, not only offered up some eye-opening perspectives on IT, but its ambitious announcements addressed a key concern with hybrid cloud adoption.
The core of the NetApp Insight 2014 conference this year was the hybrid cloud, but more specifically, how the company believes it can enable its customers to increase their all important competitiveness and drive greater success by using the hybrid cloud to their advantage. Dave Hitz, NetApp's founder and executive vice president asserted that the largest trend these days is clearly cloud, adding that it is at a different level from the other megatrends, even as it intersects with them.
He noted that if one compares cloud to flash storage, which is clearly another big trend, the latter is largely a concern for storage companies, and to some extent server companies to worry about. For cloud, it appears as though it concerns a far wider range of businesses, with Hitz pointing out that customers have to make "serious decisions" about their business model. Indeed, IT is no longer forgiving of poor choices. "Companies that choose wrongly may just die as a result," he warned.
Moreover, the company clearly believes that the hybrid cloud is the future, as George Kurian, executive vice president of Product Operations at NetApp stressed, that "hybrid clouds will be the backbone of IT today and tomorrow."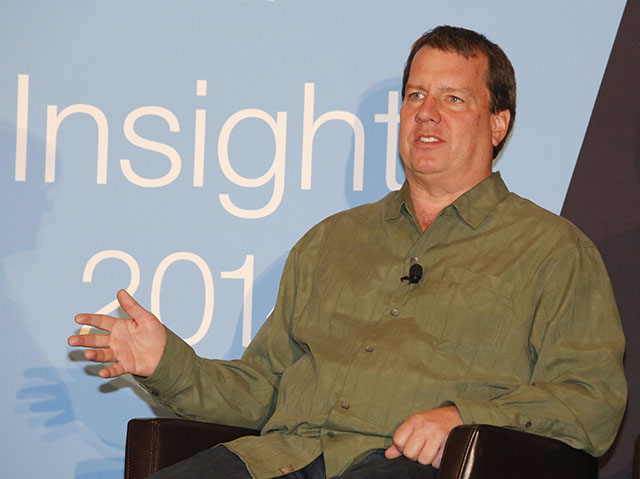 Dave Hitz, founder and executive vice president, NetApp
Cohesiveness is king
However, what quickly became apparent is that NetApp has been paying close attention to addressing the constraints and limitations facing customers when adopting hybrid cloud. To this end, NetApp announced the launch of new solutions, including a new version of the NetApp clustered Data Ontap operating system, Cloud Ontap, OnCommand Cloud Manager and NetApp Private Storage for Cloud.
It was the company's new clustered Data Ontap 8.3 OS that received the most attention, as the storage operating system was touted as making hybrid cloud seamless. Kurian explained that the solution acts like a fabric, bringing together disparate elements and ensuring that data transfer is considerably easier. He elaborated that all modern systems have at their core a 'fabric' that ties disparate systems together. Kurian cited the example of air traffic and aircraft being handed off from one air traffic control tower to the next, with each knowing a particular flight as it traverses the globe.
George Kurian, executive vice president of Product Operations, NetApp
Constraints addressed
Unfortunately, this doesn't translate across to data management. Instead, Kurian noted, many companies who are encouraging users to adopt the cloud, don't advise customers that once their data is on the provider's cloud, it is difficult if not impossible to move it. "In effect, your IT infrastructure, and more importantly your data, becomes their IT infrastructure and their data," Kurian continued.
With the new announcements though, users have a means of solving the problem of incompatible, isolated data silos, while enjoying a consistent way to manage, secure and protect their data. "A data fabric gives you the ability to take advantage of the flexibility and the efficiency that the cloud offers but places you, the customer, in control. It grants you choice of cloud infrastructure and control of your critical data," he enthused.
Choice, meet agility
John Frederiksen, the vice president of product management for Data Ontap, continued that customers have a choice of a wide range of cloud services that can be utilised to support their IT environments. These included a variety of services, such as Software as a Service, Infrastructure as a Service, or pursuing hyperscalers such as Amazon Web Services.
Frederiksen reassured that NetApp has decided to embrace those environments, while giving customers "the flexibility to get the rich data management set that they need, with the choice of underlying storage and service providers they desire". Furthermore, Cluster Data Ontap 8.3 appears to have been designed with maximum agility in mind. "On Cluster Data Ontap 8.3, the core capabilities of storage management system and data management system don't change, whether you are running in a hybrid cloud, running at a service provider or running at a hyperscaler," he explained.
Phil Brotherton, vice president of Cloud Solutions, NetApp
Money matters
Fredericksen additionally noted a no less important benefit - efficiency and its impact on cost savings. He pointed out that none of their customer's IT budgets are growing as quickly as their data management requirements, which makes the money they spend on IT solutions critical.
"As discs become larger and the use of flash drives becomes more prevalent, we have made sure that Ontap boasts great utilisation of the underlying storage platform. We've made some improvements in how we lay out our OS in 8.3, the result of this for entry level systems, would reduce the cost per gigabyte by roughly 30%. That translates into a 30% improvement in the value you obtain from the system," he noted. Additionally, on flash modules users can expect an improvement of up to 17% from the new cluster Data Ontap 8.3 release.
Coffee analogy
Perhaps the most compelling argument for the new release came from Phil Brotherton, the vice president of NetApp's Cloud Solutions. He stressed that Cloud Ontap brings all the capabilities, and all the rich data management that people have been enjoying on premise and from cloud service providers, and further makes it available to every person who wants to run on Amazon Web Services.
"In the time it took me to buy coffee and a croissant from Starbucks, and the money it cost me, I could have turned on Cloud Ontap and had access to the global capabilities of the NetApp corporation and Amazon corporation. Cloud Ontap brings the number one storage OS in the world to the world's largest cloud and makes it run as you would want it to," he enthused.
Phil Brotherton, vice president of Cloud Solutions, NetApp
The future in sight
What Insight 2014 ultimately brought, was hope for the future for hybrid cloud users. This sentiment was echoed in a sense by Hitz, who hosted one of the most entertaining panel discussions we have witnessed in a long time. He did, however, become serious long enough to express optimism for NetApp's role in the emerging cloud world. "What is so exciting about cloud for NetApp is that it seems that the most important aspect of making cloud work and making it safe is the data, and that is what NetApp is good at," Hitz concluded.