Hisense South Africa, the global electronics forerunner, is celebrating an impressive milestone at its local manufacturing facility today as both the one millionth television set and the one millionth fridge unit will be rolling off the production line. Coincidentally, this happens as the factory marks its fourth year of operation in Atlantis outside Cape Town.
For Hisense South Africa, the production milestones are a culmination of commitment, dedication and hard work that helped grow over time the 27 000m² high tech manufacturing facility, situated in the Atlantis Industrial Park.
Boost to community
The manufacturing development came as a much-needed boost to the local community of Atlantis, where poverty and social issues were part and parcel of everyday existence. Presently, the Hisense manufacturing facility employs over 500 people on a full-time basis, with training and social upliftment projects contributing to the well-being of approximately 2 000 people in the community.
Albert Li, Head of Manufacturing at Hisense South Africa, believes the achievements by the Atlantis manufacturing facility can be attributed to the commitment of all the staff. "To be able to celebrate not only the production of a million television units but also one million fridges, is a rare occasion indeed. It speaks of the dedication that all our loyal staff members have, not just towards the brand, but also to a job well done," he notes.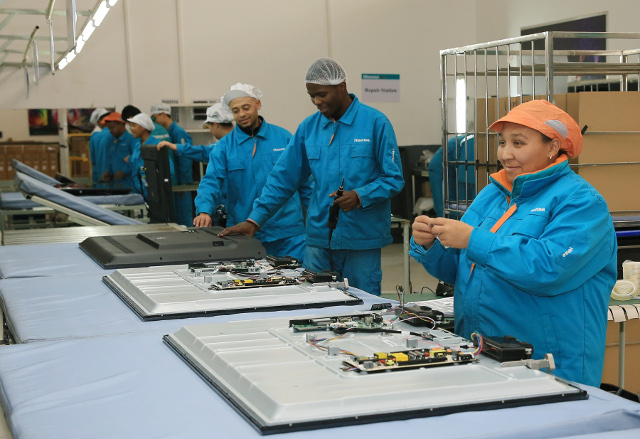 Production capabilities
The Atlantis facility produces 1 500 Hisense televisions and 1 200 fridges daily during a straight eight-hour shift. This translates into an output of 22 seconds per fridge and 20 seconds per television, on average. This can be scaled up effectively in periods of greater demand, as demonstrated during peak seasons over the past few years.
On the television side, the products manufactured include LED, DLED, ELED, ULED, and Smart television sets, with screen sizes ranging from 32-inch to 85-inch. On the fridge side of operations, there are seven different models currently being produced, while capital expenditure deployment plans are in place to manufacture more high-end products.
With demand for Hisense televisions and fridges consistently positioning the brand within the top three brands locally, the capabilities of the Atlantis plant are much needed. However, it is not only the South African market that is supplied via this factory, with products also being exported to 13 other African countries, including Namibia, Mozambique, Zimbabwe, Malawi, Zambia, Botswana and Lesotho. "Hisense's export strategy has certainly been a success as sales have grown from 5 million USD in 2014 to 29 million USD in 2016, notes Jessie Ma, Head of Export at Hisense South Africa".
Challenges and future
When broached about challenges in the manufacturing sector, Albert Li points towards the volatility of the Rand/Dollar exchange rate. "This has been the single most challenging factor to deal with, since so much planning is dependent on a stable exchange rate. While there are other local challenging factors at play, the management team have put in place the necessary strategies to deal with it. To date, the stability at the facility has been a major success story for Hisense," he concludes.
With plans to include more African countries on the export list, plus an ever-increasing demand for Hisense products from the local market, the Hisense Atlantis factory is set to celebrate its next millionth unit milestone in coming years.
Hisense has been in South Africa since 1996, making this year the brand's 21st birthday locally. As the company enters their mature phase as a brand, it has proudly established itself as a trusted, stable and reliable electronics provider that keeps on innovating. This is proof in Hisense having achieved the number one position in unit sales in both the television and fridge categories.