The PERi-PERi just got hotter, as PUMA and iconic South African brand Nando's announced today they will be bringing flames to the sneaker shelves on Heritage Day, with the drop of the PUMA x Nando's RS-Xtra Hot.
Digging deep into the PUMA archive, PUMA and Nando's have reimagined the PUMA RS sneaker, first launched in the '80s, to create the sauciest style yet.
Paying homage to Nando's famous sauce, the RS-Xtra Hot features a printed chilli formstrip, the Nando's PERi-ometer® with heat levels, the heel cup referencing the colours of Nando's sauces the PUMA logo fired up in the Nando's font - which is based on the hand-painted signwriting of artist Marks Salimu - the Nando's signature Barci Cockerel and an insole paying homage to the iconic sauce bottle, all wrapped up in Nando's vibrant colours.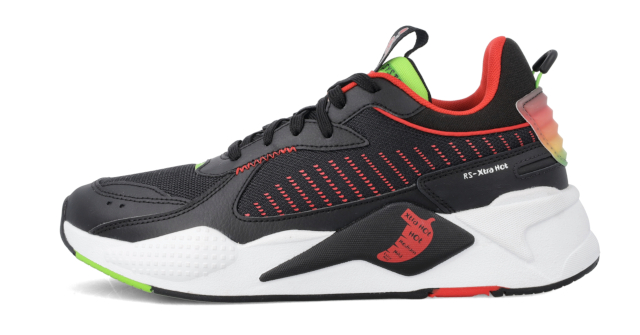 "PUMA wanted to celebrate Heritage Day in South Africa by partnering with an iconic local brand that could help us capture the essence of what it means to be South African. Bold. Fiery. Somewhat audacious and eternally optimistic. Who better to announce as our partner than Nando's, the brand that has been a part of the social and cultural fabric of South Africa since 1987," said Brett Bellinger, PUMA SA Marketing Director. "Their social commentary and cultural insight have been as hot as the sauces that have made them famous worldwide, and as a brand they've authentically tapped into popular culture. This, backed by their continued investment in creative talent in the region, makes this collab something extra hot. As we head towards summer, we know the limited-edition RS-Xtra Hot has got the sauce to be the season's most coveted sneaker."
The original RS franchise traces its origins to 1984 when PUMA set out to create a revolutionary new technology. The PUMA RS (Running System) was the world's first wearable sports product, and the world's first smart shoe. The RS's built-in computer aggregated data, translating it into metrics that allowed runners to become faster, more efficient, and more competitive.
Since 2018, the RS family was modernized and reinvented, with the addition of new styles for the street like the RS-X, RS-X3, RS-2K, RS-Fast, RS-Connect, RS-Dreamer, RS-X Efekt, RS-X Drift and RS-X 3D. This season, PUMA has collaborated with The Smurfs and SpongeBob, releasing limited-edition PUMA RS-X styles. Now PUMA continues to build on the RS legacy through its collaboration with South Africa's, and arguably the world's, most loved flame-grilled chicken brand.
Nando's is steeped in a storied history. The brand started back in 1987, when the first restaurant opened in Rosettenville in Johannesburg. Today they have over 1200 outlets in 22 countries and sell their sauce
in more than 30 countries. They have come a long way, but they have never forgotten their humble beginnings, and the true core of their brand: the people.
Jessica Wheeler GM Marketing: Brand, Strategy & Communications at Nando's said: "This has been an incredibly exciting collab in an important month for the country, and for us as a brand. To encapsulate the fiery spirit of South Africans is something we strive to do daily through our marketing activity and to reflect in our stores and our menu, but to have that embodied in a sneaker is just next level. Nando's resonates deeply with the spirit of creativity, and we believe that creativity can be a force for good and for change. Now we are offering South Africans the opportunity to literally, walk that talk! This sneaker has been designed and manufactured with incredible attention to detail and meticulous craft, and as we unveil the RS-Xtra Hot, we hope that the people of South Africa will embrace it with the same affection. We, the people of Mzansi are fiery (read dope), and this sneaker is a celebration of that unmatched flavour."
With the sneaker concept first cooked up in South Africa, the PUMA X Nando's RS-Xtra Hot will be released in limited quantities in SA, the US and UAE, all happy homes to Nando's Casa restaurants.
The PUMA X Nando's RS-Xtra Hot (R1999) will drop on Heritage Day, 24 September 2023, at PUMA.com, PUMA Retail Stores, sportscene, Side Step, Shelflife, Shesha, Superbalist, The Cross Trainer, Sneaker District and Colt45 by Al Capone.