The 702 Small Business Awards with Sage One has recognised organic and gourmet food retailer The Munching Mongoose as the winner for 2016. The runners-up were child and baby sleep consultancy, Good Night, and MzansiGas, an online gas and gas bottle delivery service.
The Awards are sponsored by Sage One – simple, secure and affordable online accounting and payroll solution from Sage – the global market leader for integrated accounting, payroll and payment systems.
The annual Awards reward entrepreneurs that are living their business dreams, growing their companies in a sustainable way and serving their communities by delivering excellent service. It aims to find smaller businesses that have great potential and provide them with exposure to help them grow.
Launched in 2014 by Tamryn Dicks and Brad Meiring, The Munching Mongoose delivers a box of seasonal, local and organically grown produce and gourmet foods to customers each week. It partners with small scale local producers and conveniently deliver healthy and tasty goods right to customers' homes. As part of its commitment to giving back, The Munching Mongoose and its partners donate produce each month to a home for abused and abandoned children.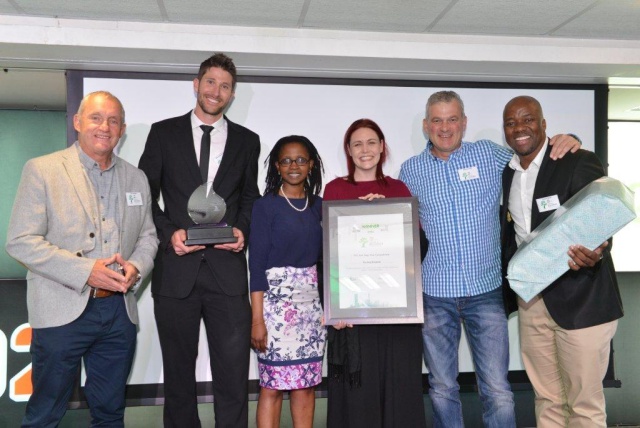 "Well done to The Munching Mongoose team for winning this award. Your dedication to your customers, your focus on sustainability and your care for the community are all reasons that your business will thrive for years to come," says Steven Cohen, head of Sage One International (Africa, Australia, Middle East and Asia).
"We know that it takes hard work and human sacrifice to turn a dream business idea into a way of life. Innovative companies like The Munching Mongoose are an inspiration to other South African entrepreneurs who want to follow the same challenging but rewarding path."
"We're overwhelmed to have won," says Tamryn Dicks. "We love that as a result of our service, families spend quality time together centred around great food. We're humbled that our customers enjoy this offering enough to have nominated us for the award."
702 Station Manager, Thabisile Mbete, says: "Great small businesses like Munching Mongoose – and all our finalists - are the engines that power our country's economy and create much-needed jobs for our people, Congratulations to all of you, we love telling your business stories, to encourage entrepreneurship and supporting entrepreneurs."
The prizes are as follows:
- The Winners: In each region, the winners will receive an advertising package to the value of R250 000 on 702/CapeTalk. Courtesy of Sage, they will also receive a laptop, free access to Sage One Accounting and Sage One Payroll software, a training course or seminar of their choice, and a year's worth of software support.
- The Runner-ups: In each region, the two runners-up will each receive a R125 000 airtime package on 702/CapeTalk. From Sage, they will receive free access to Sage One Accounting and Sage One Payroll software, a training course or seminar of their choice, and a year's worth of software support.