The CapeTalk Small Business Awards with Sage One has recognised card payments company, Yoco, as the winner for 2016. The runners-up were Yard Argentinian Asado Fire Cooking Experiences – an exciting restaurant and coffee shop experience – and nature adventure tour operator, Cape Canopy Tours.
The annual Awards are sponsored by Sage One – simple, secure and affordable online accounting and payroll from Sage – the global market leader for integrated accounting, payroll and payment systems. These Awards reward entrepreneurs that are living their business dreams, growing their companies in a sustainable way and serving their communities by delivering excellent service. The aim is to find smaller businesses that have great potential and provide them with exposure to help them grow.
Yoco offers an easy way for Small & Medium Businesses in South Africa to securely accept card payments at the store or on the go. Its card readers connect to a phone or tablet (Android/iOS) and transform it into a card acceptance terminal that can be used just about anywhere. The card readers are coupled with a powerful point-of-sale application and business intelligence portal.
"Well done, Yoco, for winning this award. We are always excited to see great small businesses like yours flourish because you are an inspiration to other entrepreneurs and make life better for the people in your community," says Steven Cohen, head of Sage One International (Africa, Australia, Middle East and Asia). "For us, the Small Business Awards are all about giving a voice to smaller businesses that are the backbone of our economy – we believe that companies like Yoco deserve a platform to tell their story."
Says Katlego Maphai, co-founder and CEO at Yoco: "We are honoured to have won this award and thank our clients for nominating us. Our purpose is to empower the growth of entrepreneurial businesses, by reducing the complexity of accepting card payments and tracking sales – we are pleased to be recognised in an award that also seeks to grow South Africa's small business sector."
Colleen Louw, CapeTalk station manager, says: "Congratulations to the winner and to the nominees – you provide a terrific example of entrepreneurship in action. Wonderful small businesses like Yoco create jobs, deliver personal customer service, and help South Africa to prosper – it is an honour for us to celebrate their achievements."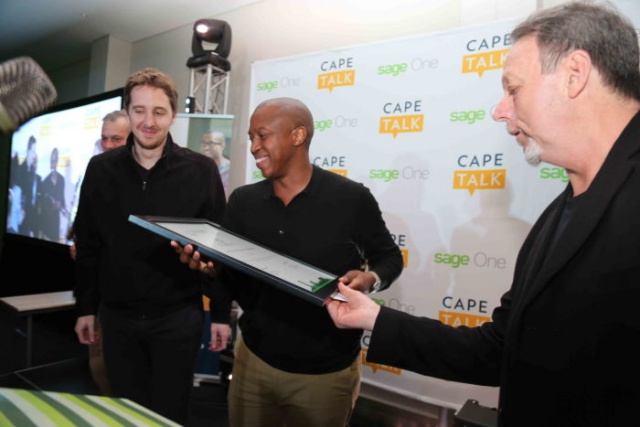 The prizes are as follows:
- The Winners: In each region, the winners will receive an advertising package to the value of R250 000 on 702/CapeTalk. Courtesy of Sage, they will also receive a laptop, free access to Sage One Accounting and Sage One Payroll software, a training course or seminar of their choice, and a year's worth of software support.
- The Runner-ups: In each region, the two runners-up will each receive a R125 000 airtime package on 702/CapeTalk. From Sage, they will receive free access to Sage One Accounting and Sage One Payroll software, a training course or seminar of their choice, and a year's worth of software support.
Also taking place today is Small Business Friday, which encourages all South Africans to go out there and support local small businesses. It's a one-day high action drive on the first Friday of Spring every year, to celebrate and recognise the importance of the small business community.
Click here to listen to Yoco's interview on CapeTalk.