Jaybird's wireless Sportsband headphones are designed to combine high quality audio with sleek styling, as far as the latter goes, they've certainly hit the mark. But how does it fare as top-end music device?
Less is more
The design of the Jaybird Sportsband is best described in one word - simple. The Sportsband is clean and devoid of any unnecessary elements. It also makes efficient use of space, particularly when you factor in just how light they are, weighing in at a mere 103 grams and measuring 5.32 mm at its widest part. This simple approach has also been extended to the speaker setup with rotating pivot heads on either side, covered in rectangular foam cushioning, which provides a solid fit capable of adjusting according to the shape of the listener's ear.
Apart from the Sportsband's minimalist design, the other standout feature is its Bluetooth connectivity, this makes far simpler and easier to use, with no wires in place to interfere on the listening experience. It also adds to the aesthetic appeal of the Sportsband, which may be a nod to the setup of the popular Beats by Dre wireless range of headphones that Jaybird could be aiming to capitalise on.
More polish needed
Each speaker unit features an adjustable extender to increase the size of the headband. This is one area we were disappointed by, as the extenders jammed slightly when opening and closing and required more force to function. This ultimately detracted from the build quality of the headphone and made it feel a little cheaply produced.
This notion of build quality also extends beyond the adjustable earpieces, with a couple of minor details that make the Jaybird feel less polished. Most notable among these issues is a slight hairline crack located at the top of the Sportsband, this is most likely the area where portions of the band itself were fused together. The crack is noticeable to the touch and is also highlighted even further by the glossy finish applied to the outer coating on our unit's white coloured band.
Another clearly visible concern was the difference in colour differentiation between the over-head band and earpiece components. With the band part having a shiny ivory coloured appearance and the earpieces looking a couple shades lighter. These may seem like minor issues that will not impact the overall quality of the device, but when you have designed a product that looks so simple and plain, it is vitally important that each element is as perfect as possible. Especially considering the fact that most consumers will have to shell out a minimum of R1000 for the Sportsband.
Get up and go
Bluetooth connectivity is quick and easy to achieve, with users prompted to press and hold the headphones power button until the LED light begins blinking blue and red. The connection itself is strong, with a substantial amount of clarity and crispness for both music playing and phone calls.The former allows for a good listening range of roughly ten feet from users devices, which would come in handy if you wished to charge your smartphone from a remote point while listening to music.
This aspect is well supported by the on-headphone volume and song choice controls located on the right-sided earpiece. There are five buttons in total, with controls for increasing and decreasing volume as well as moving backwards and forwards through tracks. With the power button located in the middle of the other four controls, used also for operating the headphones Bluetooth connectivity.
The Sportsband features a 2.5 mm port on the right-sided earpiece, which incorporates a unique USB charging cable that takes roughly two and half hours to fully charge the headphone. This translates to an estimated eight hours of music play time, 11 hours of call talk time and an almost unbelievable 250 hours of standby time.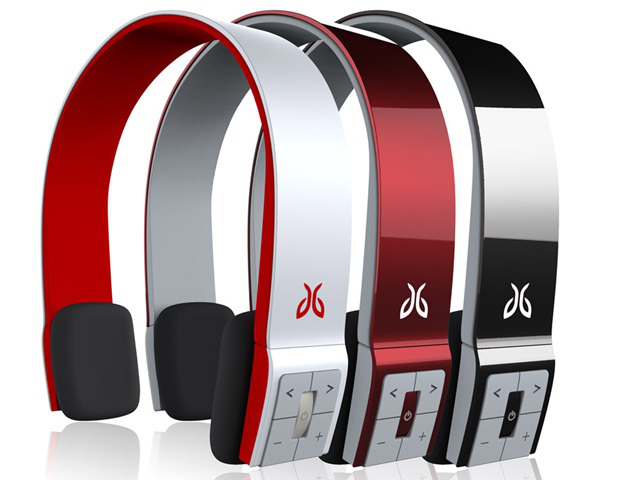 So close yet so far
As far as volume and sound quality goes, the Sportsband does little to distinguish itself from headphones in the same price bracket. Don't get us wrong, the Sportsband does not perform poorly, it simply does not offer enough power and high-end nuances for users to truly feel as if they have gotten their money's worth.
It is as a result of the Sportsband's design, more specifically its lack of earcups that results in a lot of outside noise penetrating the listening experience. In order to compensate for this, most users will want to turn the volume up and at full blast another issue creeps in, since a considerable amount of sound escapes from the headphone. Perhaps it is a bit of a catch-22 scenario, with Jaybird sacrificing the quality of sound for design aesthetics.
Yea or Nay
The Jaybird Sportsband earns plenty of points for its minimal design and sleek styling and has a strong enough appeal to peak consumers' interest. Bluetooth setup and connectivity strength is solid, offering users an adequate listening experience. The sound quality on the whole however falls short of where it truly needs to be, as considerable amounts of environmental noise penetrating the headphones during use as well as sound escaping the unit itself at full volume.
One area that the Sportsband does shine is comfort and fit, with Jaybird touting it as a headphone for active lifestyles, it performs well when used while running or cycling. When we did some work on treadmill with the Sportsband, its amount of movement was minimal, as we only had to adjust twice during a 25 minute run. The practical gym use is further enhanced by the headphones wireless functionality, which results in users not having to worry about cables inhibiting their workouts.
If you're looking for a high end headphone dedicated to sound quality, the Sportsband is definitely not for you. But if you need a unit capable of providing excellent battery life, is easy to setup and provides mid-range performance, this may be the wireless headphone you're looking for. It is currently retailing for R1725 at the local Orange online store.
Excellent battery life; Great comfort and fit; Quick and easy setup
Minor build quality issues; Lacks sufficient noise cancelling functionality