Mobile devices and notebooks are powerful on-the-go media consumption tools, but most of these do not pack the best onboard audio experience. Razor aims to solve this issue via its Ferox mobile gaming and music speakers.
The Ferox are mightily portable speakers that can both fit into the palm of your hand and users can carry it along with them in the provided pouch. These speakers are battery powered and you charge them for around two and a half hours using the included USB charging cable. Along with the USB charging cable is a 3.5 mm audio jack, which users can plug into the headset jack on their notebook, tablet or smartphone. Bluetooth wireless audio transfer is not offered by the Ferox.
According to Razor, the 470 mAh battery provides users with approximately 8 hours of usage, which sounds plausible since we used the speakers for three sessions on a single charge ranging from 20 minutes through to about an hour and 40 minutes. At the base of each speaker unit resides an illuminated ring, which glows blue when the speakers are fully charged, flashes on and off whilst these are being charged, and turns red when a charge is required.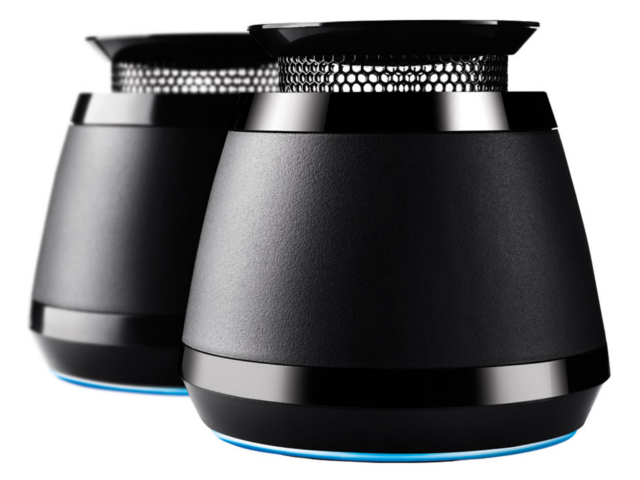 At the top resides the Ferox's 30 mm drivers that deliver omnidirectional sound and on the bottom tri-stage LED battery status indicators.
Audio performance
Razer forgoes the traditional stereo speaker route to deliver 360° omnidirectional sound. When you use the Ferox with your notebook, the dual 3W speakers delivers enhanced audio compared to the tinny sound emanating from the notebook speakers. You still get stereo sound, but the benefit of the omnidirectional sound is that you are able to place the speakers anywhere as opposed to being forced to have these face you.
The clearest, most undistorted sound is available at mid volumes, with the Ferox doing a much better job of keeping distortion at bay than the shoX duo portable speakers, which we expected since the shoX sets you back just over half the price (R350) of the Ferox (R600).
We found that the Ferox suited our audio needs more whilst gaming and watching movies, rather than listening to music. This is because the Ferox lacks any serious bass kick as well as in-line volume controls and the fact that cranking up the volume level to maximum introduces the tininess we all love to hate.
During gaming sessions, we set the master volume of our notebook speakers down from 65% where it was whilst listening to music to around 50%. This was because the good treble dollop you get in the mid range was a bit overpowering, with this volume level suited the atmospheric sound effects and the classical backtracks of Civilization IV just fine.
We also noticed that distortion tended to creep into the sound of gunfire and explosions when playing Crysis 2 at a sound level above 60%, whilst the audio quality remained pristine at the halfway mark and below.
To the point
Razor's Ferox are very portable, offer an enhanced audio experience on-the-go compared to your notebook or smartphone's built-in setup, and comes with a convenient travel bag. We just crave any sort of bass kick for a more rounded listening experience. It goes for a recommended retail price of R600.
Pros
Good midrange audio quality.
Better sound performance than that accessible via your average notebook speakers.
Good price for what's on offer.
Good battery life.
Colour notification LED light for battery.
Carry bag provided.
Cons
Lacks bass response.
No in-line controls for volume or skipping tracks.
Audio performance takes sound quality hit at highest volumes.
Good midrange audio quality; better sound performance than that accessible via your average notebook speakers; affordable; good battery life; colour notification LED light for battery; very portable; and carry bag provided.
Lacks bass response; no in-line controls for volume or skipping tracks; and audio performance takes sound quality hit at highest volumes.