Sony's VAIO range has a certain reputation of being stylish notebooks, and the VAIO VPC-EH18FG certainly upholds the series' reputation. Graced with an attractive dark blue hexagonal design that encompasses the exterior and interior of the notebook, the VAIO notebook certainly looks distinctively attractive. Although made of hard plastic, the VAIO did not feel cheap or flimsy, but rather was lighter than we expected for a notebook of its size. In fact, resting it on our lap and typing this review on it proved to be most comfortable.

However, our unit was purely a test unit, and it was made abundantly clear that this would not be made available for sale. Nonetheless, bar a few minor issues, the first impressions of the notebook were positive, as it had somehow managed to provide a 15.5" screen, full keyboard, fairly solid feel and yet be fairly lightweight at the same time. The company has explained before that the hexagonal design is not meant to look pretty, (it does), it also has a functional purpose of deterring fingerprints and smudges. We found this to be the case, but, more significantly, the texture of the pattern made it considerably more comfortable to rest our hands on than a plain smooth surface. Why that is is anyone's guess, but it nonetheless had a subtle appeal of its own.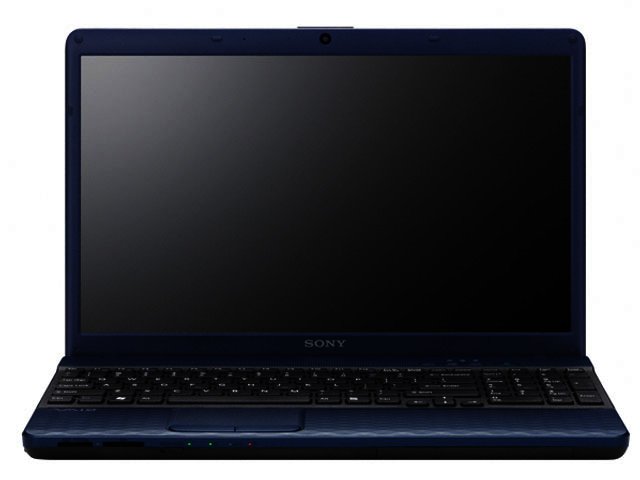 The Sony VAIO VPC-EH18FG is an attractive notebook

Performance

The VAIO sports an Intel Core i5 processor running at 2.4 GHz with 4 GB of memory and a Nvidia Geforce 410M with 512 MB of dedicated video memory. Additionally, 450 GB of usable space is available here, which should be enough to meet most storage requirements. On the included 64 bit version of Windows 7 Home Premium, the VAIO scored a passable 5.1 on Windows own performance index, and in our benchmarking tests, a Passmark of 1178.4, which easily bested the Toshiba N700's score of 1026.1, but still fell short of the Asus N53SV's score of 1631.8. It also scored a respectable 4632 in our 3D Marks benchmark, and a score of 172 in our Heaven benchmark. The VAIO further scored 12.44 frames per second on Cinebench.

The screen, which offered a resolution of 1366 x 768, was more than adequate, remaining sharp and clear and offering saturated colors and excellent contrast throughout its brightness range. This was more than suitable for most tasks - including watching movies, typing documents, and extended browsing sessions, without producing eyestrain.
Battery life gave an acceptable five hours with Wi-Fi turned on a balanced power scheme, while setting it to high performance power scheme cost us an hour of that. Additionally, this did make the notebook run noticeably hotter than when on more prudent power schemes, which came as little surprise. In terms of Wi-Fi strength, this was also quite impressive, holding our signal in notoriously Wi-Fi unfriendly zones on our premises.

Keyboard Concerns

To its credit, the VAIO boasted a comfortable, full keyboard along with a numeric keypad. The keys had a firm press and were comfortable to type on. The trackpad was on the small size for a 15.5" notebook, but of greater concern to us was the fact that it was set further left of centre than we would've liked. Unfortunately, this detracted from what would otherwise have been a highly comfortable typing experience, particularly when typing with the notebook on our lap. Instead, it felt like our left hand was on the verge of falling off the base of the notepad.

Of course, the easiest way to obviate this problem is to simply ignore the trackpad altogether and substitute it with a mouse. That aside, the trackpad does support multitouch, and despite its small size, we still found this adequate enough to zoom in and out of documents and images using the trackpad. Additionally, the left and mouse buttons, below the trackpad, were similarly comfortable to use, and the base of the keyboard, similarly enrobed in the hexagonal design that covered the top cover, was a pleasure to rest our hands on.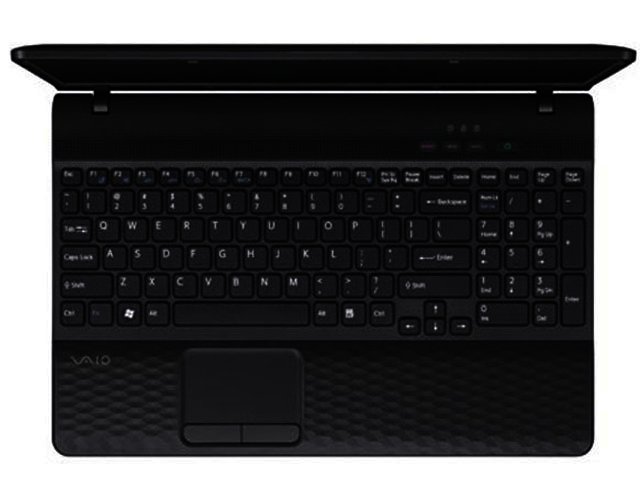 The hexagonal patterning covers the palmrest

With these features, you're set

Next to the power switch, the notebook has a number of other, interesting buttons. The first of these is the Assist button, which, when pressed, brings up the VAIO Care screen, to deal with troubleshooting, diagnostics, recovery and restore procedures, and finally, a contact section for finding further help. For us, this cemented this notebook as appealing to a less technology minded individual, who might find reassurance from having some computing help at literally a button press away. The next button,with the rather self explanatory name, was the web key, which brought up the default browser. The final dedicated button, named the VAIO button, duly brought up the media gallery. All three dedicated buttons offered near instantaneous response times and appeared to be aimed at making general computing tasks front and centre of the notebook's overall experience.

As would be expected of a notebook of its size, the VAIO further featured an HDMI out port, three USB 2.0 and one USB 3.0 ports and a SD card slot, along with standard 3.5 mm microphone and headphone jacks. Additionally, we were pleased to see the presence of a slide switch to activate or deactivate Wi-Fi.

To the point

The VAIO is not top of the range, and, for its price, is certainly not the most expensive notebook we've come across either. However, as a general purpose computing companion for someone seeking to a bit of everything, while benefiting from a generous screen and stylish notebook, without breaking their back or straining their bank balance, the VAIO VPC-EH18FG seems like a good fit. It is a pity that the trackpad wasn't a bit larger, or at least, not positioned quite so close to the left edge, but the VAIO was nonetheless an attractive notebook that was mostly a pleasure to work on, and as its pricepoint of R7500, offered excellent value for money.
PROS
Lightweight
Appealing design
Mostly comfortable to type on

CONS
Trackpad set too far left of centre
Lightweight, Appealing design, Mostly comfortable to type on
Trackpad set too far left of centre