We love thin-and-light notebooks in the office. Give us anything below 2 kg and we're happy - that is if the processor is fast enough (so netbooks need not apply). That's exactly the kind of product Toshiba has managed to create with their Portégé R700.
Weighing in at about 1.3 kg, approximately the weight of your average netbook, the R700's distinguishing feature is its processor. It does not come with the usual ultra low voltage (ULV) processor so often found on thin-and-light units, rather a full Intel Core i5 520M dual-core processor firing at 2.4 GHz. This means full notebook power in a unit that is so light that it barely registers in your notebook bag. Oh yes, all this complete with an optical DVD drive, 4 GB of RAM and about 320 GB of free hard disk space.
Heat and battery life
Seeing that an i5 processor we expected the R700 to struggle with two things - heat and battery life. In both cases we were proven wrong. The notebook did get a bit hot on the bottom, but not more so than our regular
Dell Studio 1558
work machine, although it did get warm round the charging point. If you need to keep a unit cool there's usually a trade-off in sound emanating from the fans, but once again the R900 proved otherwise, being silent as a whisper. This is due to the Airflow Cooling Technology Toshiba co-developed with Intel which minimizes the sound of the fan even in this slim casing.
Battery life also didn't prove a problem, and we achieved about 5½ hours with Wi-Fi connected with a couple of Office programs and the browser open. It's not exactly Toshiba' claimed eight hours of battery life, but still very decent compared to the three hours we sometime achieve on bigger machines - remember you are running a full i5 processor. That said, the machine took its time to recharge, even when it was turned off.

Styling
Toshiba went for the sleek black look on the R700 Magnesium alloy body, with only the hinges and Toshiba logo bragging with a chrome finish. Open this unit up you're greeted by a chichlet styled keyboard, not found on many other Toshiba's machines.
This keyboard was comfortable to work with and also apparently spill resistant (not tested), but the enter key might prove problematic since vertically longer and not the more common horizontally is horizontal arrangement.
The multitouch enabled touchpad worked well in all regards, with the right and left mouse buttons separated by a fingerprint scanner and a mousepad on/off button conveniently placed just underneath the spacebar. You'll also find sufficient palm rest space, upping the typing comfort of the machine.
Screen
Being such a small unit you would have to be satisfied with the 13.3" of screen real estate on offer - but what a screen it is. With a HD-ready 1366 x 768 resolution and TruBrite LED backlit technology, the screen can not only go sufficiently bright, but can also be turned down sufficiently dark - ideal for working low-light environments such as on a night flight to Europe.
The stand-out feature though is the fact that it is anti-glare – you can barely glimpse yourself in the screen and it catches almost no other reflections. The anti-glare of course also helps when watching movies, and it's here that you encounter one of the R700's weaker points – sound quality. While by no means under-performing when it comes to volume, the quality of the sound was a let down, with movies suffering from tinny sound as the speakers struggled to reproduce faithfully.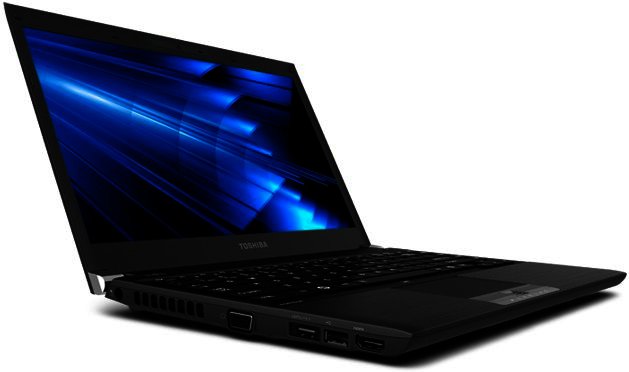 Lack of dedicated graphics card
The R700's lack of a dedicated graphics card is bad news for those who need the machine for graphical software or gaming. You're dependent on Intel's internal HD graphics, which during benchmarking can't keep up with dedicated GPUs. Its 3Dmark06 score of 1954 is much the same than that of the
HP Probook 4520s
(1716) or
Acer's TimelineX 5820TG
(1922) that's also without GPU, but compared to the
Acer 7740G
(Core i5 430M) with its ATI HD 5650 GPU that scored 7414, the differences becomes apparent.
Ports and extras
With two USB ports, an eSATA/USB port, a memory card reader plus an HDMI port, the R700 delivers on the connectivity side exactly what we expected. Toshiba's Sleep and Charge functionality is also found here, allowing you to charge a device such as a phone or MP3 player via the USB+ port, even when the notebook is in sleep/ hibernation mode or turned off.
Those looking for 3G connectivity will be disappointed since there is no SIM card slot, but it does come with a docking station connector. Toshiba also includes a Hard Drive Impact Sensor which "parks" the heads of the hard drive when any sudden movements are felt. This helps prevents hard-drive failure and luckily Toshiba allows you to adjust the sensitivity settings for your work not to be interupted by the tiniest of bumps against the machine.
Conclusion
If you're looking for a thin-and-light machine, Toshiba's Portégé R700 should be right up your alley. There is criticism that can be levelled against it - lack of 3G (you've got a 3G modem most probably anyways), no stand-alone graphics card and below par sound quality, being the main suspects.
But weighed against the pros, including an Intel Core i5 processor, excellent anti-glare screen, good battery life and of course the fact that it weights south of 1.5 kg, you know it's necessary to go to the shop, cough up the R9999 asking price and go home safe in the knowledge that you've got yourself an excellent little machine.
Pros: Full i5 processor, anti-glare screen, sub 1.5 kg
Cons: Bad sound quality, no dedicated graphics card, lots of "crap"ware
Verdict: The Toshiba R700 is small, light but very powerful - the Baby Jake Matlala of the ultra-portables.
Full i5 processor, anti-glare screen, sub 1.5 kg
Bad sound quality, no dedicated graphics card, lots of crapware