We were fairly impressed with the last all-in-one (AIO) from HP that we reviewed, that being the
Officejet 6500A Plus
, so we were looking forward to discovering if the Officejet 7500A Wide Format can continue the high standard set by its stablemate. This new printer is aimed at SME's that require a wireless, web-connected all-in-one that is able to print materials up to 330 by 483 mm (A3+) in size, the likes of prosumer photographers.
Design
Seeing that this printer is designed to handle bigger paper output sizes, it is a fair bit bigger than your run of the mill AIO. It measures in at 606 x 426 x 293 mm and weighs in a bicep-building 14 kg, making it the bulkiest of the most recent printers we've tested.
Considering its bulky frame, one would naturally assume that, as is the case with the
Lexmark Platinum Pro905
, its printing input drawer would house an above average number of pages. Unfortunately this is not the case, since the input tray only has room for the standard 150 A4 pages, but of course the tray is larger though in order to house A3 pages as well. At the top of the printer is a 35-sheet handy automatic document feeder (ADF), which can be employed for bigger scanning and copying jobs.
Data input and navigation of the printer's functionality can be done via the 2.36" (480 x 234) TFT LCD colour display. This is an easy to use touch-screen, which you use in conjunction with the touch-sensitive numeric keypad and buttons surrounding the display, such as back and stop (cancel) buttons.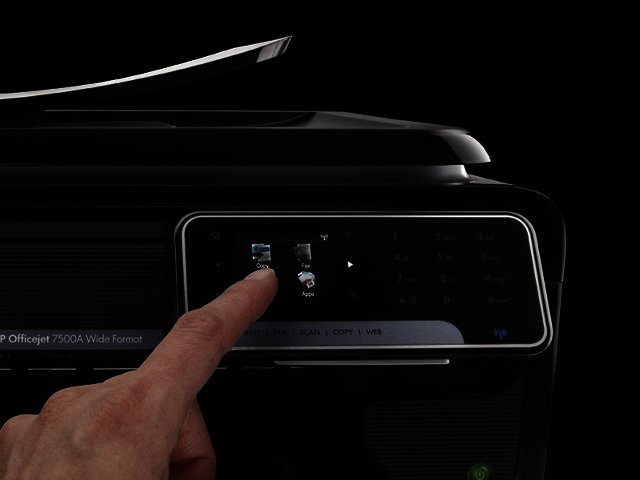 Printing workhorse
Included on the list of functionality that is selectable via the touch-screen is printing, which the Officejet 7500A Wide Format does very well. It prints at a really quick pace on the normal setting, with the manufacturer claiming a speed of up to 33 ppm for (draft) black and white pages and up to 32 ppm for (draft) colour. This is somewhat optimistic, but what we can say is that the printer's quality is very good and the pace is quicker that the last printer we tested, which was
Epson's Stylus Photo TX700W
. It's not only its printing pace that impressed as the quality (up to 4800 x 1200 optimised dpi colour) of the printouts are also excellent, matching those of Lexmark's
GENESIS S815
.
The photo printing capabilities of the 7500A are also quite good, printing at a really impressive quality, although the
Epson
still has the upper hand in this department, as its quality we feel is still the benchmark for this category. HP's 7500A Wide Format is capable of printing on paper (plain, inkjet, photo), envelopes, brochure paper, transparencies, labels, as well as cards (index and greeting).
Printouts come out of the printer to land on the really practical output tray of the 7500A Wide Format. It is quite big with enough space to catch the A3 pages as they leave the unit and capacity for 100 pages which doubles the standard normally available. Unlike on the
6500A Plus
, automatic duplex (double-sided) printing isn't offered with this printer.
Copying, scanning and apps
What isn't a hassle though is copying pages, which can be done either by placing pages onto the scanning surface of the printer, or in the ADF for multiple paged documents. Even though the printer is able to print onto bigger sized pages, even resizing A4 copies to print onto an A3 page, you can only scan pages up to letter/ A4 sizes.
In order to address this issue, this printer comes with
ArcSoft's Scan-n-Stitch
software, which not only enables you to edit a scanned document (with functionality such as rotating the image and adjusting its colour etc.) but also allows a user to scan in larger documents (such as the top and bottom halves of an A3 page), and then place (stitch) them together for printout onto an A3 page to match the original scanned document exactly.
The unit scans documents at a fairly good resolution, up to 4800 pixels per inch (ppi), onto your memory device (such as an SD, MMC, XD or memory stick duo card) or PC. You can save documents in a number of popular formats such as an image (JPEG), a PDF document or as editable text (OCR).
As is the case with Lexmark's latest AIOs as well as the Officejet 6500A Plus, this printer is able to add to its functionality by allowing users to download apps, assisting in futureproofing its technology.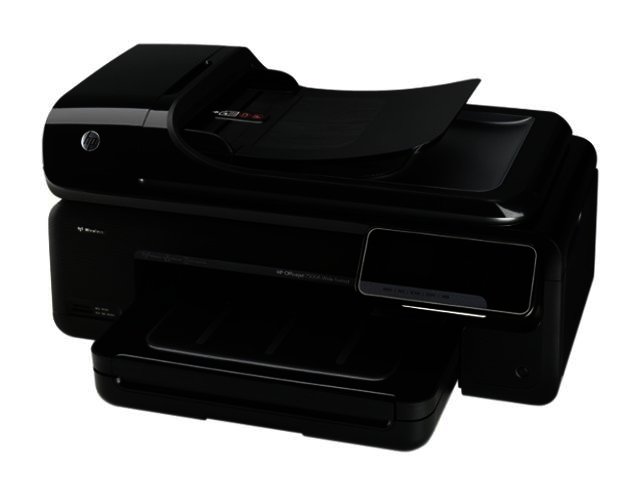 HP ePrint and AirPrint
Also like
HP's Officejet 6500A Plus
, the 7500A Wide Format supports both ePrint as well as AirPrint. The former enables you to print from virtually anywhere thanks to the printer's assigned email address to which you can send documents. You can simply send an email with the attached document or picture to the device and you'll have a printout as soon as the message is received. This can be done with Word, Excel and PowerPoint documents, PDFs, or photos that need to be printed. Obviously your printer needs to be connected to the web for this to happen.
Another convenient printing technology is aimed at users of iOS 4.2 devices, including the
iPad
,
iPhone
, and
iPod touch
. AirPrint enables the users of these devices to print wirelessly to their HP ePrint enabled printer when using certain apps. They can do this without having to download additional software or perform any kind of set up. Customers will be able to automatically find a printer on their wireless network and print to it.
Final Word
HP has ensured that the Officejet 6500A Plus all-in-one hands its latest unit, the 7500A Wide Format, the office workhorse baton in the printing performance relay. This is a very capable performer boasting really good quality prints at an impressive pace.
No auto duplex is a bit of a let down, as is the standard capacity input tray, but the useful output tray and bigger sized printing capability of this device mean its definitely worth considering if your office needs to print out documents larger than A4. It goes for a recommended retail price of R2909.
Pro
Delivers fast prints at a good quality, AirPrint and ePrint, A3+ printing and larger output tray.
Con
Takes up a fair bit of desk real estate, standard sized input tray (in terms of the number of pages), no auto duplex printing.
Delivers fast prints at a good quality, AirPrint and ePrint, A3 printing and larger output tray.
Takes up a fair bit of desk real estate, heavy, standard sized input tray in terms of the number of pages. No auto duplex printing.