It's a bit of a shame that we're under lockdown, since Sony's XB41 EXTRA BASS portable speaker really calls out for a party. The XB41 falls in the same category with the likes of JBL's Xtreme 2 or Ultimate Ears Megaboom 3, providing BIG sound from a relatively small body.
Sony's offering provides a couple of extras (see below) that should not distract from the fact that, at its core, you are receiving great sound with extra bass that really fills up a room. With the extra bass boost, Sony puts the battery life at a substantial 14 hours, which should be enough for any party held during load shedding.
There are a few things that will detract from your battery power, one being the speaker lights and flashing strobe on offer. It's a feature I did not think I would like but seeing that these lights sync (sort off) with your tunes it does add a certain nightclub-vibe, handy if this is your setup for a party at night.

Music Centre is where it's at
When using the XB41, your first point of contact should be the Sony Music Center app – pretty much the brain of the operation. Although the speakers will work without it, you have so much more control through the app. Here you can control your music (in my case being Google Play Music); fine tune the speakers for better bass, mid and treble levels; or choose one of the equalizer presets on offer.
Sony punts LIVE SOUND mode as one of the key benefits of the speaker, set to provide a 3D feel to your tunes, sending it to a wider area to create a "festival vibe". This maybe works in a larger space, but within the confines of a kitchen or living room it tends to muddle the sound. There are a number of other equalizer preset options to choose from, so you will definitely find one most suitable for a) the genre you are listening to, and b) the space you are in.
If you don't want to work things from your phone, you'll find a basic control panel on the back of the speaker for physical control over playback and volume. Plus, rather handily, it includes a USB port to assist with charging a smartphone. This means you need not worry about having an extra charger ready for your phone when it runs out of juice just as the party is really kicking off.
The Extras
Sony does not shy away from including some more 'interesting' features, such as the ability to tap the device's sides for different drum effects. This feature isn't truly sensitive enough and was literally hit and miss. I also believe that if you're in the middle of the party and someone starts drumming out a beat on the speaker, it qualifies sending them home immediately.
If you have more than one Sony speaker you can also link them up via Wireless Party Chain (WPS) for added volume in a larger room.
Yet another app that adds further features is Fiestable, which can also be accessed from Music Center once installed. Apart from offering similar drum-tap options from your phone, it offers DJ types effects, such as scratch noises or shout-outs, and further control over the lights of the speaker. This can be mildly entertaining for a few minutes, but I also know that I might not be the target audience for some crazy scratching effects
The XB41 itself is not pool-party averse, seeing that its waterproof with an IP67 rating, plus can actually be washed under a tap. It won't rust, while it's also dust-proof, if you are considering taking this to the 'Burn or the beach.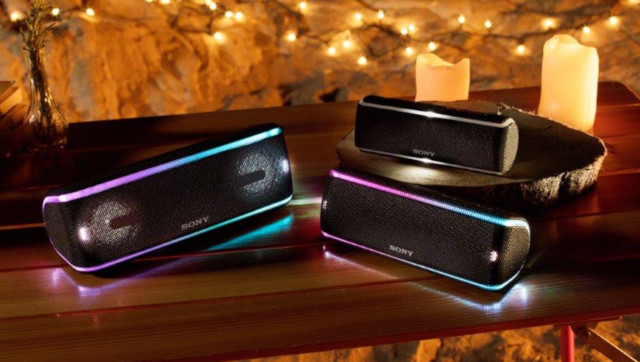 Final thoughts
If you are looking for a portable speaker that will keep you company in the house, but has enough oomph to pump out tunes during a house party, Sony's XB41 EXTRA BASS speaker is a top choice.
Waterproof with loads of preset sound options, and of course offering a solid side-plate of extra bass and entertaining lighting options, the XB41 speaker must not be overlooked for post-Corona parties. Not all the extras will be appreciated equally, but there will be users getting a kick out of them.
The Sony XB41 EXTRA BASS portable speaker can be found online in South Africa for over or under R3 000, making it a fair bit cheaper than JBL's Xtreme 2.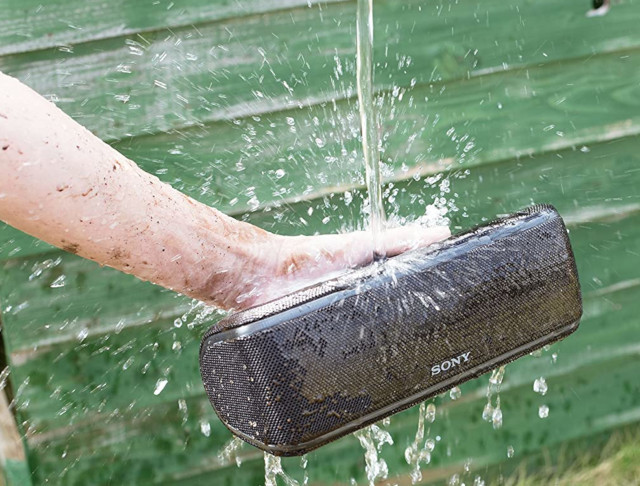 Decent sound for party or indoors, extra lights, waterproof, strong battery life
Gimmicky features such as drum tapping on the side, LIVE sound not that impressive,