Once, many years ago, I found myself getting a sneak peak at the construction of the Michelangelo Towers. After ascending to a dizzying height via a construction crane, and conducting an interview, we then needed to make our back way down several floors using the as yet unpaved concrete stairs. These were completely unlit and made for a harrowing experience where one wrong placement of a foot would have seen me breaking my legs, if not my neck.
Suffice to say I did make it down in one piece, but the experience taught me the value of having a good, or rather, great flashlight on me at all times.
That is exactly what I found in a couple more Fenix flashlights that graced the review desk, and after spending some extensive time with each of them, I am even more convinced of this than before. What the Fenix offerings also do though, is prove that not all flashlights are created equal.
PD35: Small but mighty
First up is the pocketable PD35, whose 139 mm size actually belies its punch. Much like the Fenix UC40 (review) this too is slender enough to fit in a denim pocket, while weighing in at a mere 87 g.
Rather than enabling you to recharge the battery from the flashlight itself via a microUSB port, it houses one 18 650 Li-ion battery or two 3V CR123A Lithium batteries. In my review unit it was equipped with the former, and I found this lasted impressively long, throughout sustained use over a good couple of months.
It's reassuring to know, as the last thing you want is your flashlight battery dying just when you need it most. Than being said, the rule that applies to DSLRs also has merit for flashlights, and it is always a good idea to have a spare, fresh battery on hand with the flashlight if you are going on an extended trip or safari.
I also found power wise, it delivered a more intense beam at its high end, of 960 lumens, making it feel like a much smaller alternative to powerful offerings like the larger, but outstanding LD60 (review) which pushes out 1500 and 2800 lumens at its highest settings. No, it's not quite as overwhelmingly bright nor is it spread as wide, but I had no complaints on its ability to chase away darkness or illuminate a decent sized walking path through the night.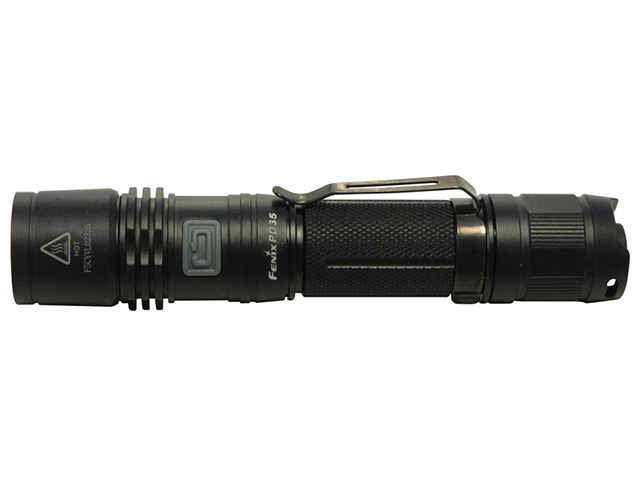 Push the button
Although it is built as solidly as the UC40, the PD35's control scheme is a little bit different, with a power switch on the back of the device, and then a separate switch, which falls just beneath your thumb, used to cycle through its brightness modes. To be honest I preferred the UC4's layout in which that thumb switch controlled power as well as brightness, but it's not a dealbreaker.
As far as brightness levels go, here is where the PD35 really impresses. On the lowest end you get 14 lumens, most suitable for when you need to scratch in your overnight bag on a plane flight but don't want to illuminate the cabin.
The next step up delivers 50 lumens, a more moderate beam which saw me through hunting for an errant contact lens more than once. Mid, high and turbo modes then deliver 180 lumens, 460 lumens and then 960 lumens respectively, with each mode affording less battery life as you step up, from ten hours in mid mode to just over an hour on the highest end. Finally, there is a bright strobe on offer as well, accessed by pressing and holding the mode button for a few seconds.
However, as tempting as it may be to crank the flashlight up to its potentially blinding maximum at every opportunity, you do want to be a bit careful, since doing so will drain the battery.You don't have to go that far – just the medium setting will do to easily illuminate a large room or garage from pitch dark to bright enough to see everything in it clearly. Quick tip – if you want to use a lower mode setting to evenly illuminate a dark room, point the light at a nearby (preferably white) wall.
All in all, the PD35 is an impressive piece of kit, beautifully combining brilliant light and variety of settings to suit your needs in a small compact form factor.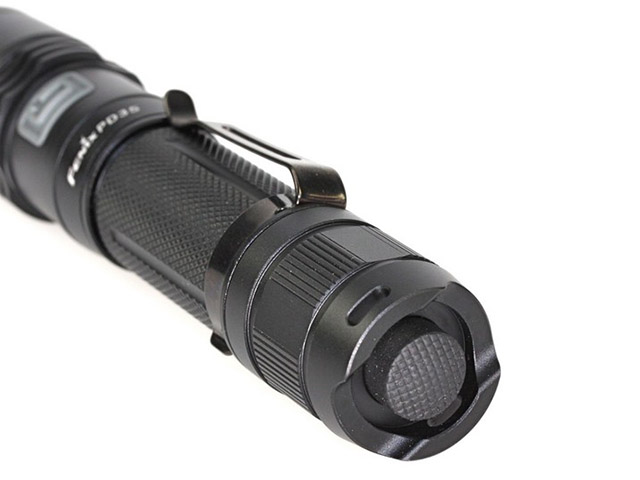 SD10: Into the depths
While the PD35 was a flashlight I would happily take into the heights of a dark, towering hotel, there is then its counterpart, the Fenix SD10, for those who go to the other extreme and aspire to plumb the depths of the deep blue sea.
Aimed at divers, and those who need to take a flashlight underwater, it has a few distinguishing features that distinguish it from its land-based brethren. For starters it is fully waterproofed, not just water resistant, and able to function when submerged down to 100 m. Its beam similarly has a low, medium and high setting, emitting 110, 385 and 930 lumens respectively. Along with the fact that its beam is a bit wider than the PD35, it can also reach up to a very respectable 300 m.
Just one flick
The real uniqueness here though is the SD10's control scheme. For starters, turning it on and off is accomplished not by a switch but rather by a twisting mechanism on the base of the flashlight, while modes are accessed by motion control, or put more plainly, flicking your wrist to cycle up or down the outputs.
Worth mentioning is that controlling the output in this manner was pretty consistent. It doesn't require an overly sharp movement (something that could be difficult underwater when increasing pressure comes into play) although I would definitely recommend getting used to it beforehand.
The whole flashlight is nicely ribbed for keeping a firm grip on it, while a loop on the back is perfect for attaching to a carabiner or lanyard to ensure the flashlight remains tethered to its user at all times. It too accommodates the same 18 650 Li-ion battery as the PD35.
The only problem here is that these are not widely available penlight batteries, so if you are going on an extended dive trip and anticipate subjecting the SD10 to heavy usage, you need to make sure that these are purchased beforehand and not depend on local availability.That being said, it is very much a flashlight aimed at a certain niche of user, and tough to imagine a dedicated diver looking askance at it as a viable option.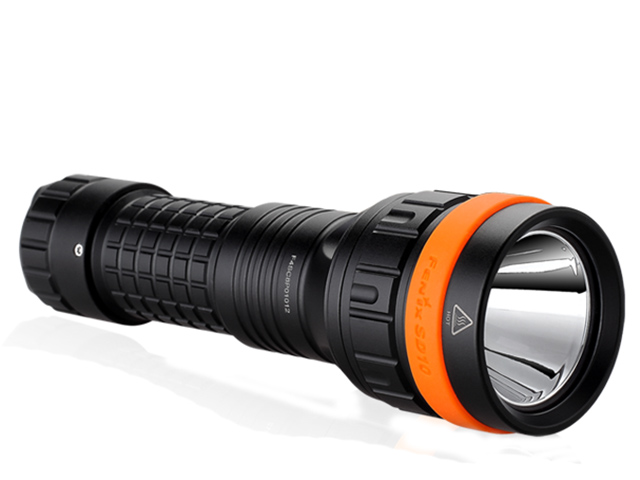 The other downside is the cost. The PD35 will set you back about R1 300, and the SD 10 will take a somewhat more palatable R750 bite out of your wallet. Admittedly, you can get flashlights for much cheaper, although worth bearing in mind is that all portable sun emitters are not created equal. If you are, like me, a light nerd, Fenix's range offers another kind of dilemma, namely which one do you buy? From the four flashlights I have been treated to spending time with over the past few months, the UC40, LD60, SD12 and PD35, these options are each tantalising.
Decisions, decisions
So which then do you choose? It largely depends on where you envisage a flashlight being most used. If you are into camping, hiking, spend a lot of time outdoors and need to pierce large swathes of darkness like a knife through butter, then I would wholeheartedly recommend the LD60.
If however, you want a flashlight that you can keep in your car, and don't intend to stray too far from a rechargeable power point, then the UC40 is a good bet. If waterproofing is imperative and diving your passion, the SD12 is a no brainer. Finally if you want a flashlight that is small and portable, up for everyday use but that is still capable of cleaving its way through an unexpected encounter with near pitch darkness, then the PD35 would be my first choice.
Each in their way have their merits, what all have in common though is reminding that light, like fire, is a primal necessity, and I cannot think of a better way to ensure one always has a lightsource available than one of these flashlights. Fenix flashlights may be expensive, but they are also amongst the finest offerings I have come across to date. Using one does spoil you a bit, since it's difficult to go back to the more common, far less bright offerings out there afterwards. Available from Outdoorphoto.co.za
Terrific light output, Well built, Small and compact, Lightweight
Expensive