A reliable rain jacket is most certainly a fitting description of the Hi-Tec Dron rain jacket. However, what quickly becomes apparent is that it's not a run of the mill solution to keep the rain off your body when the clouds open.
Additionally, its terrific quality belies how lightweight it actually is, I felt quite confident that it would be able to withstand the more extreme end of rainstorms, rather than just the occasional light drizzle.
Warm and cozy
Where the Dron does come into its own is with its integrated inner lining, which provides an extra layer of insulation, for when the rain is not just plentiful but icy cold as well. I found that, while roomy enough to accommodate a light sweater, the Dron jacket's inner lining provides a good amount of warmth to combat the cold.
Additionally, it boasts a well sized hood, which not only protects the top of your heat, but protrudes slightly and can effectively protect your face from driving rain as well.Even though the hood settles in place perfectly fine on its own, my favourite strategy for keeping this in place is to wear a baseball cap, and let the hood rest on its peak.
Apart from making you look somewhat Jedi-like, it serves well as a viable alternative to an umbrella. And, if you hate loose pieces of material flapping behind you, then you may be glad to know that when not in use, the hood can be tucked away into a substantial collar.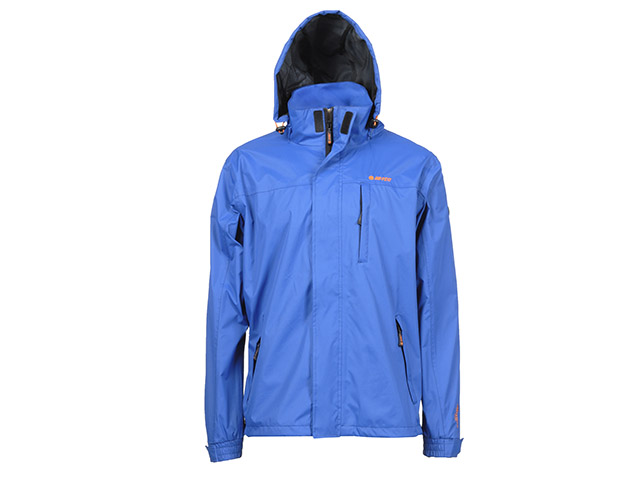 Zip it up
The jacket has two zippered side pockets, positioned right where your hands would be, and have a fair depth, certainly enough to cover my hands entirely. Additionally, the wrist cuffs can be adjusted somewhat, if you prefer a tighter or looser fit around the wrists, secured using Velcro.
The only other place you will find Velcro is on the front of the jacket, accompanying the main zipper. I'm in two minds about this. While I don't dispute that velcro makes for a convenient way to secure flaps, I tend to prefer buttons or snaps, which seem to stand the test of time and regular use better. Nonetheless, this is a minor issue, and is going to come down to whether you like Velcro or not. Thankfully, these seemed to be free of picking up errant hairs and fluff, my main gripe with the Velcro solution to fastening.
Room to move
Personally, I hate clothing that makes one feel constricted, and thankfully the Dron still enabled me to feel I could move freely. While I would hardly recommend picking up the gold clubs when a thunderstorm begins (remember, this one will protect you from the rain, not the lightning) I did feel like I could complete a golf swing or draw a bowstring with it on if I absolutely had to.
What's not to like on the Dron? To be honest, not much at all. The review sample we were sent was all black, which actually I found looked quite smart, although there is an all blue colour as well if you prefer to stand out a little rather than blend in.
Well made, easy and light to wear , the Dron is a no brainer jacket to grab in the season of summer showers, or if you happen to live in an area which is frequented by light to heavy rainfall. It's also incidentally, not too expensive at all, coming in at R900.
*The Dron rainjacket was provided as a seeding unit by Hi-Tec.
Well made, Lightweight, Warm but roomy, Large hood that stores in collar
None worth mentioning