While footwear may be too easily taken for granted, a well crafted pair of shoes really show their value when you start demanding greater versatility, traction and not to mention comfort from the gear with which you grace your feet.
Indeed, and talking from practical experience, one tends to realise just how important a great pair of shoes is after the second or third tumble in lesser shoes, particularly after one's exposed knees have met with ground with a painful thud for the second (and we are embarrassed to admit, even third) time.
Trail Blazers on trial
With this in mind, we were particularly keen to see how well Hi-Tec's Trail Blazers performed in light of the intense heat and all too frequent showers we have had of late. To start with, we were a bit taken aback by how light the Trail Blazers are (341 g), feeling more akin to an exceedingly well made slipper than a shoe in this regard, if not quite as light as a dedicated trail running shoe. Considering that our other hiking shoes approached the 600 g mark, the weight difference was considerable and noticeable.
Additionally, as well as being exceptionally comfortable thanks to its ortholite sock liner; we found that much like Hi-Tec's V-LITE SpHike mid WP boots (review), the Trail Blazers required minimal wear in. In fact it was mostly a case of slipping them on and going for a combination walk and run straight away, with the Trail Blazers almost immediately feeling like they and our feet were old friends.
Furthermore, we experienced exactly zero chafing on the heel (something which could be a problem with new shoes, but wasn't here); nor did we once find our feet beset by blisters caused by the shoes either. Given how easily an inconveniently placed blister can turn an otherwise enjoyable spurt of activity outdoors into a lesson in pain endurance, this was a major point in the Trail Blazer's favour.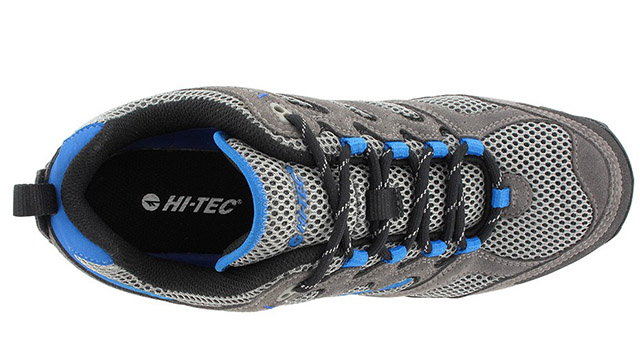 Ankle support may not be as extensive as found in heavier hiking boots, but our experience with the Trail Blazers did not disappoint our ankles or leave us with painful sprains or strains.
Sole survivor
The lightness of the shoe though was not just a boon for practically living in them; the mesh upper also meant that enduring temperatures above the thirty degree mark with them on was not a problem in the slightest. This was a factor we appreciated no end as the mercury's insistence on climbing meant that strapping on warmer and heavier boots when heading outdoors was simply out of the question.
However, lightness and comfortability aside, the next important question on our checklist was what kind of traction they would provide, particularly as the clouds parted and we found ourselves on notoriously slippery surfaces like wet brick and rock for example.
The good news is that the Trail Blazers never faltered, gripping dry and wet surfaces alike, uncompromisingly refusing to let go until we raised our foot. For fun, we walked and ran with our dogs on a leash with the Trail Blazers, just to see if an enthusiastic border collie could pull us off our feet on the aforementioned surfaces. To our delight, the answer was a just as enthusiastic no.
It is this that really won us over, particularly as the multisport shoes lend themselves to running, walking and a myriad of activities inbetween. This traction is not a result of luck, but rather the multi-directional traction system that Hi-Tec has implemented here.
The good news and the better news
Furthermore, we found that the Trail Blazers offered an ideal balance between flexibility and bendability as well as solid support, thanks to its forked shank.
The even better news is that there isn't any bad news when it came to our review. Admittedly, we are fans of heavy hiking boots and shoes, and certainly, heavy hiking shoes have their place, particularly when shouldering a photo backpack or doing a multi-day hike.
However, for general comfort and versatility when engaging in a myriad of activities, and going from walking to running to lighter hiking or photographing, we found ourselves reaching instead for the Trail Blazers more often than not.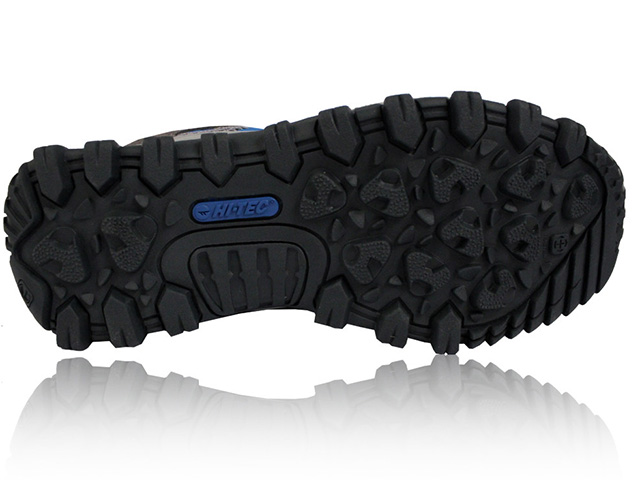 No less important in a hiking and multi-sport shoes is traction, particularly if you plan on treading over various kinds of terrain.To their credit, never once did we have to admonish the shoes to 'get a grip'.
No twists or turns
The payoff in lighter hiking shoes compared to their heavier boot counterparts is that the latter tend to offer far greater ankle support. Granted, those with weak ankles or ankle problems may well gravitate to heavier boots when hiking for this very reason. However, we certainly weren't let down by the ankle support on offer on the Trail Blazers, which seemed to hold our ankles firmly, albeit comfortably, in place.
In fact, not once when running or walking did we find our ankles turning or twisting. For obvious reasons, this only enforced our confidence in treading into the outdoors or travelling, for that matter, in the shoes; the very last place you want to twist an ankle is on a trail or when you are in unfamiliar terrain.
Tongue in cheek drawback
Our biggest problem, and one which beset the V-LITE SpHike boots as well, came when we started looking for the shoe's Achilles heel. The pros were readily apparent, the cons however, were far less so. The Trail Blazers even looked the part of a multi-sport shoe – sporty, attractive and appealing. What's more, at just below R900 they are not overly expensive either. In the final analysis, we found ourselves highly impressed and can easily recommend them to outdoor enthusiasts. Available from Cape Union Mart from early February.
Exceedingly comfortable, Excellent traction, Light, Terrific versatility, Very good ankle support
None that stood out