There have been a number of wearables to hit the SA market of late, with manufacturers unveiling a slew of devices towards the end of 2014. LG's G Watch R was one of the more interesting prospects, as its round face oddly seemed to buck the smartwatch trend of square displays.
With Android Wear running in the background, the G Watch R seemed the early frontrunner to be the best all-round smartwatch based on initial impressions. To see whether it can live up to the billing, I strap the G Watch R to my wrist and put it through it paces.
Embracing the circle
So let's deal with the G Watch R's major selling point - its round display, a form factor we haven't truly seen in smartwatches until now. Does it work? Well, yes and no. The circular form factor feels a more natural fit for a smartwatch,but if your aim is for people to notice your new smartwatch, it unfortunately looks more traditional than a square design. The round 1.3" P-OLED screen (320x290) does however mean that info, whether it be from an e-mail or text message, often requires multiple upward swipes in order to read.
Swiping issues pushed aside for a moment, the G Watch R itself is a rather striking device, with an all black colour scheme that keeps things supremely simple and clean (something I always enjoy seeing when it comes to tech). If there is one aching area of concern, it would be the strap, a faux leather that feels quite cheap to the touch. It also gets a number of creases, as a result of the strap material straining as it is fastened to one's wrist. Once fastened however, it sits comfortably and looks fairly innocuous.
Objects may appear larger...
I was quite taken aback to see how large the G Watch R in fact is in real life, with its 9.7 mm thickness making it look a little chunky, which may prompt those in need of a sleeker silhouette to look elsewhere. With that being said, the chunky look should not be mistaken for it being heavy, as it only weighs 62 g. If however a bold sized watch is what you're hankering for, then the G Watch R is a good fit.
One of the most important element for me regarding smartwatches is ease of use, and G Watch R is one the best wearables I've encountered in this regard. Setup was absolutely painless, pairing up seamlessly via Bluetooth 4.0 with the Samsung Galaxy A5 (review) I was using at the time. It's important to note that the G Watch R will pair with any Android-powered device sporting 4.3 (Jelly Bean) or higher, a particularly significant aspect considering wearables such as the Samsung Gear S do not.
Shifting Google Now
Once paired, all of Android Wear's functionality is at hand, as Google Now moves from one's smartphone to one's wrist. As such, content and notifications can be uniquely customised to user interests, with Google's "cards" popping up every hour or so. Phone calls, messages and mails are brought up instantaneously, but actioning (replying via text or calling back) still necessitates the use of one's smartphone. To LG's credit, this is not really their problem, but more an issue that exists with Android Wear and smartwatches in general. As such, whether or not smartwatches like the G Watch R can make you more productive is still an issue up for debate.
Nevertheless, the G Watch R was still handy, and allowed me to quick browse through mails in particular, and then access whether or not a reply was necessary, as opposed to unlocking my smartphone to read.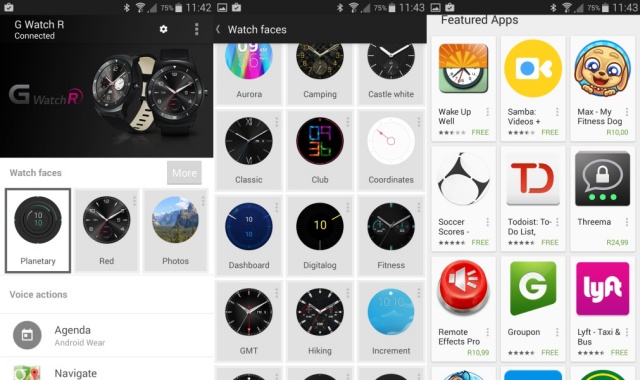 Still not sold
As far as overall performance goes, the G Watch R has proved a more than capable smartphone companion, lasting a solid two days before a visit to the charging station is needed. Added to this is a Qualcomm Snapdragon 400, registering at 1.2 GHz (pretty standard for most high end smartwatches) and 512 MB of RAM, as well as 4 GB of onboard storage (3 GB of which is actually useable).
Having run through all that, we get down to the burning question. Currently available for R3 300 from Orange's online store, is the G Watch R worth the price? The answer is yes, but does carry a significant caveat. The G Watch R can be used as an effective productivity tool, but requires an individual that uses their smartphone day in and day out. If however you're considering the G Watch R to be part of the big wearable trend, then perhaps waiting till something more definitive is in order, like LG's upcoming Watch Urbane.
Surprisingly light; Good battery life for smartwatch; Brings Google Now to the fore
Does not hold enough sway over simply using smartphone