FULL DISCLOSURE: The review shoes were received from Under Armour South Africa and not returned.
The name might be a mouthful, but luckily Under Armour's UA Flow Velociti Wind 2 (Wind 2) is a lean, fat-free running option, intent to keep the weight off your feet. At 272 g (size 10) the Wind 2 cuts a lean figure, with the design of the shoe continuing with the original's rather unique idea of omitting the outsole, which comes across as quite strange at first viewing.
Design
It must be said that the Wind 2 is a great looking shoe, with the neon yellow colourway fading into a deep blue towards the front foot. The upper is constructed using what Under Armour calls Warp. This looks like thin strips of tape that run in a criss-cross pattern, which the company states adapts and acts like seatbelts on the foot.
This seems to work well, with your foot not in direct contact with the strips, instead there's a sock liner protecting it from chaffing. The heel cage is sufficiently padded and enforced, and although the tongue isn't padded I didn't have a problem with comfort or side-sliding.
The midsole extends quite far up the sides, with a consequence being that your foot is pretty much locked in from the bridge of the foot backwards. For me this was a bit claustrophobic around the bridge area, feeling a bit squeezed, which makes me wonder if a size up from your regular number might not fit better.
Midsole/Outsole
The midsole/outsole is simply moulded into a grippy pattern that does well to stick to the road, although with it being winter here with no rain, I could not check performance in the wet, which would be my main concern. Is it grippy? Yes. Is it Pumagrip grippy? No.
The midsole/outsole is curved on the bottom which does not leave a lot of traction or stability to work with, but who needs stability when you're going fast, right? As far as wear on the midsole/outsole I could see my usual hotspots wearing through slightly faster than usual seeing that it's not quite a hard-wearing rubber outsole.
One can debate how much weight an outsole actually adds, but it's pretty apparent that the shoe has been designed to cut on weight to gear for speed. If you have a 5km, 10km and even a 21km PBs in mind, the Wind 2 becomes a solid choice, simply because it's such a light shoe with enough midsole to support the foot. There is a flat 8 mm heel to toe offset.
I started testing the Wind 2 while on a decent level of fitness and it was noticeable how the shoe changed the way I struck the ground. Without the regular thickish midsole support for the heel, the shoe forces you more towards a forefoot strike, consequently tilting the whole body into a speedier forward position. When going at pace though, the midfoot started to dominate into a comfortable flow (no pun intended) that felt very natural.
However, the Wind 2 is very much a shoe for runners who are already quite fit. I got COVID during the review period and after 14 days of recovery, my fitness level was drained. Getting back on the road with the Wind 2 was difficult and I felt I needed a more comfortable shoe with a cushioned midsole. My lack of fitness also made it apparent that the shoe would work best for runners at least a few kilos below my 93 kg.
The connectivity feature
Perhaps you are wondering what the Wind 2 offers that others don't. This lies in the Bluetooth connected chip built into the right shoe and the analytics and coaching this can provide. Using the Mapmyrun app, it will provide a summary of your run (distance, duration, pace), but more interestingly, also a form summary. This would include averages of your cadence, stride length, ground contact time and foot strike angle, data that's very much shoe related.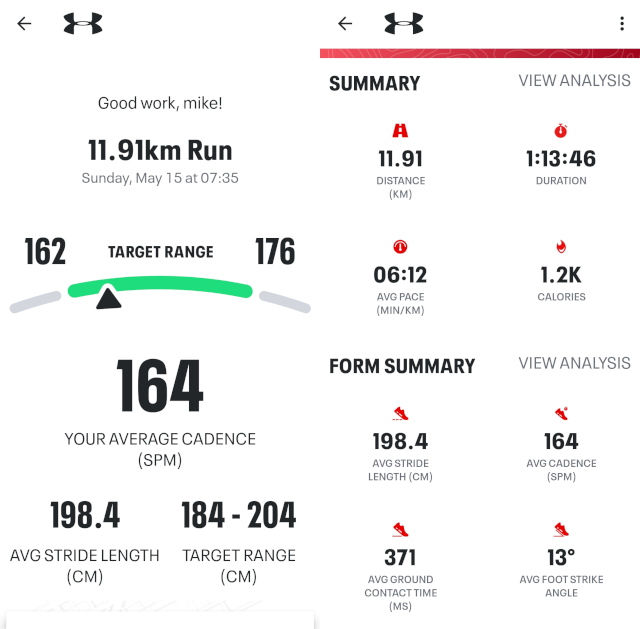 If you run with a smartwatch or even your phone, you'll find the Wind 2's summary of your run not all that accurate. It often falls short of the distance measured through GPS, and adds on time, but if you are a runner who prefers to run with nothing but the house keys then this will at least keep a log of your runs. However, the form analysis stats are what the shoes measure best and should offer insights on what changes during fast runs and slower ones.
The app will also offer coaching tips, which emphasise your average cadence and getting this into a target range, with stride length also important. After your runs there are these coaching tips provided depending on what happened during the run. The one tip provided, for example, was "To avoid overcompensating with your cadence when you are tired, focus on your stride length instead".
There's also a data field where you can check your progress over time, showing your cadence and stride length (alongside pace) over the last eight runs.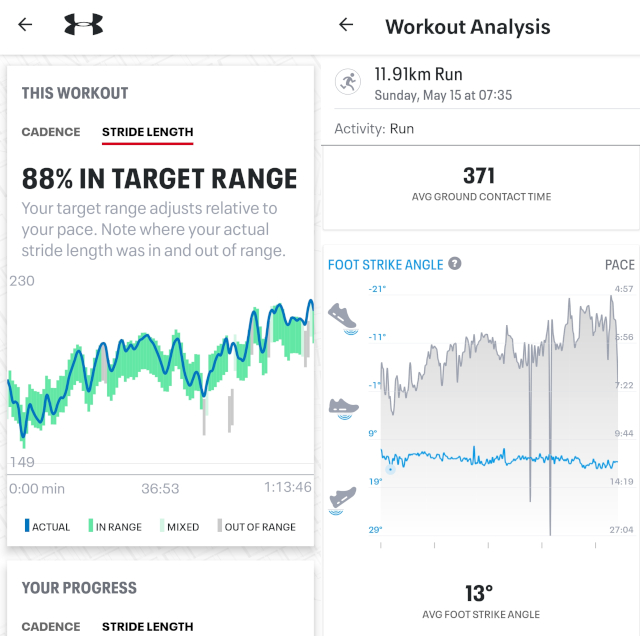 For best results, however, the Wind 2 shoes should be paired with the Mapmyrun app during runs. This means you get the benefit of GPS accuracy alongside the form analysis stats - something your smartwatch can't provide (although some do provide cadence, my Garmin was very accurate with cadence).
Although you have the option of Form Coaching audio during your run (with audio provided either through your phone or connected earbuds), make sure that you manage the intervals this audio feedback is provided for, alongside what type of stats are needed in the feedback, otherwise it might just be too intrusive. I prefer listening to audiobooks and have turned this off, but I would recommend trying the coaching to see how it goes and what you start noticing - it made me more conscious of cadence during runs.
Conclusion
The UA Flow Velociti Wind 2 is a speedy shoe that is built with personal bests in mind and will serve those best who are fit enough to take advantage of the shoe's relatively low weight. Apart from the lack of outsole, the Wind 2 is in a sense an old-school fast shoe, cutting down on weight and offering less midsole. Modern 'super shoes' add a thicker midsole and a carbon plate to help with pace.
Keep in mind, the Wind 2 is pretty much a race day shoe that should be kept for those special occasions where us runners cough up enough money to run in a pack. It's not a regular trainer and not built for comfort.
The extra data the Wind 2 provides through the built-in chip is an added bonus on this pacy shoe. Like most Under Armour products locally it is also pricey, standing at R3 500 and available online.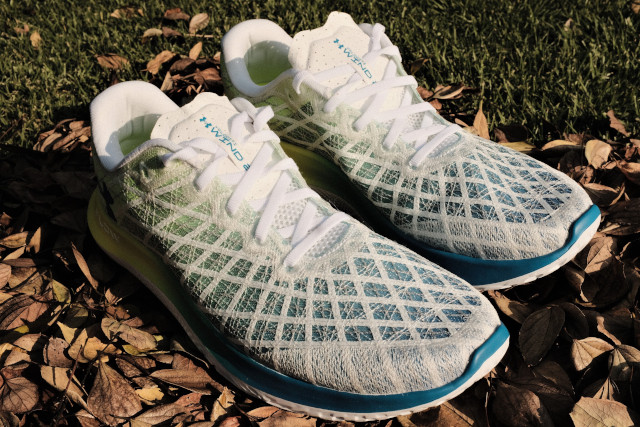 Relatively lightweight, great looking shoe with decent uppers, shoe runs more towards the forefoot tilting body forward
Midsole/outsole could be wearing faster than usual, expensive, slightly narrow around the bridge