Users who love the HTC One (review), but find its size a bit too daunting can opt for the bonsai-sized iteration in the One mini.
Like the One, this mini-me version offers a metal aesthetic but in a more compact, iPhone 5-sized package. The One mini does miss a styling trick as it lacks the One's eye-catching chamfered aluminium edges, instead offering up less-appealing polycarbonate sides.
Honey, I shrunk the screen
Continuing the compact theme is the display of the One mini, which in this case is a 4.3" (720 x 1280; 342 ppi) screen that delivers clear images with nicely saturated colours, despite being an LCD as opposed to a AMOLED panel. The HD-Ready resolution might be a step down from the One's 4.7" (1080p; 468 ppi) display, but trumps the qHD (540 x 960; 256 ppi) resolution available on the 4.3" Super AMOLED of the Galaxy S4 mini (review).
The One mini is not a one-trick entertainment pony, as its sound prowess matches the visuals from the display. This is thanks to some excellent sound via HTC's BoomSound experience, which sees the smartphone sporting dual front-facing stereo speakers that deliver not only a noticeably higher quality, but also a louder sound than is on offer on other smartphones.
Beats Audio enhancement also makes an appearance, allowing for a discernable sound and music quality boost whilst listening to music via a headset. This rings true whether you're listening to Eminem, Arctic Monkeys, or Luciano Pavarotti's performance of Nessun Dorma from Giacomo Puccini's Turandot.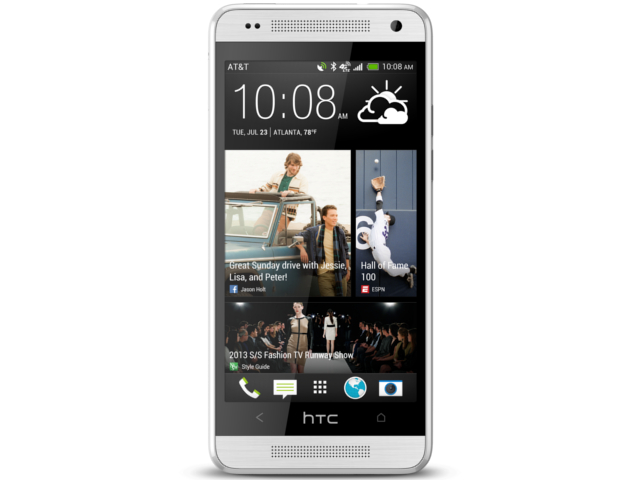 HTC's One mini is a mobile rendezvous for excellent sound and visuals thanks to its classleading screen plus BoomSound.
Beneath the stylish metal bonnet
Powering the Android 4.2.2 (Jelly Bean) operating smartphone is Qualcomm's dual-core Snapdragon 400 CPU running at 1.4 GHz, which is coupled with 1 GB of RAM. With this duo onboard the One mini trails the S4 mini, since it packs 1.5 GB of RAM and its Snapdragon 400 processor is clocked higher at 1.7 GHz.
This indeed proved to be the case during benchmarking, with the S4 mini delivering higher scores in commonly used tests including Smartbench 2012 (8442 vs. 5801) and Quadrant Standard (7046 vs. 5723).
During day-to-day usage though it will be difficult to tell the difference in the overall performances of these handsets, as both are snappy when navigating the Android platform and running multiple apps at the same time.
What else's on offer?
Also onboard is LTE (4G) connectivity for blistering downloads, GPS support with GLONASS, dual-band Wi-Fi 802.11 n, Bluetooth v4.0, and 16 GB worth of internal storage that unfortunately (like in the case of the One) is not expandable.
Initially the capacity of the non-removable 1800 mAh battery had us concerned since it is a far cry from the One's 2300 mAh unit, but this battery will keep the One mini ticking throughout the working day. We managed to squeeze over 10½ hours of a usage from a single charge on average.
In terms of optics, users get the same 'Ultrapixel' 4 MP rear-facing camera at the back as found on the One. The One mini's camera misses a trick in its lack of optical image stabilisation though, meaning that a less-than-steady hand more than often leads to blurry shots.
Despite users being able to capture good looking images, even in low lighting conditions, via the One mini's 4 MP camera, the image quality is not as sharp as photos captured by the S4 mini's 8 MP unit.
When it comes to taking selfies though, the One mini delivers class-leading optics performance as it packs a 1.6 MP front-facing snapper, which captures surprisingly good and detailed selfies and boasts a wide-angle lens for getting two or three of your friends in one shot.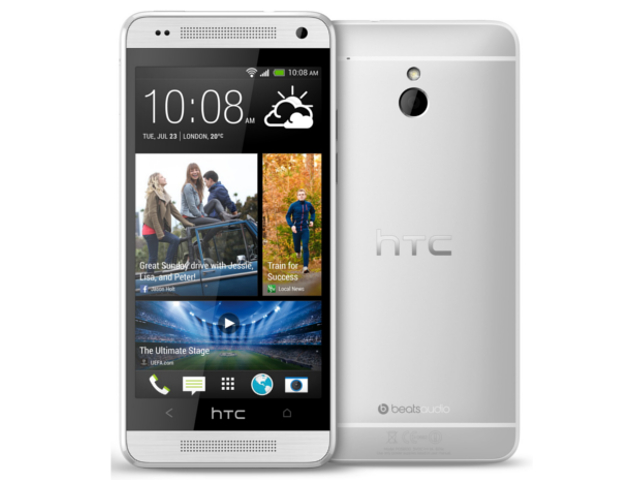 Snapper performance is a mixed bag, since the selfie shooter is top class but the main camera is off the pace of those of the One mini's rivals.
When is the One mini, the one to have?
HTC's One mini does not only boasts a premium look and feel thanks to its metallic frame rounded off with plastic elements, but also a beautiful display that pummels most of its midrange competition. We just wished that some of its features had pushed the up-button on the spec elevator (including camera, CPU, and RAM), to be able to top its rivals.
It goes for a recommended retail price of R5 500, which is less expensive than its main rival, the Galaxy S4 mini (R5 700). However, if spec-bang for your bucks is your main concern then there's no beating our midrange smartphone of choice - Huawei Ascend P6 - which costs even less (R5 000), but offers quad-core processing power, upgraded optics, and double the RAM.
Premium look and feel; beautiful display; more compact than the One; LTE connectivity; Beats audio enhancement; excellent onboard audio via HTC BoomSound; plus best selfie shooter in its class.
Not the best battery life; no microSD card slot; and does not have class-leading CPU, main snapper or RAM.