The Velvet 5G smartphone sees LG deviating from its G series look by sending the design into a sleeker direction. At just under R12k the phone might just be a hit, although it's far from only bullseyes. After a few weeks with the Velvet, here's what stood out.
5G
Retailing at below R12k, the LG Velvet offers something that few phones at that price-point can – 5G. I used it on MTN's new 5G network in Johannesburg, and if you find yourself in the right spot, the phone can achieve download speeds of up to 145 Mpbs. Great for lagless video or GIFs, you can also tether your notebook to this super-fast phone. But it will chow through your mobile data faster than our politicians through a PPE contract.
Having said that, Huawei recently introduced the Huawei P40 lite 5G which retails under R10k, although without Google thanks to the US ban. Expect more mid-range 5G phones soon.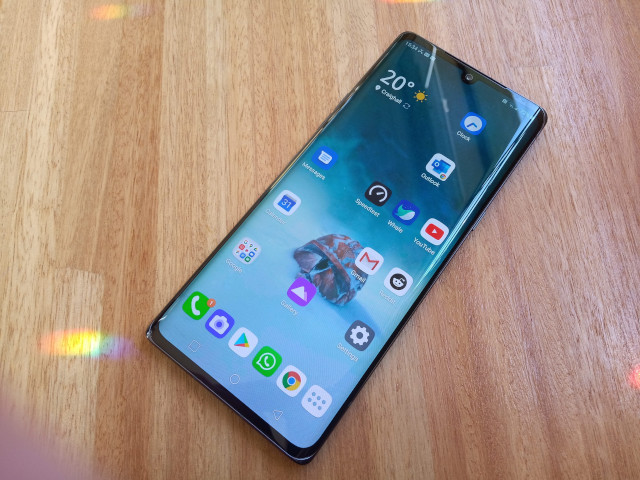 Sleek design
The LG Velvet is an extremely sleek looking device, with its rounded edges and slim bezel. The 6.8" P-OLED Cinematic FullVision (2460 x 1080, 395 ppi) with its 20.5:9 ratio offers a narrow feel in hand, and at 7.9 mm thick you can't blame the smartphone for being happy to see someone.
While sleek in looks, the Velvet is also sleek in nature and I had to be careful where I put it since the phone tends to slip down from surfaces if it's even a bit skew.
Good, but not the best
LG did not skimp on the insides but also didn't include the latest and greatest. The Velvet has Qualcomm's Snapdragon 765G 5G Mobile Platform under the hood, alongside 6 GB of RAM and 128 GB of storage space, expandable via microSD card.
It further includes Android 10 alongside a 4300 mAh battery that will help you into the late hours of the evening, but less so with the dual screen (see below) in use.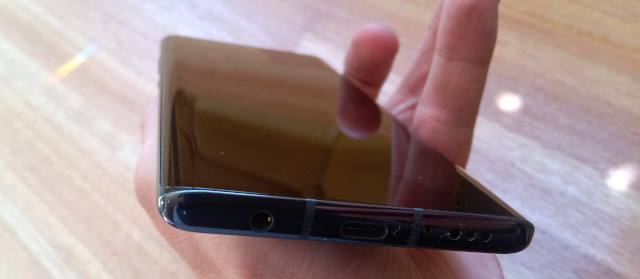 Multimedia
This phone is LOUD in volume and LG punts its 3D Sound Engine that applies ideal audio settings depending if you are watching news or movies or listening to tunes. That said, it does not include Quad DAC as we've seen on other LG units, which will make audiophiles frown.
LG has always been one of the first to integrate wide-angle lenses on their phones and you can once again go landscape hunting on the Velvet with an 8 MP wide lens, or the 48 MP standard camera.
Sometimes a smartphone camera just has that something special, such as the Huawei P20. The Velvet is not so lucky and photos taken were never quite what I thought they would be. Whether it be the light measurements the Velvet based aperture on, or the colour algorithms, but my images never seem to get that pop that modern smartphones can produce.
For videographers there's a Steady Cam feature that does a lot to smooth out the shaking when using the video camera, although it drops the quality of video recorded. Further video features on the Velvet include manual changing of recording speed and Voice Bokeh, which helps separate voices from background noise.
Dual Screen
A few years back (2016 to be precise), LG released the modular G5 flagship. This phone offered a number of ways to power-up the unit via extra "Friends", such as Hi-Fi Plus speakers and Cam Plus camera control that plugged into the device. Now, with the optional P-Oled Multitasking Dual Screen you can effectively turn the Velvet into a dual-screen device by slotting it into a plastic case that has a 6.8" FullVision (2460 x 1080 pixel) screen on the left-hand side. On the outside there is a 2.1" mono screen for notifications and time.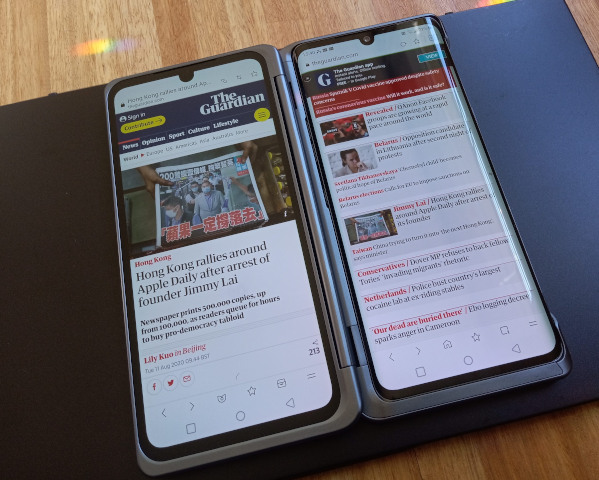 The extra screen allows you to, for example, have Instagram open on the one side, with WhatsApp on the other. There is also a wide view option for certain Google apps, including Chrome, which then spreads the browser over both screens, albeit with a large bezel gap in the middle. LG has preloaded a few dual-screen games too, including Modern Combat 5 and Asphalt 9.
I'm in two minds on the added screen since it adds a fair amount of thickness to the unit which means a bulky pocket if you're not carrying it in a man bag or purse. Also, while easy to get it into the plastic casing, taking the Velvet out involves putting a fair amount of pressure on the casing and phone, which I can't believe will be good over a two-year period.
When the phone is in the casing you also need a little clip-on charger adaptor to connect to your USB Type C charger, which can get lost when travelling with the device. Does the R4 300 justify the Multitasking Dual Screen? Not for me, the cons in extra weight outweighs the pros, and I never really had a great user experience.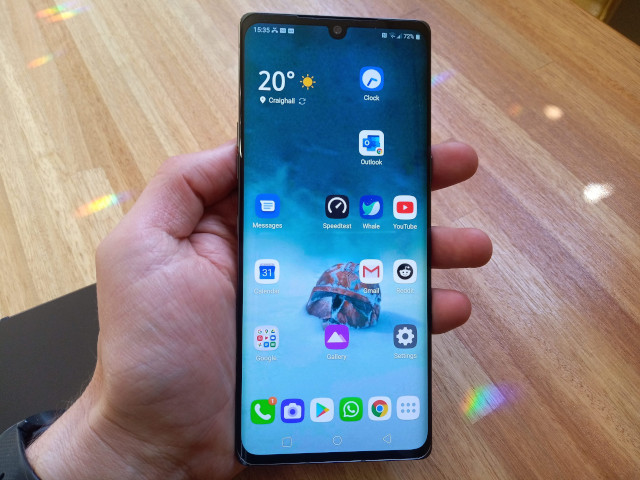 Final thoughts
At R11 800, the LG Velvet 5G is pushing the top of the midrange market, still below the R20k we see for some flagships. What it has going for itself is 5G, although competition for cheaper solutions in the 5G space, such as the Huawei P40 lite 5G, will soon start crowding the market.
The Velvet's new look is impressive and the sleekness of this metal design and rounded edges will win new users for LG. That said, LG disappoints with the cameras on the Velvet, and I expected more from the brand since their previous phones were strong in this department. It's a decent smartphone that will serve its master well, but ultimately the Velvet lacks that something special to make it a fan favourite.
Beautiful design, decent onboard speakers, 5G, great screen
Very slippery, camera could do better