FULL DISCLOSURE: The Reno5 5G was received from Oppo South Africa as a seeding unit and was not returned.
Oppo entered South Africa with the A72 (review) last year, now slowly but surely releasing more phones into the local market. The Reno5 5G is their highest end release so far. After using the Oppo Reno5 5G for a month, these are its standout features.
Power charging
Certainly the aspect that changed my usage the most is the 65W SuperVOOC 2.0 quick charge capabilities of the Reno5. No longer was the phone plugged in overnight, I simply juiced it in the morning while making breakfast and it was good to go for the rest of the day. 5 minutes on the charger provides in the region of a 15% rise in battery life, not bad when you are in a rush. Although extremely convenient, the power unit for this is far bulkier than a regular charger.
If there was a concern, it would have been the 4300 mAh battery included, with many batteries leaning toward 5000 mAh these days. But the Reno5 battery lasted me throughout the day with decent usage (excluding gaming) easily.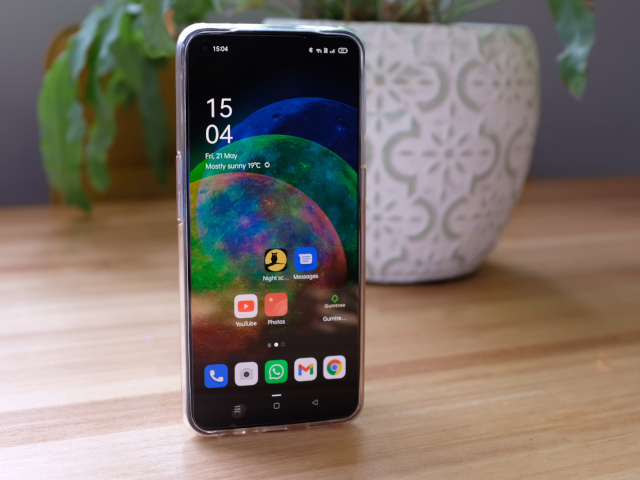 Unobtrusive usage
Oppo runs ColorOS 11 on top of Android 11, an unobtrusive UI that does not interfere with daily operation and really just keeps to itself in the background. I never felt it got in the way or was trying to steal the limelight, it did what it did quietly, with a few system updates thrown in for good measure too.
If there is one small critique is that the icons on the quick view pull down menu do not change when active, meaning when you are connected to Bluetooth earbuds, for example, the icon does not change to show an active connection.
Wide-angle camera, steady cam
Like much of the competition, you have loads of imaging options on the Reno5, with a 64 MP main camera (f1.7), 8 MP ultra-wide, 2 MP Macro and 2 MP Mono. Let's be honest, 64 MP isn't really necessary, but what I really enjoy is the wide-angle option when taking photos. Although there's a bit of backwards and forwards to get there (the screen indicates you to swipe down, but then wants you to swipe up), it really adds another dimension to photography, especially on landscapes.
On the video side you do have 4K recording, but it is the Ultra Steady option which helps with smooth recording that stood out. Live HDR should help out if you are recording in situations with lots of backlight or light/dark crossover.
With 128 GB worth of onboard storage you don't have to worry too much about space, although there's no microSD card slot, so once that's filled up you are stuck.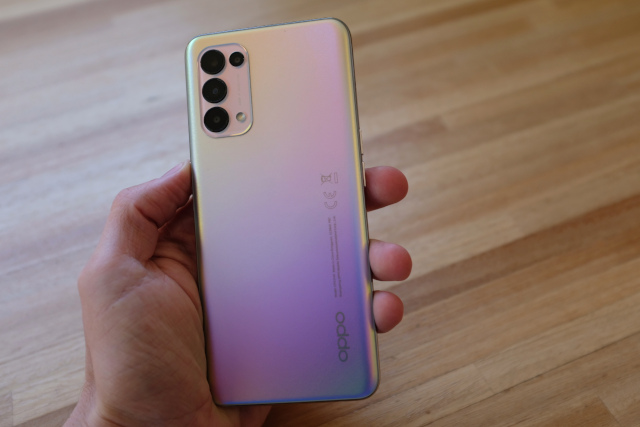 Screen, plus cover and case
Like other devices, the Oppo Reno5 comes with a case, while there's a screen protector in place on top of the Corning Gorilla Glass 5 display straight out the box. It's pretty good protection, and it actually helped me already when a knife tip made it to the screen but luckily just pierced the film. Under the Reno5 care plan, buyers will receive one free screen replacement in the first six months - a decent extra.
Talking of which, the AMOLED screen is impressive, standing at a not too big, not too small 6.43", with a 2400 x 1080 resolution providing 410 pixels per inch. The 90 Hz refresh rate is another boost, which helps with video and games.
Future-proof 5G
As a 5G phone, it's future-proof to make sure that high-speed internet is there when you need it. While 5G is only available in South Africa's main metros (and only in certain segments), a 5G rollout plan is definitely in place for the next few years.
Solid performance
On the performance side, it's the octa-core Qualcomm Snapdragon 765G 5G mobile platform (2.4 GHz) doing the heavy lifting, combined with a solid 8 GB of memory. It provided a smooth experience all around, with the 765G supposedly adding a bit of a gaming boost too, although I'm not much of a gamer. This Snapdragon platform is also used in phones such as the LG Velvet and the Google Pixel 5, so it's no stranger to higher devices.
Look at the colour on the @OPPOSouthAfrica Reno5. Actually amazing. pic.twitter.com/43wBVQJd0P

— TechSmart (@TechSmartZA) March 25, 2021
Looks to kill
There are no two ways about it, the Galactic Silver body of the Reno5 is stunning to look at. It picks up iridescent pastel colours which can change from a shiny pink through to a glowing purple. It's a shame that the phone needs to go into a cover, not because it takes away the shine (it doesn't), but because it actually has a nicely textured feel to it. Oppo knocked it out of the park with this.
A solid purchase?
The Oppo Reno5 5G's R15k price tag puts it below high-end phones, the likes of the Samsung Galaxy S21 5G, but above the midrange devices. Price wise it's very close to the Huawei P40, but with Huawei's continued Android problems, it's fairly easy to recommend the Reno5 above the Huawei, plus it also has the P40 beat on the specs side.
With its solid processor, generous RAM and great screen, the Oppo Reno5 5G already makes for a decent phone, but with fast charge capabilities and its iridescent colour, it tips my favour more towards a great one.
Fast charge, great screen, lovely colour, 5G, decent performance
Large charging unit, battery could have been larger,