It's not very often anymore that new pieces of technology genuinely delight. In part I suppose because we see so much of it all the time, it's too easy to become jaded, and it was far easier to be excited by a new device that broke ground in 2010 than it is today in 2019. However, when it was unveiled last month, the Note 10 Plus was one device that elicited that wonderful emotion of delight.
That being said, just about every device out there has its pros and its cons, the areas that it gets right, and some where it misses the mark. The Note 10 Plus is no exception. Of course, the question is always whether the hits outweigh the misses, or whether the cons outnumber the pros. The good news is that in this case, it is the former. So first let's look at the hits.
Without a doubt, the 6.8" Infinity-O display is the first you will likely notice. In a word, it's stunning, especially if you push the resolution up to its maximum of 3440 x 1440. You don't have to though to get the splendor of what the Note 10 Plus has to offer – even at FHD+ (2280 X1080) resolution it's a beauty. Considering that you are going to be staring at it frequently, whether that is for watching movies, shooting photos and videos or taking notes and drawing, it's a big plus in the device's favour, and makes some other older phones next to it look a bit over the hill in comparison.
Another hit is the storage space. On the base level of the Note 10 Plus you get 256 GB, double that of the Note 9, and it will certainly make a difference if you are prone to shooting or storing lots of media on your device. It also means that you can get away with not having to add a microSD card to expand your storage, although the option is there to do just that.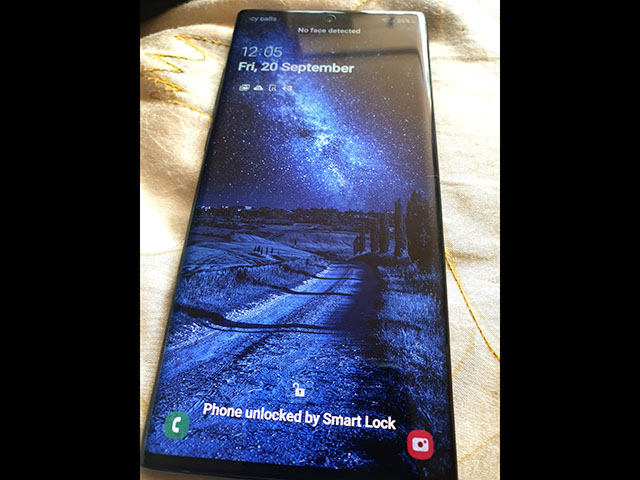 Shoot and ask questions later
A third hit – although this one bears more testing – is the camera. In my initial tests though, the camera works terrifically in interiors, offering clean, high quality images. The device also handles dimly lit interiors, and high contrast scenes terrifically, which is a credit to its dynamic range capabilities. The option of having ultra wide, normal and telephoto lengths, and being able to switch between them seamlessly, is as good as it was on the S10 plus. Good enough that like me you will likely not want to go back to a device that has two cameras after using this setup for a while.
A fourth hit is of course the S-pen. One curiosity is that the S-pen on the Note 10 Plus seems to fit more snugly into its slot than on its predecessor. Hopefully this will mean it is less likely to fall out if you dont put it back in properly. Given that S-pens are expensive to replace, this attention to detail is very welcome.
Beyond that, the S-pen is considerably more capable than it was on its predecessors, offering several new features. Those I will explore in another part of the review, but suffice to say, on the Note 10 Plus, the range's strongest selling point – its S-pen – has never been better.
More power to you
A fifth hit is the power and general usability of the Note 10 Plus. It actually outstrips my PC, my notebook and my tablet, at least where memory is concerned, with a whopping 12 GB on board. Along with the Exynos 9825 Octa processor, I'm still hunting for an application that strains it in the slightest. Suffice to say, I haven't found one and I have little confidence that I will anytime soon.
As well, the biometrics are much improved. I was concerned about the under-screen fingerprint sensor, with the Note 10 Plus ditching the fingerprint sensor in favour of the same setup as found on the S10 Plus. On that device, it required a considerably harder press to unlock the device, so I was concerned that there would be the same issue on this device. However, on the Note 10 Plus, it is vastly more responsive and the phone unlocks considerably quicker. That is, if you choose to use it – the face recognition unlock option is so fast I often don't get the chance to.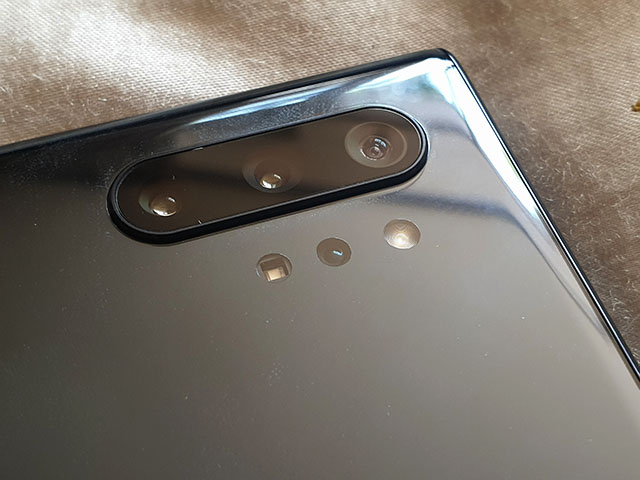 Keep on going – and going
A sixth hit is battery life. Such a large screen and powerful specs require the power to endure a day or two and the battery is a whopping 4300 mAh. In the few days I have been using it I have noticed the difference – the Note 10 Plus seems to follow the Duracell bunny's promise and keep going and going - and going.
For example, I have used it for a little more than day and half this week extensively, and the battery is still sitting at 25%.
Helping matters is that if you do need to recharge, with fast charging it takes about an hour to a full charge or round about 60% in half an hour. That means that even on those inevitable occasions where you discover your phone has run down the previous day and you forgot to plug it in, you still have some time while getting ready in the morning to power it up again enough to last you through the day. It's a big plus and makes the miss to come make more sense.
The final hit – which I'll explore more indepth in an upcoming piece – are the slew of new features that have been included in the device that elevate the Note 10 Plus above and beyond the Note 9 and S10 Plus. From DeX to image stabilization, there's a lot under the hood.
Hit the road (headphone) Jack – but please come back
As to the misses – well, there is a glaring one, and that is the removal of the headphone jack. Part of the rationale for that was to make room for the larger battery and it's a fair trade off. However, it is still disconcerting not to be able to plug your favourite wired headphones in and start listening to Spotify right away.
Granted, Samsung does include a pair of USB-C earbuds in the box, but these are just ok - I found them to struggle a bit at higher volumes. Neither the removal of the headphone jack nor the included earbuds are the miss here. Rather, it's the fact that you don't get a compatible USB-C to 3.5mm adapter in the box. I say compatible because even if you have one already lying around it is likely that it will not work with the device, so you have to get a particular dongle that is certified to work on the Note 10 Plus.
Is it a dealbreaker or reason to shun the device entirely? No, absolutely not. It is something you can quickly remedy, but it still would have made a difference and softened the blow of losing the 3.5mm headphone jack if Samsung had included that as part of the package.
Worth noting is that if you have a good pair of bluetooth headphones on hand, this ommision doesn't matter much. I borrowed a pair of Bose QC35's while doing this review and the easy pairing between the device and those headphones - and the rich sound - largely mitigated the lack of a headphone jack on the smartphone.
The second miss that is noticeable even in my preliminary use is that outdoor images seem to be a bit too heavily processed so as to look unnatural. I think that is a software issue, and I'm really hoping Samsung can remedy it to be more in line with the colours produced by the Galaxy S10 Plus, which has sported my favourite image production from a smartphone to date.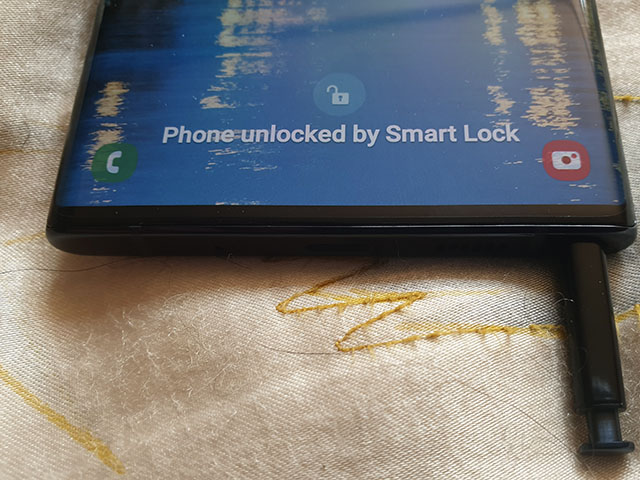 To the point
Seven hits and two misses later, the verdict is pretty clear – this is still the best Note, and quite possibly the best smartphone – to come from Samsung to date. If you can get over the missing headphone jack and you are looking for a productivity/creativity beast, this is the one to set your sights on. It retails for R23 000 off contract.
Beautiful screen, Very powerful, Improved biometrics, Terrific battery life
No headphone jack or dongle in the box, Overprocessed colours outdoors