It's a common enough problem – you have just entered your destination in Google Maps and now need to find a place close enough to your line of sight to put your phone. Unfortunately, car manufacturers do not acknowledge the ubiquity of smartphones. Two recent car mounts from local manufacturer, Smaak offer convenient, no frills solutions.
Smaak U-Hold Universal Car Air Vent Mount
The first, and the one I preferred, is the Smaak U-Hold Universal Car Air Vent Mount. It's a long name for a fairly simple mount that unassumingly clips to your car's air vent. Once attached, you need to adjust a ball joint to secure the best viewing angle and then slip your phone into the cradle. The Smaak Air Vent mount provided no hassles while carrying the 5.2" Huawei P8 (both in portrait and landscape), with the manufacturers also claiming it can hold larger devices such as the iPhone 6 Plus.
When used on the air vent, the mount makes it easy to charge your phone if you have an adapter for your cigarette lighter (if you need one, check out the Smaak Voltage dual charger, R229). One thing worth considering though, is that if cradling your phone, that airvent lose effectiveness since it blows against your phone (great if you have a phone with a tendency to overheat while on Maps) and in the wrong direction.
Smaak U-Hold Universal Dash and Desk Mount
The second option from Smaak is its U-Hold Universal Dash and Desk Mount; a good solution if you're looking to fit your device against your windscreen. Once mounted against the glass, this thing won't budge, and I had to almost resort to violence to pull it off. Smaak also included a locking lever, (although my belief is that that's just overkill) and, just like the Air Vent Mount, a ball joint to make sure it's pointing at the correct angle.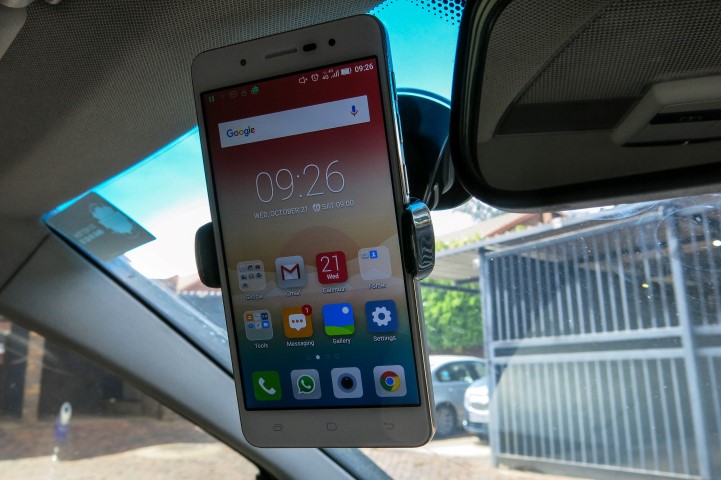 Although you can use the Smaak U-Hold on your dash, make sure that it's a smooth surface, since it's less effective if not. This mount can also work outside your vehicle, if you are looking for desk stand for your phone.

Both Smaak units come with a recommended retail price of R229, and are available from Metro, Cellucity, The Gadget Shop and selected Vodacom 4u & Chatz Stores.
No frills, do the job well
Air Vent Mount blocks the vent