By now you know what you're going to get with a high-end Xperia smartphone: a solid piece of mobile tech that gets all the basics right, but perhaps lacks that standout feature to make it distinct in a market saturated by other offerings.
The same can be said of the new Xperia XZ2, which packs a superb array of internal components in a slightly refreshed design to offer some of the best value for money at the moment given its price.
Set to officially be available to purchase in South Africa from 2 May onwards, the Xperia XZ2 is recommended to cost an estimated R13 499. Yes, that's a bit more than some cost savvy flagship phone fiends will be willing to spend, but given the specs it sports, a better prospect at that price point may be hard to find. As such, it's only real rival in terms of price at the moment only appears to be the Huawei P20.
A bit more curve
In terms of design, Sony has kept the changes compared to the Xperia XZ1 subtle. To that end, the device features a few more curves to it than its predecessor. The back cover in particular stands out, allowing it to sit a bit better in hand. The curve is needed too, with the coating given to the XZ2 proving quite slippery.
As such the usual mix of aluminium is absent, swopped in favour of something that looks great from afar, but feels quite different when cradled. Consequently, I'd highly advise purchasing an additional cover to house the XZ2, not only to protect the device, but also to increase the degree of tactileness and grip.
Another curious element to this device is the placement of the rear fingerprint sensor, which while speedy and accurate, can be a tad difficult to locate with one's finger at times. This because it sits lower than one might expect it to, which means you're often finding the camera lens instead of the reader with your index finger. It's a pity, with the Xperia XZ2 a truly handsome device otherwise.
Premium level
Matching its sleek and stealthy (black colour option) design is a supremely high spec array of internal components. It's sporting Qualcomm's latest octa-core Snapdragon 845 chipset, supported by 4 GB of RAM and 64 GB of onboard storage. On paper the mix should yield a good performance during benchmark testing, and it surprisingly exceeded all expectations, ranking as the highest scoring smartphone that I've reviewed this year. Amassing a total of 262 649 on AnTuTu (v7.0.7), it even bested the Samsung Galaxy S9 and its Exynos 8910 processor that registered 251 710. As such, for users that place a lot of value on benchmark tests, you'll be hard pressed to do better than the XZ2 at the moment.
As for how it performs in real life, this device was without fault. Fast, reactive and never sluggish, it handled multitasking like a breeze, even when swapping between processor intensive applications. Added to this was its ability to cope with graphics heavy gaming titles, which should be great news for those who enjoy their mobile games.
On the whole then, from a specifications perspective, the Xperia XZ2 is every bit the flagship phone that it has been billed to be. With previous XZ branded devices flattering to deceive in this regard, the XZ2 definitely performs as advertised.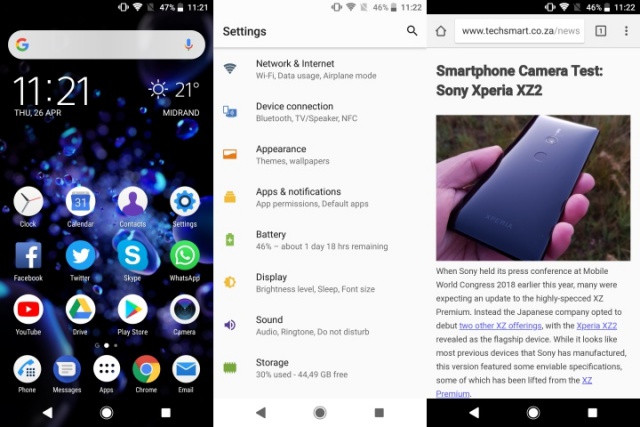 Rich camera
One of the other important elements to this device is the primary camera, with the same camera setup as last year's XZ Premium present. More specifically it has a 19 MP lens which is capable of recording up to 4K HDR content and capture super slow-mo videos at 960 fps Full HD.
The latter two functions are something that creators should have a lot of fun with, and the improvements that Sony has made to the super slow-mo on the XZ2 compared to the XZ premium are instantly noticeable.
When it comes to pictures, the XZ2 proves a solid all-round offering. Pictures are rich and detailed in outdoor and low light conditions. The only real issue I encountered was the in-camera app aperture slider that handles brightness, with it sometimes needed to be toggled quite a bit in low light to match the actual environment.
Other than that though, the XZ2's camera is a handy tool and one that is solid in a variety of scenarios.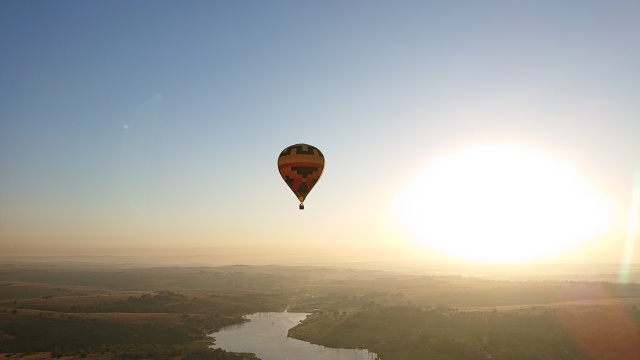 Images taken with the Xperia XZ2.
Final verdict
The previous XZ and X devices have failed to impress somewhat, often overpriced and under specced compared to competitor offerings. This is not the case with the Sony Xperia XZ2, boasting some of the best specifications currently available on the market, along with a R13 499 (RRP) price tag that's far easier to justify than its predecessors.
The only thing keeping this device from being my best value for money flagship phone is the placement of the fingerprint sensor and a slightly slippery back cover. That said, it's hard to think of a better offering on the market at the moment.
Top of the line specifications; Cleaner UI; Superb all-round camera
Slightly slippery back cover; Odd fingerprint sensor placement