Ratchet and Clank is a movie about aspirations. On the surface, it centres around the titular character Ratchet's aspirations to do more with his life and become a hero. This also serves as a microcosm of developer Insomniac Game's aspirations to bring more of its much loved gaming franchise to a new audience.
While the games have certainly met with terrific success, first on the PS2, then the PS3 and most recently with the latest entry on the PS4, the question mark hanging over the film, especially for fans, is whether it can replicate that same enjoyment on the big screen?
Aiming high
The answer to that, unfortunately, is a disappointing no. For starters, it's not quite as compelling as the games, nor is the wit nearly as mature and irreverent. Part of what makes the games' stories so endearing is the rapport between Ratchet and Clank, and the subtle pokes at society tucked away as you progress through the campaign, that are largely missing here.
A prime example, as an aside, early on in the game you rescue a mayor, who promptly informs his citizens that he will resume normal working hours – every third Thursday between 12 and 12.30. Those irreverent nuggets, which have been liberally scattered throughout the many games in the franchise, don't find a home in the movie, and nor do the resulting laughs.
Additionally, the weapons, which are zany and terrific fun to use in the games don't translate that same satisfaction to the screen, especially as they are largely limited to one scene in which Ratchet runs through his arsenal.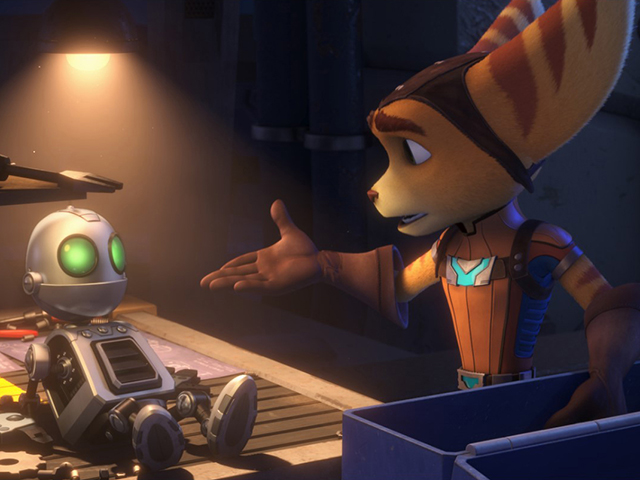 But who's it for?
The bigger problem is that unlike the games, which lend themselves to the young and the young at heart alike, the movie seems to be playing largely to an audience that is unlikely to be all that familiar with the decade and a bit old franchise on the consoles.
This would be fine, but to a large extent, Pixar has raised the bar on animated entertainment, which kids can enjoy and adults can appreciate on a whole other level. Unfortunately Ratchet and Clank doesn't rise to nearly the same lofty heights as an Inside Out or Toy Story, and that is where the movie falls short, especially as animation these days comes with sky high expectations.
Tell me a story
The plot sees the galaxy in crisis, with several planets mysteriously disappearing, as the quite mad Chairman Drek (voiced by Paul Giamatti) is destroying one planet after another in Death Star style. His true scheme, in the interests of remaining spoiler free is quite mad and gives new meaning to the word patchwork. Escaping from Drek's clutches is Clank, a robot which was meant to be part of the madman's army, but which has been marked for extermination due to having more brains than brawn.
Successfully escaping Drek's compound, Clank crash lands near Ratchet and a friendship is formed, as both seek out the Rangers to warn them of the impending threat. Meanwhile Ratchet, has his heart set on becoming a galactic ranger, and when the Rangers decide to enlist a fifth member of their elite squad, goes to tryout to try win that coveted spot.
The duo promptly find themselves dealing with a bumbling narcissistic Captain Qwark (Jim Ward), a mad scientist in the form of Dr Nefarious (Armin Shimerman, Star Trek: Deep Space Nine), and a few colourful characters and close encounters with near death while trying to save the galaxy.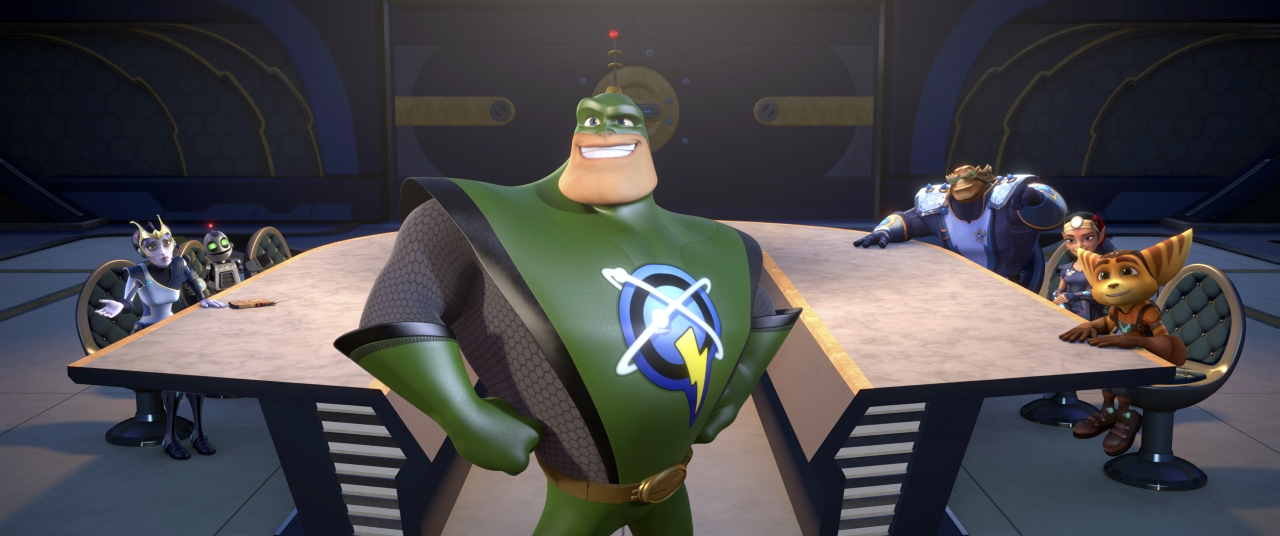 On the plus side
There are some notable laugh out loud moments such as when Captain Qwark and Dr Nefarious launch into a debate about what makes one liners work, or when Ratchet manages to give new meaning to the advice, 'don't scare the customers away'. The voice overs are spot on, with the same actors who provide the voices of Ratchet (James Arnold Taylor, Star Wars: The Clone Wars), and Clank, (David Kaye, Up) doing really good work here.
Lending his muscle to the movie is Sylvester Stallone, voicing Drek's chief henchman, Victor Von Ion, a gung-ho robot who really is all brawn with little brain, and you would be right to peg him as being Clank's corollary. Also worth mentioning is the tech geek of the bunch, Elaris, voiced by Rosario Dawson. Additionally, the use of 3D is done really well and implemented deftly.
To the point
Much was made of this being a movie that was based on the original game, and which the far superior PS4 game of the same name has been based.Even though it doesn't quite reach its lofty aspirations – bringing us a movie that is as endearing and enduring as the game franchise – Ratchet and Clank is not a terrible movie either. Certainly there have been far, far, far worse game to movie adaptations before – Alone in the Dark, Doom, Dungeon Siege, you can take your pick.
Alas, it does not do enough to really recommend it to long term fans of the franchise. For kids who have no prior experience of Ratchet and Clank, it certainly is a great deal more endurable than Alvin and the Chipmunks, and probably won't be a wasted ticket.
For everyone else though, to really get the charm of the Ratchet and Clank franchise, of which there is plenty, rather bypass the movie and pick up and play any of the games in the franchise instead. Score: 6.5/10
Well implemented 3D, Some laughs, Looks beautiful
Geared towards younger audience members, Misses the heart and subtle humour found in the game