Norton and Symantec have in recent months been extremely active in the online security field, with the release of the Norton CyberCrime Index, and now with its most complete anti-virus package yet, Norton 360 version 5.0.
Installation and UI

As evidenced in our review of Norton Internet Security 2011, the new Norton products install blazingly fast, with full installation once again completing in just a few minutes. Norton 360 also automatically preserves and migrates user settings for threat quarantine and passwords when it is installed on top of other Norton software, a very helpful feature.

Norton 360 version 5.0 now features an even smoother user interface (UI), divided into easy to access and understand categories, enabling users to access PC security, identity protection, backup and PC tuneup options at the click of a button.

The new UI is even simpler than last year's, making it one of the easiest to use anti-virus products we've seen yet. The Norton Activity map is also back, displaying a small world map in the bottom of the UI, where users can click on different areas of the globe to see threat statistics for major cities.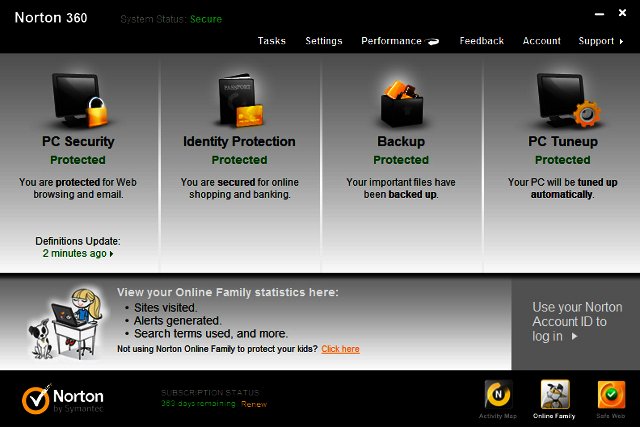 Basic protection

Before we get into the mammoth feature list that ships with every version of 360 v5.0, let's take a look at some of the more basic and more often used features.

First off, as one would imagine, the software allows users to run a variety of virus scans on their computer. These are divided into a quick system scan, which examines key areas of your computer; a full system scan which examines the entire PC and makes a system backup; and lastly the custom scan option which gives users freedom to choose which files to be scanned, and in which way.

In addition to the traditional threat scanning, the software also includes reputation scanning, which examines running programs (a web browser for example) and processes and sets their trust level. Facebook wall scanning also makes a return, giving users the option of scanning their Facebook wall posts to check for any malware carrying links, a highly useful feature for Facebook addicts. This monitoring feature is extended to email and IMs (instant messaging) as well.

A comprehensive firewall is also present, helping to protect your PC from unwanted intrusions. The firewall has a large number of customisable settings, including traffic and program exemptions and browser protection. We recommend keeping the firewall set at its default levels though, except if you really know what you're doing.

The wonderful Norton Insight is also back, increasing your computer performance by identifying trusted files that do not require scanning. Running the insight on our test PC, Norton deemed that 59% of our programs were 'trusted', relegating only 41% to be scanned regularly. You can only imagine how much performance this saves you in the long run.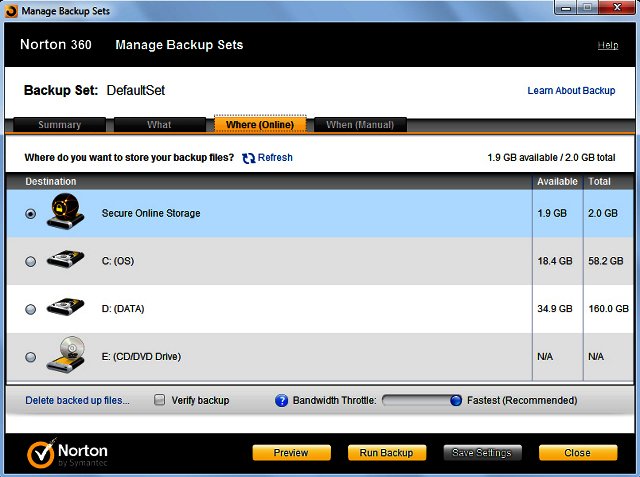 Features

Now to start tackling Norton 360's massive features list. The program contains so many features and technologies that there's really no easy to do this, so we'll just start at a point and work our way through.

First up is Norton's Reputation technology which checks the reputation of your files, including prevalence, where it originated from as well as its age, to stop new malware from infiltrating your files. You can now also download files with less stress, as Norton's Download Insight warns users if downloaded files or applications are dangerous before you install or run it on your PC. These features should greatly minimise the risk of installing malicious software, although it's still better to be cautious.

As the computer virus world is also notorious for its speedy infection rates, Norton Pulse Updates will run in the backgroud and provide micro updates to your PC every 5 to 15 minutes. This is the most frequent update rate of any major anti-virus software out there today.

In addition to its high update rate, Norton 360 v5.0 also features Symantec's SONAR 3 advanced protection. SONAR is used to detect potentially dangerous applications that doesn't have assigned virus signatures yet (a.k.a, a new virus). With more malicious software being set loose on the web every day, this is a highly useful feature. While SONAR measures the potential threat level of the application itself, the feature is also supported by Norton Community Watch. This means SONAR can verify the trust level of a file by checking if any other Norton users detected it. Luckily SONAR is pre-configured and automatically turned on, meaning no user intervention is required.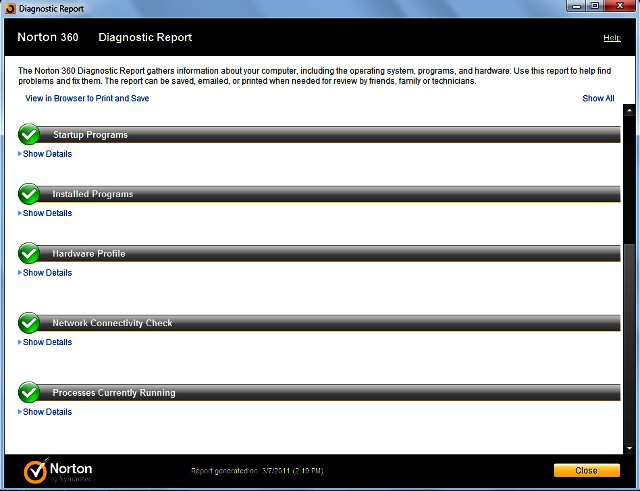 Feeling safe online

One of Norton 360 v5.0's most important duties is making web surfing a safer and more comfortable experience for its users. To this end, the software includes Norton Safe Web, a feature which warns you of unsafe websites in your search results. Anti-phishing technology is also present to help prevent cybercriminals from stealing login details on sensitive sites (such as banking or online shopping).

Taking the place of the trusty virtual keyboard is Norton's Identity Safe, a feature which logs you into websites with one click and automatically fills in web forms to prevent keyloggers from stealing your details. Note though that this feature is only supported in Internet Explorer and Mozilla Firefox at the time of writing.

Another online threat, or rather, online annoyance is of course spam. To combat this, Norton's AntiSpam feature can be integrated into the menus' of Outlook or Outlook Express, and is able to detect and remove spam mail before it becomes a problem. Simply turn on the feature, and the next time you start up your email client it will prompt you to install the AntiSpam toolbar into the client.

A more serious online threat is of course protecting your kids from the merciless maw of the internet. Last year's Norton Internet Security 2011 featured very extensive family protection options, and these make a return in 360 v5.0. To set up Norton Online Family, users can simply click the 'online family' button at the bottom of their main screen (next to the activity map), and click the link to launch a browser-based setup process.

Once set up, users can install different user profiles (a kids profile with restricted access for example), and can monitor what their child did online by seeing what sites they visited, what alerts were generated and which search terms were used.

So how about that slowdown?

No one can argue with the fact that Norton 360 v5.0 contains a gargantuan feature list, the question is, how is this going to affect my performance? Well, while any anti-virus software is going to be on the resource intensive side (they are running in the background to protect you), the engineers over at Norton have atempted to make 360 v5.0 as discreet a solution as possible.

To help in this task, Norton's proactive performance alerts are back, alerting you when an application is slowing down your PC. The alerts worked fine, but we're not always sure how relevant they are as most of the time it was simply our tab-heavy browser windows which set it off. Either way, the function will at least ensure you know where the problem lies.

As we mentioned earlier, Norton Insight also helps improve performance by only scanning files that are at risk. And if you don't want to be bothered by any alerts, users have the option of turning on a 'silent mode' which puts alerts and non-critical updates on hold, perfect for gaming and watching movies. The Smart Scheduler feature will also automatically run updates when you're not using the computer, with idle time automatically set at ten minutes.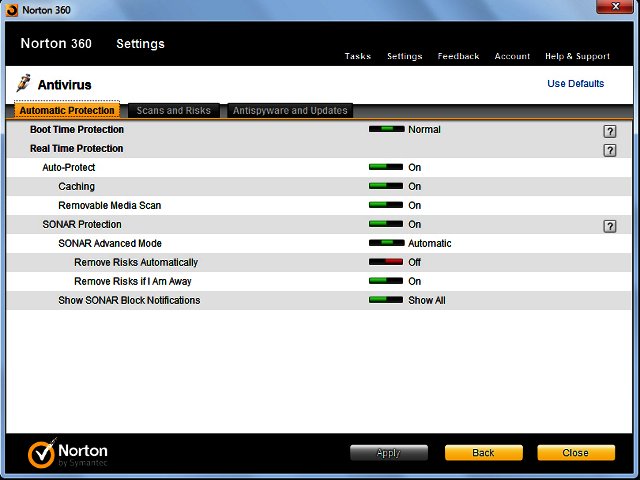 Backup your work

Norton 360 v5.0 also allows users to set up multiple file backup options, from backing up to an external hard drive or to storing your files online. With multiple backup sets, users can also schedule different files to backup to different locations, such as photos being saved to an external and office documents being stored online (Norton 360 v5.0 includes 2.0 GB of online storage space).

Norton 360 also supports a wide range of local backup destinations, including CD/DVD/Blu-ray drives, USB drives, external hard drives, mapped network drives and even Apple iPods.

Backup settings are also very easy to use and configure, with sensible menus that require little user interference. We found the backup options (not something usually found with anti-virus software) to be an excellent and very sensible addition to the offering, ensuring that even if you lose your work, there is always a plan B.

PC Tuneup

In an ambitious new step, Norton is also heavily moving into the PC Tuneup segment with its new anti-virus software, helping to not only keep your computer free from viruses, but also free from slowdown. Norton 360 v5.0 contains a number of new tuneup features, among them Smart Startup Manager, a utility which can increase your PC's boot time. The manager will display a list of programs alongside its performance impacts and allows users to turn off or delay startup items that may be causing slowdown.

Users can also get some detailed information about their system's current state with the Diagnostic Report. Running this report will give users detailed system information on their operating system, installed applications, startup applications and hardware configuration. This is a very useful feature when you've run into some PC troubles, as it can help pinpoint their cause.

Next up is File Cleanup, a utility which identifies and removes unnecessary files from your disk such as temporary files, internet history files and internet cache files in both Firefox and Internet Explorer (once again the popular Chrome is omitted). In addition to clearing up easily visible clutter, you can go into more detail by running Registry Cleanup which removes unnecessary Windows registry files from your system. Last but not least, users can run the Disk Optimization option which will analyse and defragment your hard disk drives for more efficient running.

Conclusion

With strong and discreet basic protection services, a wide and highly customisable feature list, online identity protection, multiple backup options and even PC tuning software, we'd be lying if we said Norton 360 v5.0 isn't the most comprehensive anti-virus software we've ever come across. Through our use we were impressed with the software, with only minor jiggles being spotted. A one year license for three PCs is available for R899.
PC Tuneup and backup features makes this more than just an anti-virus program.
Limited browser support.