If you ask a friend or search online what games are worth playing on your Android tablet or smartphone, no doubt Angry Birds, or Angry Birds Rio will come up as top recommendations. This is understandable, given the popularity and addictive nature of both titles. However, another game is equally, if not more compelling, and well worth a look, and that is Cordy.

Cordy is a 3D puzzle platforming game that is a little reminiscent of Little Big Planet and Wall-E, and just as charming as both. Thankfully, the 28 MB game enables you to play the first four levels for free, but for access to the other twenty three levels, you will have to part with R40. Is it worth the money? Read on.

The premise

You play as Cordy, a robot who is charged (quite literally) with powering up his planetoid world. This you do through racing through several levels, collecting zap drops to fully charge Cordy's battery. Once charged, Cordy can then give his power to that level, which opens the way to the next one. While the premise seems – and is – simple, it becomes more challenging as you progress, since Cordy has to pull and push boxes, access switches and swing his through a variety of puzzles so that he can find and collect all the zap drops.

Additionally, making each level a little more challenging is the time goal, where you are challenged to complete the level in a designated time, while collecting all the power chips which are also scattered throughout the level. This gives the game some appreciable longevity, since you can go back at any point to previously completed levels and try capturing all power chips or beating your previous time record. This was a good idea on the developer Silvertree Media's part, as early levels can take between five and twenty minutes to complete. To finish and master the game can take considerably longer, with multiple play-throughs, at around two weeks.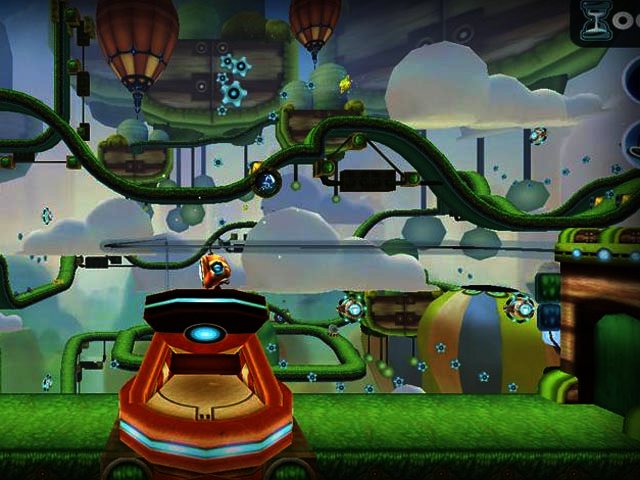 Graphics and control
The graphics themselves are bright, colourful, beautifully detailed and actually quite striking without being overwhelming. It is a whimsical, entirely attractive game that fits tablet gaming perfectly, and that sucked us in to Cordy's world from one level to the next, most particularly when we needed a break from throwing more birds at more pigs.
The one aspect of Cordy that takes a little getting used to is the controls. While these have been kept simple and easy to access, both left and right movements are controlled by left and right soft key arrows on the left side of the screen, while the right soft keys are reserved for jump and special actions (such as pushing and pulling boxes, or powering up the world). Nonetheless, we adapted very quickly to playing the game in this fashion on our
Samsung Galaxy Tab 10.1
Android tablet, which we used for this review, although we still would have loved to have seen the left and right movement corresponding to soft keys on the left and right of our screen respectively.
Customising Cordy
Another aspect of the game is the ability to customise Cordy with several costumes. Problem is, these cost extra money, and in our opinion not worth shelling out for. If, like us, you would rather save yourself from paying for those tribal horns or hats, make sure you turn off in-app purchases. Quite frankly, a non-customised Cordy did not detract from enjoying the full title in any way, nor did it appreciably add to it.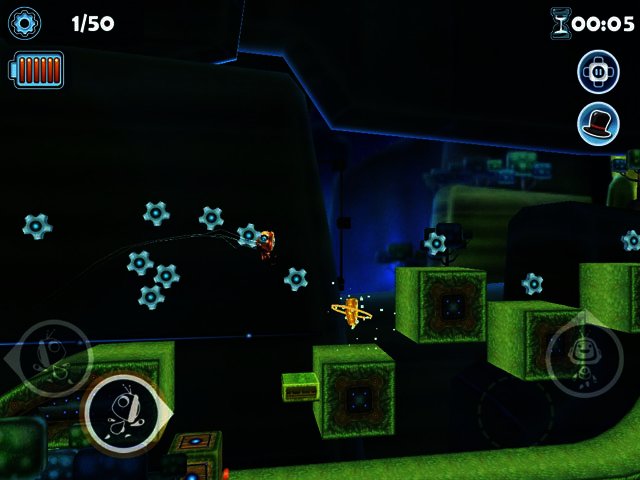 To the point
Cordy is a whimsical, fantastic platformer that we enjoyed playing immensely. While simple in its approach, it was compelling enough to keep us coming back for more, revisiting previous levels to beat our own score, and even made us forget about birds, pigs and glass enclosures for a while. It is available from Android Market
here
.
Pros
Compelling gameplay
Whimsical setting
Beautifully rendered
Cons
Counter intuitive controls
Compelling gameplay, Whimsical setting, Beautifully rendered
Counter intuitive controls