Creative Suite and its constituent programmes, such as Photoshop, Illustrator, Indesign, Dreamweaver and Premiere Pro, have long served as benchmarks for creative software and are still seen by many as essential tools in the digital creative's toolkit.

However, trying to explain every feature would be both a Herculean task and impossible venture, as entire books and numerous workshops are still being dedicated to each application. Instead, our review focused on a few groundbreaking new features as well as general usability, as a foundation for continued, and probably life-long exploration of all that these seemingly infinitely deep programs have to offer.

Meet your constituents

The Master Collection consists of every CS 5.5 program in Adobe's stable, namely Photoshop, Illustrator, InDesign, Contribute, Dreamweaver, Fireworks, Flash Professional, Flash Builder, Flash Catalyst, OnLocation, Bridge, Device Central, Media Encoder, Extension Manager, Acrobat X Pro, Premiere Pro, After Effects, Audition, Encore.

Installing the entire set took a good amount of time, approximately forty minutes. This wasn't surprising, since they weighed in collectively at 17 GB. Those installing the suite would be advised to set aside some time and ensure they have adequate space on their hard drive before beginning. Some of the standout programs and their features are explored below.

Image Inspiration: Photoshop and Illustrator

Photoshop and Illustrator are the imaging essentials of the collection. Whereas Photoshop handles image editing and photocompositing, Illustrator deals with vector graphics. However, in CS5.5, the two work together even better than before.

Both Photoshop and Illustrator's workspaces will be familiar to seasoned users, while still seeming cleaner and better well organised than previous versions. Workspaces can be easily switched, based on the tasks at hand. In Photoshop's case, you can choose between essentials, design, painting, photography, 3D, motion, and those features that are new to CS5.5.

Illustrator's workspace can be set to resemble Photoshop, FreeHand, InDesign or to cater to painting, printing, typography or web design. The most used palettes for each focus will then be neatly displayed along the right hand side of the workspace. Of course, you can always customise your own workspace, with the palettes you want to be most accessible.

One of the more alluring features on offer is 3D creation using both programs. Although there is a fair learning curve, it is far easier to switch between creating and modifying 2D scenes and then creating and employing 3D objects. Objects, such as cubes, spheres, pyramids, cones and cylinders can be created, lights can be added, and materials applied in Photoshop.

Alternatively, paths that are drawn and crafted in Illustrator can be imported into Photoshop, extruded, modified and even animated on a timeline. This quite literally adds another dimension to one's imaging work. Add to this brush presets and Adobe review where you can create and share your work directly from within Photoshop, and get feedback from other users, and CS5.5 ushers in a potentially far more social, communal digital imaging experience.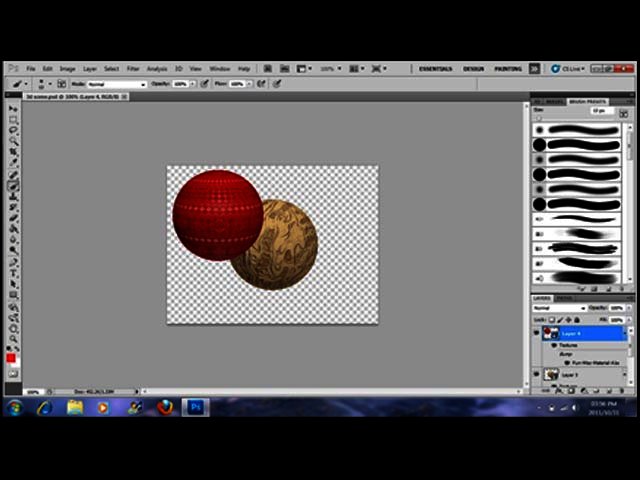 Photoshop CS5.5 offers some very capable 3D options
Publishing Powerhouses: InDesign, Acrobat X Pro

Refreshingly, both InDesign and Acrobat look quite similar to Photoshop and Illustrator from a workflow perspective. This means that as you gain proficiency or familiarity with one, it helps build on the other.

In CS5.5, InDesign is a far more powerful publishing tool, catering for creating digital magazines and ebooks as well as print design. Acrobat X Pro still caters for creating PDFs specifically. Of the applications reviewed so far, this is the least intimidating in terms of plethora of tools on offer, although there is a multitude of ways to work with content. More specifically, pages can be inserted or modified, content, such as text, interactive buttons, links and multimedia can be added and the final PDF can be encrypted or password protected, for example.

Web Wonders: Dreamweaver, Flash

In CS5.5, one of web authoring and editing tool Dreamweaver's most important features is multi-screen support, which enables web designers to see how their creation will look on multiple screen sizes and devices. Custom Style Sheets (CSS), which determine the overall appearance of web pages, can be assigned according to the device the web site will likely be viewed on. This is particularly handy in a smartphone and tablet centric age. Additionally, CSS3 and HTML 5 is supported, while the web developers can also convert HTML to a Android or iOS app using PhoneGap.

In a similar vein, Flash Professional CS5 enables one to create FLA projects that cater for multiple devices, while code and assets can be shared across documents and different targeted devices and screen sizes.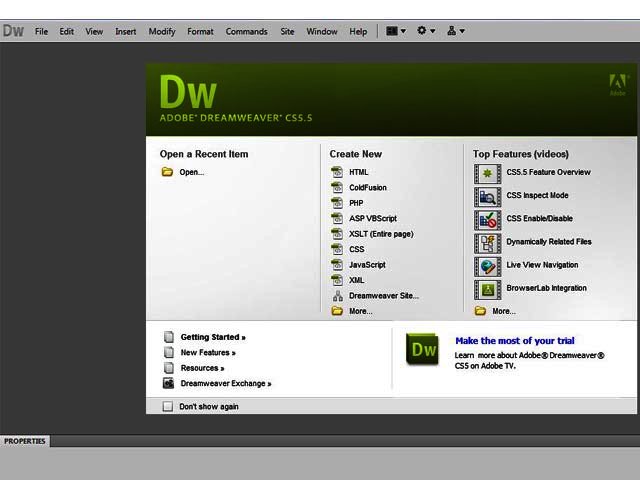 Dreamweaver CS5.5's opening splash screen offers a quick access overview of top features
Multimedia Maestros: Premiere Pro, After Effects, Audition
Much like the symbiotic relationship enjoyed between Photoshop and Illustrator, video editing and audio editing programs Premiere Pro and Audition enjoy the same seamless integration respectively. As found on the other programs, Premiere Pro CS5.5 similarly caters for multiple screens and devices, including TV, computers, smartphones and tablets.
Additionally, Premiere Pro boasts a new Mercury playback engine that enables the intensive program to render on both PCs and notebooks. However, it does require a 64 bit OS. Visual effects program After Effects CS5.5 brings 3D (stereoscopic) support to the mix, along with backward compatibility for After Effects CS5 files.
To the point
All together, the Creative Suite 5.5 Master Collection is a formidable digital content creation suite. Add to this the forthcoming mobile apps, and there is little we can imagine it not being capable of. In fact, we can quite easily anticipate those who invest in its substantial
R31 689 RRP
spending a lifetime learning all the ins and outs of each program.
Pros
Incredibly extensive package
Feature rich
Cons
Expensive
Incredibly extensive package, Feature rich
Expensive