Domestly has officially launched their service in Johannesburg North, making it available in Cape Town, Rosebank, Fourways and Sandton. The company is set to launch in Pretoria, Midrand and Centurion in upcoming months.
The Domestly Cleaners app gives consumers the freedom to choose a professional home cleaner based on her experience and recent reviews, and enables cleaners to confirm job requests and track their work schedules at the click of a button. Those without smartphones can access the same functionality via a mobile site tailored for feature phones. What's more, all payment is made electronically, ensuring that it's safe and secure.
The cleaning industry is one of the biggest employers in the country, with millions of people making a living from cleaning homes and offices. Historically however, the industry has had very little to do with helping cleaners take charge of their lives and futures, and for many, cleaning has simply become a way to support their families if they are unable to find other employment.
Domestly is changing all that with an exciting new platform that's giving cleaning professionals the chance to empower themselves by giving them the opportunity to find work, set their own rates, and realise a sense of pride in the service they offer. And it's using the latest technology to bring it all together.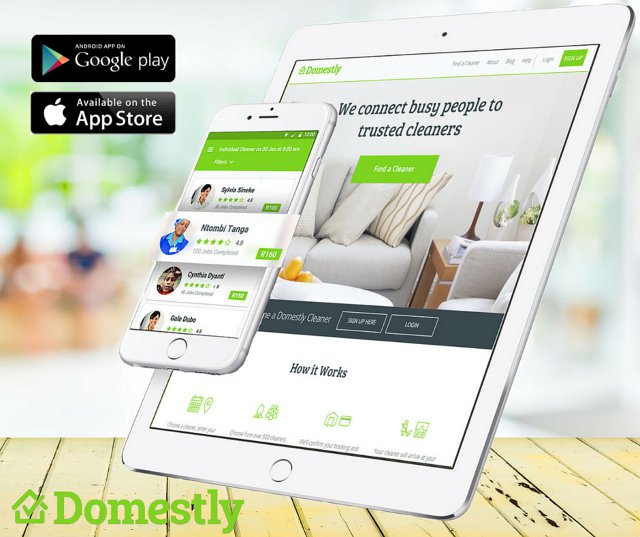 The cleaning service has recently updated their app and website to offer customers an even more user-friendly and convenient way of booking their cleaners. Some of the updates included optional EFT payments for customers who do not wish to use (or do not have) a credit card, bulk booking of a cleaner as well as a swap out system.
Every user has a Domestly wallet and if they have funds in the wallet the balance will first be used before subtracting funds from a bank card. Users can load funds onto your Domestly wallet any time, and make either a manual bank transfer to Domestly via EFT from any South African or international bank or pay via the online payment system using a credit card.
Domestly's new bulk booking option allows one to see your cleaner's calendar with available days and book her as and when needed for up to a year in advance.
If the cleaner that was booked becomes unavailable or declines the booking, the company will automatically swap the cleaner out with another available cleaner in the area with a similar service rating. Users will then be able to view any swap outs or changes made on the Domestly profile.
For more information, please visit http://www.domestly.com.