Experience the epitome of comfort and confidence in your summer workout gear with Under Armour's revolutionary Iso-Chill technology.
Introducing a co-gender Train and Run Campaign with special attention drawn to the Iso-Chill Technology as featured in the specialised tee's.
Designed to outshine the sun, the Iso-Chill technology takes your performance to the next level by providing a refreshing cooling sensation that allows you to run farther and longer even in the sweltering heat. We've redefined shirt construction down to the very threads, incorporating a proprietary yarn that efficiently draws heat away from your body, similar to how ice cools liquids...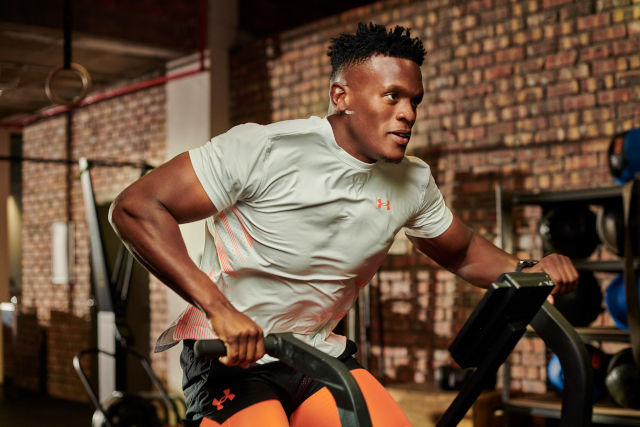 How? A ribbon-shaped nylon fibre disperses heat while titanium dioxide-treated fabrics pull heat away from your skin, resulting in an instant and lasting cooling effect that's similar to resting your head on the cool side of the pillow.
Say goodbye to summer suffering, as Under Armour's Iso-Chill empowers you to conquer any outdoor challenge with ease, helping you push your boundaries and achieve more. Scientific testing shows that athletes wearing Iso-Chill take 7-12% longer to hit their VO2 max, proving that you can run, train, and stay outside longer, all while continuing to improve your performance.
The temperature may be rising, but so are you. Because you know that to get faster, stronger, and better tomorrow than you are today, you've got to put in the hard work. Even when it's hot.
So you dig deeper. Go further. And Train harder. It's why you push yourself past exhaustion and grind out one, more, set—even in the toughest conditions. Because the sun may be blazing, but this is your time to
shine.
Why IsoChill?
WHOA, THAT'S COLD: Specially designed fibers lay flat against your skin to evenly disperse heat, so it feels cool to the touch.
BUH-BYE, HEAT: Laser-perforated venting on the back and sides improves breathability and allows more heat to escape.
MAX OUT YOUR MAX-OUT: Proven to increase your max-out time and output even under those hot,
high-pressure situations.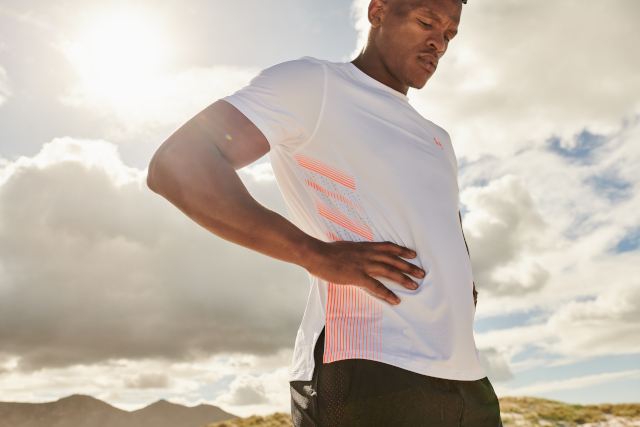 Making up the Run and The Train Collections respectively, for women, the collections include the UA Iso-Chill Laser Tee and Laser Tee II, featuring Iso-Chill fabric to disperse body heat, laser perforations for breathability, and anti-odour technology. The UA Infinity Mid-Run Hook Bra which offers tailored support with PU-injected padding, an all-over mesh body, and adjustable straps. In the Run collection, you will find the UA Infinity High Impact Bra, with strategic support and adjustable straps so you can get the perfect fit. The UA Flex Woven 2-in-1 Shorts and the Pro 2-in-1 shorts feature an expandable pocket, Iso-Chill compression shorts, and a soft knit waistband. Lastly, the two collections comprise of the UA HOVR Machina Breeze and the UA HOVR Sonic 6 BZR respectively, which offer an airy, lightweight upper with UA HOVR™ cushioning for long runs in the heat.
For men, the UA Elite Graphic Shortsleeve tee features a fabric designed to pull heat away from the skin. The UA Vanish Woven 2in1 Vent Shorts and the UA Launch Pro 5" Shorts from each collection are made from ultra-light, fast-drying material to keep you cool. The two respective collections are made up of the UA HOVR Machina Breeze and the UA HOVR Sonic 6 BZR for men, providing an airy and springy cushioning experience.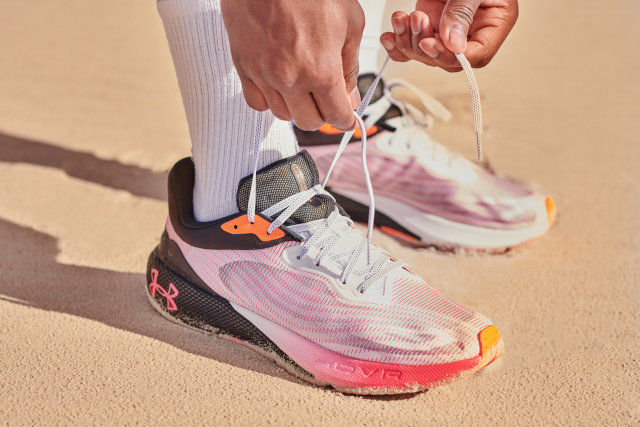 With a focus on moisture-wicking, breathability, and temperature control, this collection is ideal for athletes and fitness enthusiasts looking to stay comfortable, and cool, and perform at their best in the hottest conditions. Get ready to crush your workouts while beating the heat with UA's Iso-Chill Run and Train Collections.
Don't let the heat hold you back; embrace the cool confidence of Iso-Chill and reach new summertime heights.
Available online and in-store now.