Fujifilm South Africa has announced the latest (and greatest) camera in the GFX lineup - the Fujifilm GFX100 II. This new flagship large format camera promises not only outstanding image quality due to its 102MP sensor, but also improved shooting speed, auto-focus (AF) performance and video quality.
To start, the GFX100 II features the newly-developed GFX 102MP CMOS II HS high-speed image sensor consisting of 102 million pixels. At 43.8mm x 32.9mm in size it's approximately 1.7 times larger than a 35mm full-frame sensor. The mirrorless camera is powered by the high-speed X-Processor 5 image processing engine, which in combination with the sensor provide double the signal readout speed compared to 2021's Fujifilm GFX100S.
Improved speed and auto-focus
Thanks to this improved signal readout speed, the GFX100 II is capable of continuous shooting of up to 8.0 frames per second, up from 5.0 fps on the previous GFX model. With a reinforced buffer memory, it opens the GFX Series up to the field of sports photography. It does so without sacrificing the high definition and high image quality synonymous with the large format sensor.
However, the GFX100 II is also the first GFX Series mirrorless digital camera that features Fujifilm's AI-based subject-detection AF, developed with Deep Learning technology. The use of an improved algorithm has evolved not only Face/Eye Auto Focus (AF) but now allows photographers to automatically track animals, birds, cars, motorcycles, bicycles, aeroplanes, trains, insects and drones. Once again, this benefits sports photography, which requires advanced tracking capability to track a subject that moves quickly within the frame.
And enhanced video performance
The GFX100 II is the first GFX model that supports 8K/30P video recording, plus it can also record 4K/60P 4:2:2 10-bit video internally and features F-Log2, broadening post-production flexibility. The GFX100 II's range of video features allows videographers to explore completely new avenues due to the possibilities of the large format sensor in use.
The camera is further equipped with the best Electronic Viewfinder (EVF) on a Fujifilm camera yet - a high-magnification and high-definition 9.44-million-dot EVF with 1.0x magnification. It boasts a smooth refresh frame rate of approx. 120fps in Boost Mode to accurately identify a subject's fast movements. Alternatively, the 3.2-inch Tilt-Type touchscreen monitor at the back can be used, consisting of approx. 2.36 million dots.
This while low light performance is improved thanks to the five-axis In-Body Image Stabilization (IBIS) now set to an impressive eight-stops - more than any other camera in the full Fujifilm lineup.
For those looking for even larger images, GFX users can use the Pixel Shift Multi-Shot function. This controls the IBIS mechanism to shift the image sensor by 0.5 pixel at a time and shoot 16 RAW images in a quick succession, with the dedicated software combining these to generate a mouth-watering 400MP image.
Price and local availability
The Fujifilm GFX100 II large format mirrorless camera, with its improved speed, AF and video capabilities, is set to land in South Africa during October 2023, with a suggested retail price of R160 000 incl. VAT.
Three new GFX lenses also coming
Fujifilm has also committed three new lenses to the GFX lens lineup. Two new tilt-shift lenses, the Fujinon GF30mmF5.6 T/S and the Fujinon GF110mmF5.6 T/S Macro, cater to the needs of professional photographers who want to explore composition and shooting positions in architecture, landscape and commercial photography. They do so by combining the tilt function of tiling their optical axis and the shift function of moving their optical axis, to alter how the optical axis relates to the imaging plane. The tilt-shift lenses are set to retail for a suggested R80 000 and R70 000 respectively.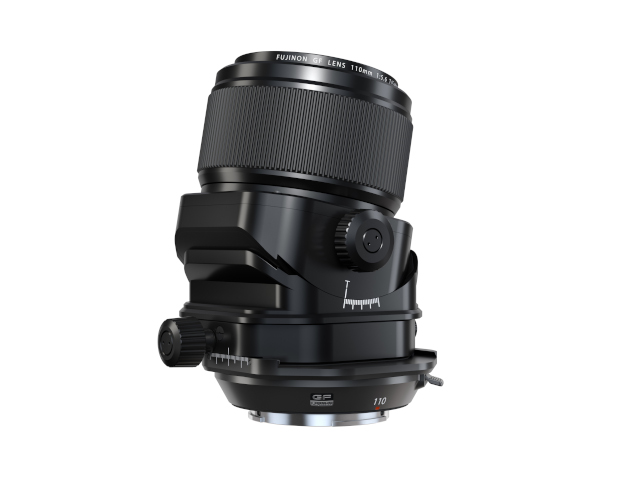 Finally, the Fujinon GF55mmF1.7 R WR lens with its creamy bokeh characteristic and field-of-view close to that of human vision, allows for capturing genres ranging from day-to-day snapshots to full-fledged portraiture both indoors and outdoors. It comes with a suggested R45 000 retail price.
All the new Fujinon lenses are set to arrive in October 2023 in South Africa, alongside the Fujifilm GFX100 II large format camera.