Fujifilm South Africa is introducing a new palm-sized Instax camera into the Instax range of cameras and printers. The Instax Pal is different, being the first Instax device specialising in only taking photos. With a weight of approx. 41g, this is a camera you can take anywhere and the one you want by your side when pulling out a smartphone will only spoil the moment.
The Instax Pal can capture 4.9MP photos and comes with internal storage (50 photos), while a microSD card can also be used to save images. Photos from the Instax Pal can be automatically transferred via Bluetooth to a smartphone using the free Instax Pal smartphone app, from where it can be shared to social media, complete with Instax frames.
Various ways to shoot
The Instax Pal features a variety of functions to facilitate different shooting situations. To start, the Standard mode allows a picture to be taken by pressing the shutter button at the back of the camera. This snaps regular pics or allows users to take advantage of the wide-angle lens to shoot selfies from an elevated position, using just one hand to capture a dynamic photo that incorporates more of the background.
The Remote mode connects the camera via Bluetooth to a smartphone installed with the Instax Pal app so that pictures can be checked on the smartphone as they are taken.
Finally, there's the dynamic Interval mode that snaps photos continuously at a three-second interval, in sequences of 3, 6, 11 or 21. The app can then be used to create an Instax Animation that combines multiple images into a flipbook video. Friends can play this video by scanning the QR code printed on an Instax print.
Direct print to Instax printers
The Pal also connects to the Instax Link series of instant printers to print straight away, which allows the Pal to be used like other analogue cameras in the Instax range. Users can print on Instax Mini film (Instax Mini Link 2), Square film (Instax Square Link) or Wide film (Instax Link Wide).
Each Instax Pal camera comes with a Multifunction Ring Accessory that can be used as a safeguard strap to prevent accidentally dropping the Pal, or as a simplified viewfinder and a camera stand when shooting a group photo. There's also a built-in speaker for customisable pre-shutter sounds, which can be recorded by users through the app.
The Instax Pal has a built-in lithium-ion battery that's set to last for approximately 240 frames per charge. The battery is recharged via the USB Type-C terminal, with a cable included with the camera.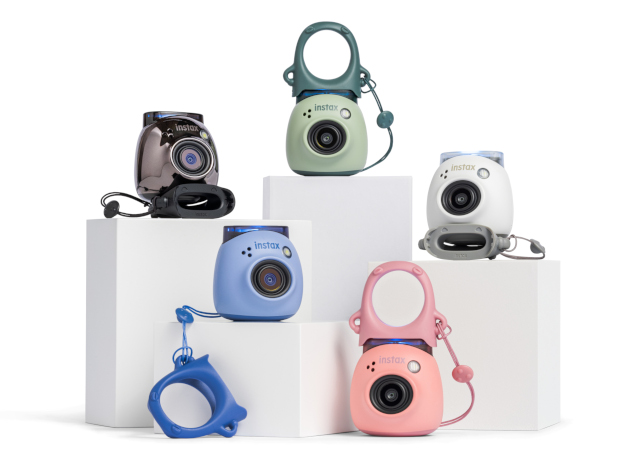 Release date and availability
The new Instax Pal's release marks the 25th anniversary since Fujifilm's instant photo system was launched in 1998. It will be coming to South Africa in five different colours - Lavender Blue, Powder Pink, Milky White, Gem Black and Pistachio Green.
For now, the Instax Pal's local release date and retail price have not yet been confirmed, but fans should keep an eye on Instax's local social media for updates.