HP Inc. extended its innovation prowess for workstations by announcing a storage solution that is 16 times faster than a SATA SSD at a similar cost and a revolutionary heat-transfer solution to reduce system noise for its powerful HP Z Workstations.
"As the workstation industry leader, HP Inc. looks to take its commitment to the professional a step further with every new product and innovation," said Gwen Coble, director, Commercial Solutions and Retail Solutions, EMEA, HP Inc. "HP Workstations' engineering DNA is our special sauce – driven by over three decades in the business and a true understanding of our customers' needs that helps them solve business problems our competition isn't addressing to the same extent."
The HP Z Turbo Drive Quad Pro provides users with improved performance and reliability to speed through large data storage challenges. The HP Z Turbo Drive Quad Pro resolves the storage bottleneck by permitting users to power through large data storage challenges with amazing performance speeds.
Z Workstations can be equipped with up to four super-fast HP Z Turbo Drive G2 modules into one PCIe x16 card. This solution delivers sequential performance up to 9.0GB/s . Additionally, the HP Z Turbo Drive Quad Pro uniquely enhances data integrity from power loss protection circuitry to correctly save work in the event of a power failure.
The HP Z Turbo Drive Quad Pro can be used with HP Z440, Z640 and Z840 Workstations that are built to address the constraints of compute-intensive industries, including media and entertainment, CAD, architecture, finance, healthcare, scientific imaging, and oil and gas exploration. Announced on September 29, the HP Z240 Tower and Z240 SFF Workstations can use up to two Z Turbo Drives and starting on November 16 will be available with Intel® entry-level Xeon®.
The HP Z Cooler is an innovative, ultra-quiet cooling solution designed to reduce system noise in HP Z Workstation environments - even under the most demanding workloads. "The (Z Cooler) solution helps lower CPU fan speed and delivers up to a 8.5 dBA acoustic level reduction -- perceived as being 40 percent quieter to the human ear – versus previous generations." The noise reduction benefits come from HP's unique, revolutionary heat-transfer solution that combines 3D vapor chamber technology and HP's innovative staggered, hex-fin design.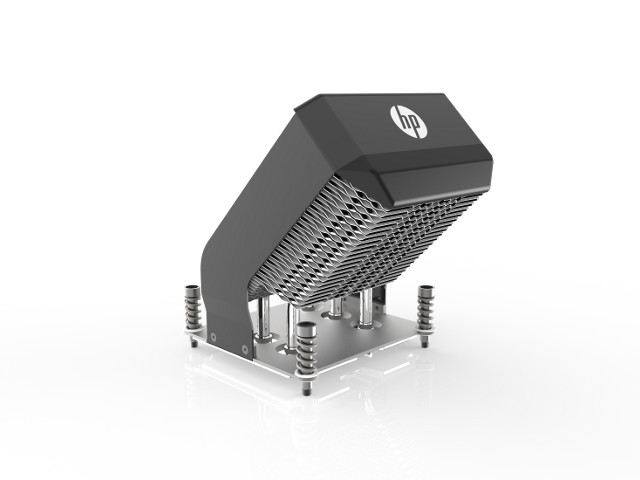 HP Z Cooler is an elegant, simplified solution that eliminates pumps and plumbing, and is grounded in 30 years of HP innovation and reliability. The HP Z Cooler, represents one of the industry's quietest solutions and helps minimize distractions and boost user productivity. The HP Z Cooler will be available with the HP Z440 and Z840 Workstations.
"HP led the industry, introducing liquid cooling solutions for workstations years ago," said Ron Rogers, vice president, Head of Engineering Workstations and Thin clients, HP Inc. "As other vendors are just now catching up to that solution, HP once again is leading the way in delivering a new, advanced cooling technology with fewer moving parts resulting in quieter systems and increased reliability, ultimately enabling a more productive workplace experience."
New Z Professional Displays
The HP Z22n and HP Z23n Narrow Bezel IPS Displays provide a captivating view with minimal visual disruptions. The panels, the narrowest three-sided displays from HP, are nearly borderless on three sides and include factory color calibration for consistent color between projects and displays and flexible device connectivity.
Users will benefit from the virtually seamless views provided by the 178-degree viewing angle IPS technology. The color gamut (calibrated 95 percent and 96 percent sRGB respectively) delivers optimal color quality.
Pricing and Availability
HP Z Cooler is planned for availability in January. Pricing is available upon request.