Internet Solutions has launched IGNITE, a suite of technology solutions specifically for small and medium sized enterprises (SMEs).
With fast, easy, and affordable access to internet, billing, employee management and communications services, IGNITE offers SMEs access to ICT infrastructure which rivals that afforded by big business, according to Internet Solutions. This means they are better equipped to compete in today's fast-paced, competitive and tech-led business environment.
"With the right digital tools, we believe that SMEs can be just as efficient, connected and productive as corporates with large ICT budgets, if not more so," says Tony Koutakis, executive head: IGNITE. "Leveraging Internet Solutions' expertise and resilient network, we set out to provide a range of solutions that will help SMEs connect, run and grow their businesses."
"The result is a single support-driven portal that enables SME owners to manage their services portfolio online, wherever they are, as need and budget dictates."
By combining and streamlining three existing Internet Solutions' divisions – MWEB Business, IGNITE and IS Direct – SME clients can select from a range of internet connectivity, communication, cloud, payroll, accounting and recruitment services.
Sign-up happens quickly without paperwork, there is no contract lock-in, and services are billed via a pay-as-you-use model. Expert support is provided by face-to-face client managers or by the 24/7 call centre.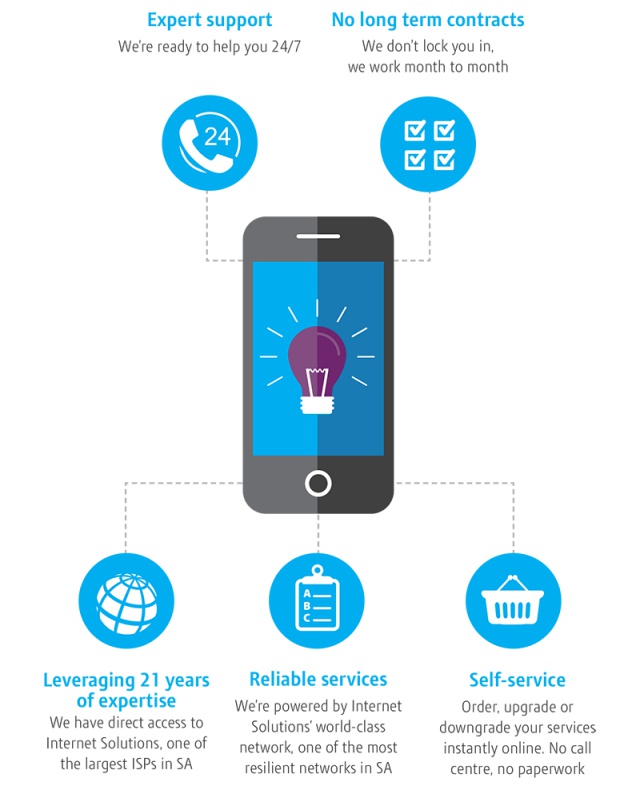 "As an SME's business requirements change, they can add or cancel services immediately without worrying about time to connect or notice periods, from the office or from the road, with no ICT expertise required," says Koutakis. "SMEs often have lean, low-cost operations where less bureaucracy means decisions are made quickly. We built IGNITE to mirror the agility and quick-to-market ethos of our clients, simplifying the use of ICT services."
According to the Banking Association of South Africa, research suggests that SMEs make up 91% of formalised businesses locally, providing employment to about 60 percent of the labour force. The total economic output of these businesses accounts for roughly 34% of South Africa's GDP. The National Development Plan: Vision for 2030 anticipates that SMEs will contribute significantly to the 5.4% annual growth in GDP targeted over the next 15 years. As a pivotal driver of the local economy, support for SMEs is identified as one of the ways to ensure economic transformation.
"If SMEs are to live up to the critical role envisioned for them, they need support in all aspects of their business," says Koutakis. "SMEs are becoming more tech-savvy but the rapid pace of change in the area of technology is a threat to some businesses."
"By providing both services and support to SMEs, IGNITE enables SMEs to focus on building their businesses and increasing profit - to benefit themselves, their employees and the economy as a whole."