When Isuzu Truck South Africa was in need of a catered enterprise management solution to govern its unique business, it was 4most's EMA that it turned to, to help drive its business forward.
In a neatly congruent marriage of minds, specialised truck provider, Isuzu Truck South Africa, has turned to another specialised business to meet its enterprise management needs, 4most, and deployed its enterprise management solution, EMA. More importantly, the reliance on 4most and its offering appears to have had a largely advantageous impact on the company, enabling it to more easily manage its business processes.
Craig Uren, the director and chief operating officer of Isuzu Truck South Africa, explained that the company began as a joint venture that broke away from General Motors in 2007. While the latter serves the mainstream automotive customer with its cars and bakkies, Isuzu Truck offers its customers trucks between two and 60 tonne. Whereas mainstream vehicles tend to be an emotional purchase, Uren elaborated that its high value trucks are a business concern with a commercial impact, aimed at generating revenue for their owners.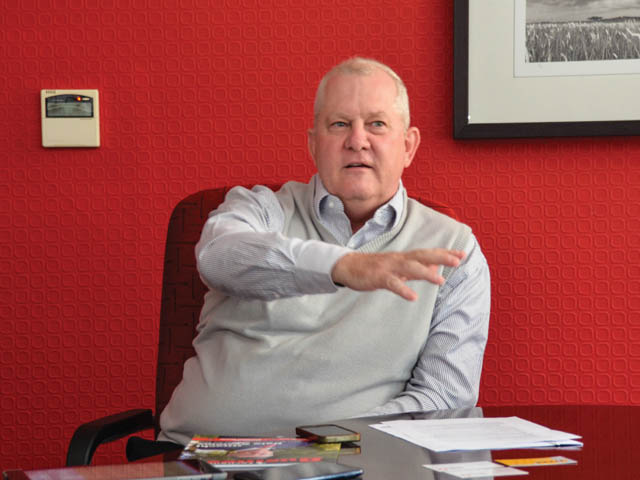 Craig Uren, the director and chief operating officer of Isuzu Truck South Africa
Making it work
Uren explained that its trucks come off the production line incomplete, requiring the company to put a body on them and then to add further customisation. "Thus, our need with a business system is not just catering to production and the initial wholesaling and shipping to a dealer, it has to cater for the entirety of the supply chain, right to the endpoint where the customer actually gets it in his hands," he elaborated.
This degree of specialisation though, meant that the previous legacy system historically used by General Motors and Isuzu Truck South Africa, was inadequate and limiting. It was not always able to accommodate the company's more distinctive process management requirements as it was geared towards typical vehicle sales businesses. For a more specialised and flexible solution to its needs, the company thus decided on 4most's EMA, which is powered by SAP Business One.
Risks and rewards
For Isuzu Truck South Africa, a back office system that didn't hinder or distract was imperative, as it runs a high value and low transactional order business. Exacerbating matters, Uren explained that the automotive business does not have high margins; but rather has to contend with the risk of having too much inventory on hand, as well as very long lead times and extensive supply chains from source.
An advantage of having a flexible and customisable enterprise management system in place, such as EMA, is that the company can reduce these risks by offering far shorter lead times. He pointed out that its previous system didn't allow the company to order value added material that went with the chassis until the vehicle was in stock. By the time the vehicle came into stock, the company still had to contend with a further six months delay.
"Previously , if I ordered a chassis in Japan in month one and I needed a specialised crane which had the same lead time in Europe or the United States, or a particular automotive transmission from abroad, I would need to have ordered all that material six months prior," explained Uren. "Now we can order all the ancillary equipment to get to the completed good, so when we put that vehicle to stock, any other material that we needed to complete the vehicle would become available in the next thirty days; we can order it all up the system, and marry it together. Previously it was impossible to do that," he elaborated.
In practical terms this translates into an increased response time to the marketplace. More specifically, it enabled Isuzu Truck to provide its customers with their order in thirty days instead of 180 days, while simultaneously mitigating against inventory values, holding costs, and other downstream inefficiencies.
Bumps in the road
While in a perfect world, upgrading one's IT system would be without any intricacies or learning curves, the process of taking full advantage of SAP Business One and EMA was not quite so simple. Rekha Chetty, the finance manager for Isuzu Truck South Africa, explained that change management was a challenge which could only have been improved by investing more time in user training.
"Because we were new as an organisation, a lot of our people were new, they learnt their job functions off the legacy of the previous system, which was not necessarily the correct business flow, so they naturally moved into the new system where we had designed the correct business flow." added Uren. "The new system actually drove the process that they had to conform to. 4most's system helped us create very specific disciplines and the workflow had to be followed, it couldn't just be ad hoc. They had an individual struggle to conform when they previously had free reign," he notes.
"With new users the learning curve wasn't steep, it was quick, but with employees that were on the previous system it took more time," Chetty acknowledged. On tips for other businesses who are considering moving to SAP Business One and a solution such as EMA, Uren stressed that they need to invest the time upfront in scoping the system, and then ensure they do plenty of planning and testing.
The road ahead
However, the move appears to have been well worth it. Uren explained that the company is now able to pay its dealers and suppliers more quickly, and are also in a position for the banks to pay them faster as well. Additionally, the fact that EMA is a cloud solution means that Isuzu Truck South Africa is able to get its dealers onto the system with a minimum of fuss, as all they require is a username, password and internet connection. For this reason and more, they are spending a tenth of what they used to on systems.
As to what lies ahead now that Isuzu Truck SA has reached its goal of becoming local market leaders, Uren revealed that the company is looking at the rest of sub-Saharan Africa as part of their business focus. "Business is about change and you need to be able to adapt and move with change quickly because we rely on customers; without customers we can't develop or sell and generate revenue.
However, to stay in touch with the real marketplace, a business must remain up to date. Part of this means that your enterprise management system cannot be a distraction and needs to help you address the fundamentals of your business," he concluded.
Read more about 4most's solution here.
Article first appeared in TechSmart Business 6, July/Aug 2014, download the PDF here.