SAP Africa has lifted the lid on its latest SAP Business Suite 4 SAP HANA (SAP S/4HANA), explaining why and how its latest development can help businesses and enterprises moving forward.
In a nutshell, SAP S/4HANA is a new product fully built on SAP's advanced (and widely used) in-memory platform, SAP HANA, and is specifically designed simplify and eliminate complexity in business processes.
Robert Enslin, SAP Executive Board Member and President of Global Customer Operations began not with touting the product's new features (that came later); rather he commented on the significance of the new development to the African continent as a whole.
Potential unbound
He pointed out that there is massive potential in Africa, with China in particular looking closely at the continent from an investment point of view. This potential, he elaborated, fuels the need for the technological readiness in African businesses, encouraging companies to leapfrog over legacy technologies in order to adopt the latest innovations. It also places business in the position to truly be prepared to take advantage of the socio economic trends happening in Africa. Indeed, trends the likes of connectivity and increasing mobile penetration could lead to increased foreign investment.
Robert Enslin, SAP Executive Board Member and President of Global Customer Operations
This could have far reaching positive consequences, such as massive infrastructure improvements and investments, enterprise modernization, increased regulation, public sector automation and e-governance. "With this in mind the message becomes abundantly clear – demand will rise, business will grow and opportunities will increase for those willing to make the right moves," he asserted. What this has to do with a new product quickly became much more apparent, as the company explained in greater detail how the new SAP S/4HANA business suite could impact on businesses and enterprises.
Complexity, be gone
The first of these was SAP S/4HANA's aim of reducing the massive complexity that businesses find themselves having to contend with. The complexity, Enslin noted, exploded with the advent of the internet and has been compounded by the proliferation of mobile devices, social media and big data. He added that while HANA was originally introduced into the market as an in-memory database, it has since grown to become a widely used development platform as well. Moreover, he intimated that the latest release is the most significant of SAP's product released in the past 25 years; bold words for a company that is widely referenced in the IT industry.
The company further explained that SAP S/4HANA is designed to drive business innovation with simplicity by connecting people, devices and business networks in real time. It further supports the development of new business models, while helping to accelerate the adoption of Internet of Things and Big Data.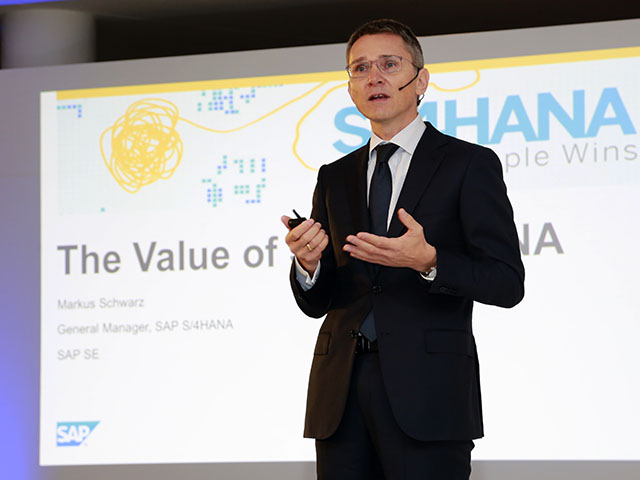 Markus Schwarz, General manager SAP S/4HANA
Reimagining business
General manager Markus Schwarz continued that the next gen business suite consists of the HANA database, a simplification of the applications, and a completely new user experience via the interface. "We wanted to create flexibility for our customers and enable them to deploy and use the core business suite in the cloud, public cloud or hybrid cloud (as well as on premise)," he explained. However, the new release's outstanding focus was on something that SAP referenced during the course of the launch - of enabling business to reimagine the way they handle business processes, and reimagine how they fix and maintain their assets.
Perhaps the best example of this came from a demo session, conducted by Andre Borchert, the senior business development manager for SAP HANA Centre of Excellence. He showed the system being used at a water management plant, in which the enterprise is able to see at a glance who the plant served (schools, a nearby hospital and residential community). He explained that within the system, engineers would not only enjoy real time monitoring, but would also see whether a hydraulic pump was at the risk of failing and in how many hours/days.
He showed how in-depth information, such as the failure's impact on productivity, cost factors, the pump's part number and suppliers, and the benefits of replacing versus repairing the pump in question, could all aid decision makers in fixing a problem before it manifested and affected a business and its customers negatively.
Looking ahead
Schwartz pointed out that 90% of the world's data was created in the past two years, and that business networks are expected to grow 40% in the next two years. "However, the new release isn't just about making business processes faster, it is also about creating different business processes and increasing end user productivity in a significant way," he stressed.
Pfungwa Serima, SAP Africa CEO added that providing its African customers with choice is of paramount importance. "SAP S/4HANA will offer cloud, on-premise and hybrid deployment options to provide maximum choice to customers. Many African businesses are looking to extend their reach deeper into the continent and engage with their consumers in all channels. With SAP S/4HANA there is now an innovation platform designed to truly drive their growth," he concluded.