BUSINESS NEWS SPONSORED BY DELL E-SERIES 24" MONITORS FROM DCC: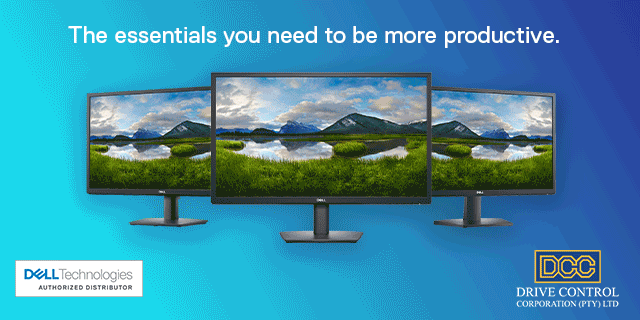 When Stellenbosch University (SU) launched its School for Data Science and Computational Thinking in July 2019, it expressed the hope that the new entity would become a world-class institution. Not even three years later, it is already widely recognised as a leader in its field.
Prof Kanshukan Rajaratnam, who was appointed Director of the School in January 2020, attributes this rapid progress to the fact that there were already highly skilled data science academics and programmes in place at SU even before the new school was established. Yet the work taking place across various faculties had to be consolidated. "At most universities, data science activities take place in faculty silos," he explains. "At SU, however, we understand that data science should cut across all faculties. So, to consolidate the work already being done separately at our university, SU Rector Prof Wim de Villiers launched the School for Data Science and Computational Thinking to bring about greater efficiency and interdisciplinarity."
To SU, the need for the School was urgent. "We knew we had to build capacity in data science and computational thinking in order to improve lives across the continent – whether in the health and medicine, food production or other sectors," says Rajaratnam.
Work was initially slowed down by the Covid-19 lockdown imposed in early 2020. However, those tasked with implementing the vision of the School refused to be deterred. They used the first year after the School's establishment to develop a strategy for hiring staff, and made the decision to use joint appointments. "These appointees have one leg in a particular faculty-based SU department, and one leg in the School," Rajaratnam explains. "This aids interdisciplinarity because it allows one to bring knowledge from your department to the School, and vice versa. On top of that, academics who have joint appointments get to interact and collaborate on interdisciplinary and multidisciplinary research."
Rajaratnam points to the joint appointment of Prof Tulio de Oliveira to illustrate the success of this strategy. This world-renowned scientist, a professor of Bioinformatics, holds a joint appointment at the School and the faculties of Science as well as Medicine and Health Sciences. His work in identifying and tracking Covid-19 variants was recently listed as one of the ten technological breakthroughs of 2022 by the prestigious Massachusetts Institute of Technology's MIT Technology Review.
"Because joint appointments involve multiple relationships, we are learning on the job every day how best to manage them," Rajaratnam acknowledges. "We want to enable our appointees to produce the best possible research, and give them an environment in which to flourish."
The School currently boasts ten postdoctoral fellows and eight researchers, including the Capitec chair, the AIMS Junior chair in data science for climate resilience, and the chair in computational thinking. The Standard Bank Lab is also based here. "This is an indication of the industry collaboration that exists in the School," says Rajaratnam.
In addition, two of the School's academics – Rajaratnam and Prof Bruce Watson, incumbent of the chair in computational thinking – have been rated by the National Research Foundation as internationally acclaimed scientists.
A year after its launch, in June 2020, the School established the African Data Science Academy. "Think of it as the teaching half of the School," says Rajaratnam. "It organises workshops and short courses to build the capacity of academics and researchers – not only at our university, but also in the rest of South Africa, Africa and across the globe."
The Academy went on to offer three courses in 2020. In 2021, they upped their offering to eight courses, including an introduction to data science and computational thinking at no cost to students. "Education in South Africa is generally out of reach for many people, so we asked ourselves how we could use our skills to bring data science knowledge to a larger population," says Rajaratnam. The Academy received more than 2 000 applications for the introductory course, but could accept only half for logistical reasons. "We presented a world-class course to students across the globe," Rajaratnam adds proudly.
The School has a busy year ahead. In addition to its academic programme, it is involved in a number of projects with various international partners. It will host four webinars in the course of the year in the build-up to its Machine Learning Summer School, which will be hosted in partnership with Praelexis in January 2023. In November 2022, the School will also offer a course in Italy on digital citizenship in partnership with KU Leuven (Belgium) and Waseda University (Japan). An internal partnership with SU International will see scholarships being made available for SU students to attend.
Moreover, work on an online open course on disruptive technologies for climate change – in partnership with universities in Europe and South Africa– will culminate in a summer school in February 2023. At the same time, the School is planning on establishing its own centres and research groups, which will work with academics at the School, in SU faculties and with external stakeholders to achieve their research objectives.
"We are lucky that our Rectorate is very forward-thinking," says Rajaratnam. "With the School, they provided us with a great opportunity to advance data science and computational thinking."