Silicon Valley-based venture capital fund and start-ups accelerator, 500 Start-upss, has announced its 14th batch of start-ups, which includes the South African home cleaning service, SweepSouth.
This is the first time a local company has been selected by 500 Start-upss, with only a handful of African companies being chosen to join the programme in the past. Of thousands of applicants for each batch, only 2% are successful, and the prestigious and effective 4-month accelerator programme also comes with $125,000 in funding.
In the last five years, 500 Start-upss, led by Silicon Valley veteran Dave McClure, has invested in 1000 companies and backed a number of well-known companies such as TaskRabbit, Twilio and Gyft.
Alen Ribic, SweepSouth's CTO who is currently working with 500 Start-upss' at their San Francisco offices says, "We are meeting some of the smartest people in the industry who understand and have experience in taking a company like SweepSouth from thousands of transactions a month to hundreds of thousands."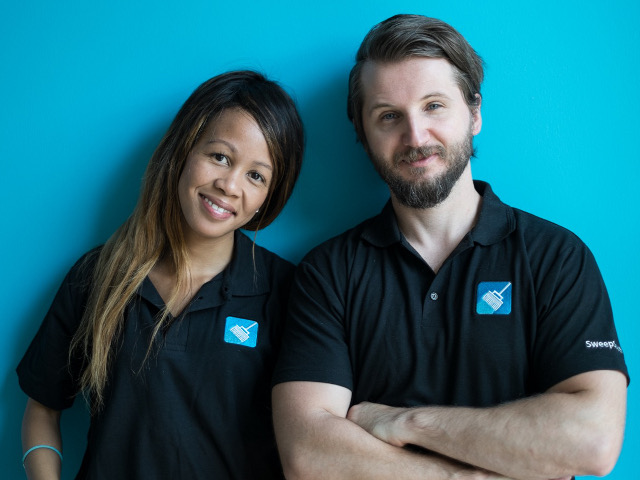 Left: Aisha Pandor, CEO of SweepSouth Right: Alen Ribic, CTO of SweepSouth
Launched in 2014, SweepSouth has created work opportunities for cleaners across the country, and has completed thousands of bookings in homes and offices in Cape Town, Johannesburg and Pretoria. The advanced matching and rating algorithm has been identified as playing a significant role in the company's success. It has experienced double digit growth since its launch and, with their inclusion in this accelerator programme; it doesn't look set to slow down.
Winners of the 2014 SiMODiSA Start-upsSA pitch awards, SweepSouth has attracted significant angel investment to date, lead by Vinny Lingham and Llew Claasen's Newtown Partners, with Pule Taukobong's Africa Angels Network (AAN) and Polo Leteka Radebe's Identity Development Fund (IDF).
"The focus of the next four months is clear – achieve exponential growth and present our achievements in front of some of the top investors and media houses in the world. Each week we are exposed to more impressive mentors and each week our, and their, expectations grow. It's exhilarating…in a terrifying way," agrees Aisha Pandor, CEO of SweepSouth.
Chairman of Silicon Cape, Dan Guasco says, "This is a momentous occasion in Africa's fast emerging tech ecosystem. While there have been a number of substantial exits to global companies like Visa, Garmin, Groupon Inc., Verisign, GE, First Data, and WPP there has been little recognition or support for early-stage start-upss. SweepSouth's acceptance into 500 Start-upss validates the quality and global recognition African start-ups are starting to receive and hopefully motivates more to follow. In the words of President Obama's recent speech in Kenya, 'It is indeed the young who must take the lead and there is no need to look overseas to realise your dreams.'"
"We hope that the experiences and international backing we have from the 500 Start-upss team and our local investors will set SweepSouth for a very prosperous future and help us further contribute to our country's economy," concludes Pandor
SweepSouth is currently actively recruiting software engineers, among other positions. If you're keen to join a #500Strong company, have a look at this https://sweepsouth.com/careers/.