Gus Silber believes that, thanks to the miracle of mobile technology, a queue is now a good excuse to lose yourself in the private universe of a screen. As long as your battery holds out, of course…
I got to the Licensing Office bright and early, or at least early, because I hadn't had a cup of coffee yet. I joined the raggle-taggle throng that was slowly mutating into a queue, in the manner of an amoeba dragging itself onto the shore. There was an hour to go before opening time, and we stood in front of the shuttered service window, gawping at the Prestiked checklist of requirements for a clearance certificate.
You needed 2x certified copies of your ID, 2x copies of your proof of residence, 2x copies of your registration papers, 2x copies of your Microdot certificate, 2X copies of your application form, and 2x copies of your Stolen-and-Recovered document from the Police. The only thing you didn't need 2x copies of, I was pleased to note, was yourself. Microdot? What's a Microdot? The friendly freelance licensing procedural adviser who had jogged alongside my vehicle as I drove in was only too happy oblige. He pointed at an Auto Fitment Centre across the road, and when I looked confused and exasperated, he offered to hop in and navigate. Fine, I said, but I'm driving.
I stood in another queue, signed and shuffled some papers, handed over R550 in cold hard cash, and watched as a man sprayed invisible dots of data at strategic points on my car. Back at the Licensing Office, the queue had grown orderly and winding and long, and I was at the back of it, grumbling. I was not alone.
We stand together when we stand in a queue, bound by the camaraderie of our contempt for the system, and our fear that when we get to the front, we will learn that we have left an important piece of paper behind, and will have to come back tomorrow. Then I noticed something about the queue. Almost everyone, myself included, was looking down. Not out of dejection, but out of redemption. We were tapping and swiping and scrolling and thumbing, lost in our own little universes, the private real-estate of our screens.
Some people argue that this is not a good thing, that it puts barriers between us and cuts us off from the flow of interpersonal communication. But I say to those people, sorry, I can't talk to you right now, because I am busy reading a book on my phone. I am busy turning the empty hours of waiting into hours filled with learning and enlightenment, or even better, mindless entertainment.
Yes, I can watch a movie on my phone, and when I get tired of that, I can tweet that I am standing in a queue at the Licensing Office, and then I can take a picture and post it on Instagram as proof. I can reply to an email, send a WhatsApp, leave a comment on somebody's blog. If that isn't interpersonal communication, what is?
The smartphone compresses time. It accelerates its particles and renders it meaningless, to the point where, after seconds or hours or aeons have flitted by, you need to be jolted back into the moment by a tap on the window and a gruff voice demanding, "Papers!"
And still, as my papers are stamped and stapled and collated, and I am directed to wait in another queue for my vehicle to be inspected and my certificate to be issued, I can't help sneaking a glance at my time-travel device, grateful once again to be living in age when technology holds us in its thrall as we hold it in our hands.
And then, of course, my battery-meter turns red, and I am left holding a glossy black slab that has as much utility as a paperweight. Don't you hate it when that happens? Join the queue.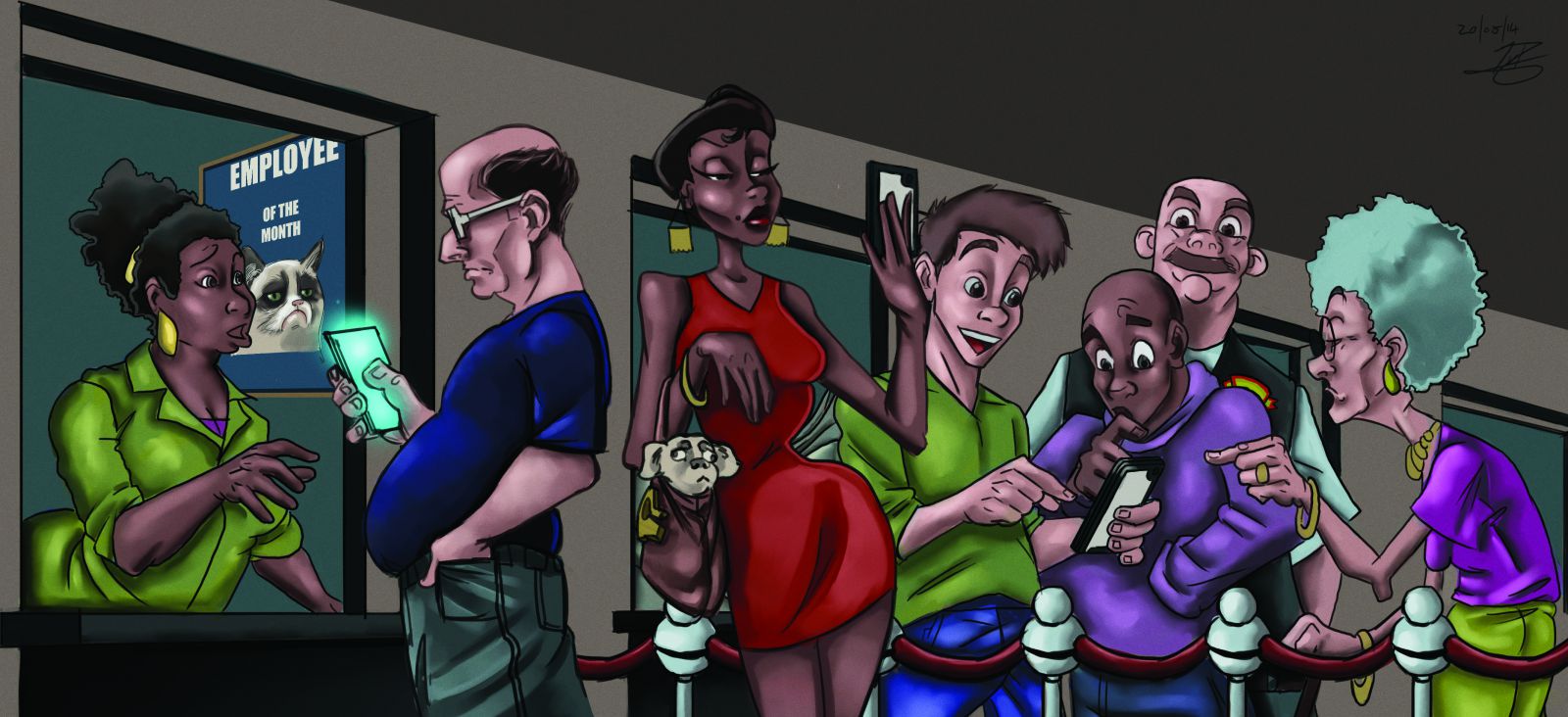 Article by Gus Silber.
Artwork by Thinus van Rooyen.
Article first appeared in TechSmart Business, May/June 2014 to be found here.