Mobvoi is excited to announce that the TicWatch Pro 3 GPS and TicWatch GTH

smartwatch

es are now available in South Africa. The premium Pro 3 GPS is the first Wear OS by Google™

smartwatch

to use the Qualcomm® Snapdragon Wear™ 4100 platform, while the GTH is a health expert on your wrist - with powerful sensors to help you reach optimal health.
TicWatch Pro 3 GPS
By using the latest Qualcomm® Snapdragon Wear™ 4100 Platform, the TicWatch Pro 3 GPS promises a higher and faster performance while simultaneously conserving battery life. It offers improved performance for the CPU, memory, GPU and battery life. The watch features super-long battery life to keep you going every step of the way - up to 3 days or 72 hours in Smart Mode and up to 45 days in Essential Mode.
Mobvoi's Dual Display technology layers a low power consuming screen over a brilliant Retina AMOLED display, enabling battery conservation through the toggling between Smart Mode and Essential Mode.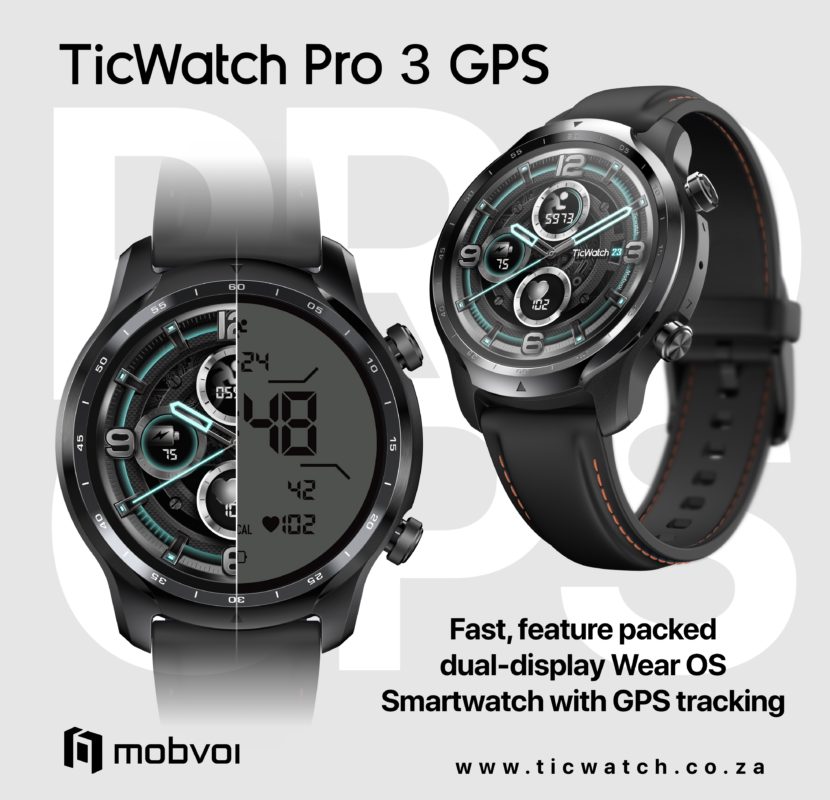 - TicZen monitors stress by analysing your Heart rate variability (HRV) data and using TicBreathe to bring your stress level back to normal.
- TicBreathe monitors your heart rate, stress changes and helps you to relax through breathing training sessions.
- TicHearing measures environmental noise between 30dB to 120 dB and alerts you of potential damage to your hearing organs and nervous system.
- TicHeath is one place for all performance metrics and gives you a high-level breakdown of everything you need, including high-intensity training, breathing, sleep, stress, steps, distance, calories, etc.
- TicSleep: automatically track your sleep. This is now supported in Essential Mode to save battery life at night and the watch face doesn't light up in the night so you are not disturbed.
- TicPulse provides accurate heart rate monitoring. Infrared light detection is used while sleeping to avoid disturbing your rest.
- IP68 rating (can withstand dust, dirt, sand and water) and it is suitable for swimming in pools.
- TicMotion proactive motion tracking.
- Custom watch face: pick from hundreds of faces in the Mobvoi App and thousands from the Google Play Store or upload a picture to the Mobvoi app and set it as your watch face.
- Download your favourite apps on the go with Google Play™ on your

smartwatch

and use them right from your wrist.
TicWatch GTH
The TicWatch GTH is a health expert on your wrist, with powerful sensors to help you reach optimal health. These sensors continuously monitor your skin temperature, blood oxygen (SpO2) levels, heart rate, respiration rate, and even your sleep quality. Advanced fitness tracking also helps you keep track of your progress and show all that you've accomplished on a brilliant 1.55'' high-resolution colour display. Swim, bike and run all week long with up to 10 days of battery.
Take health to the next level by continuously tracking your wrist skin temperature 24 hours a day. Your temperature is a core indicator as to your overall health. TicWatch GTH's sensor measures directly from your wrist and notifies you of any potential concerns. With TicWatch GTH monitoring your temperature all day and night, it can alert you when health issues arise, allowing you to act quickly.
With up to ± 0.1°C measurement accuracy (statistics were collected in a laboratory under controlled conditions by Mobvoi), the temperature sensor allows you to take on-demand readings within just a few seconds.
Intelligently monitor your blood oxygen levels (for fitness and wellness purposes) with built-in sensors 24/7 and easily access and view trends over time. The SpO2 sensor detects your oxygen saturation level by shining an array of LED lights into the blood vessels in your wrist.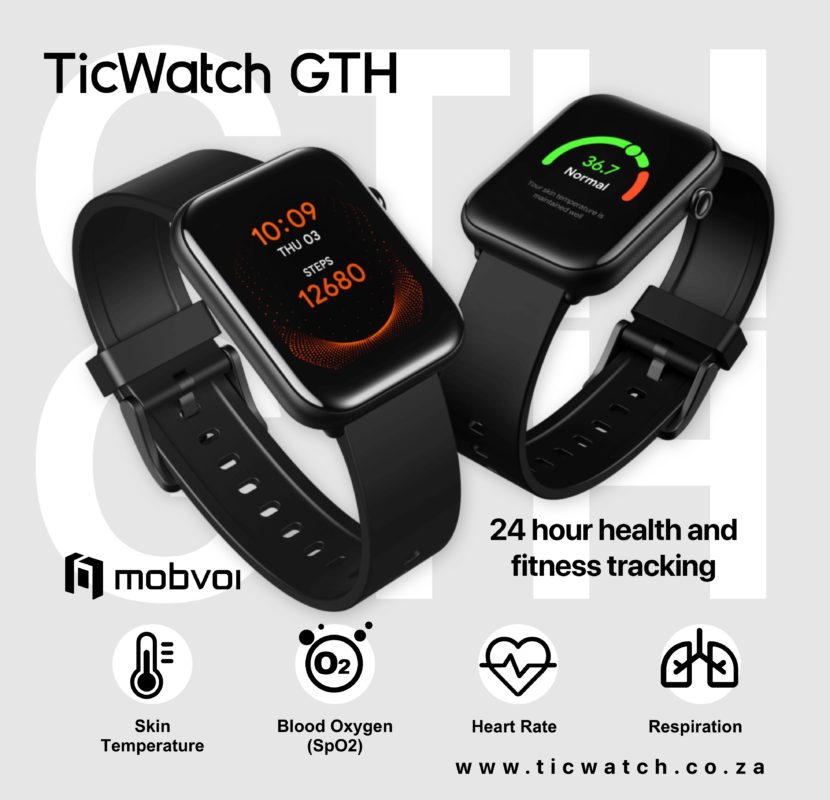 - Follow your heart with 24 hour heart rate monitoring. Get detailed visualisations of your heart health in real-time.
- TicZen turns your heart rate variability data into insights about your stress level throughout the day.
- TicSleep tracks your light and deep sleep cycles, the duration and quality of your sleep. Wake up each day with a sleep quality rating based on last night's sleep routine.
- With a 5ATM water-resistance rating, TicWatch GTH can go with you wherever you travel. Wash your hands, play in the snow or go for a swim without fear of water damage.
- With up to 10 days of use from a single battery charge, you're free to wander far from home without your charger.
- Get smarter with notifications on your wrist. Stay connected to your incoming calls, text messages, social network updates, and much more.
- The pleasing curved glass screen of the TicWatch GTH blends seamlessly with its sleek metal body and you can customise the watch with your own photos.
- TicWatch GTH and Pro 3 GPS can be used with Android and iOS phones as functions are synced through the Mobvoi App. Health and activity tracking can be synced to Google Fit, Strava, Runkeeper and Apple Health. Selected health information can be shared for remote monitoring and analysis.
The watches will be available from Vodacom on 7 July (TicWatch GTH) and 8 Aug 2021 (TicWatch Pro 3 GPS). The watches can also currently be purchased through Takealot or Agent Zero.
TicWatches are renowned for their high-quality and ultra-performance. Their cutting-edge designs have won prestigious awards, including iF Design awards, a Red Dot Design award and a Good Design award. The core focus of Mobvoi, TicWatch's holding company, has been on voice AI interaction and hardware-software integration, providing B2B and B2C AI products and services to more than 40 countries and regions.
Mobvoi's aim is to define the next generation of human-machine interaction, creating a more natural and intuitive way for people to interact with machines. Mobvoi's close strategic partnership with Google as well as its joint-venture with Volkswagen Group China place it at the forefront of solving many real-world problems with voice-based AI. https://www.mobvoi.com