Hellocomputer has announced the winners of this weekend's Break.Make.Create.hackathon (#BreakMakeCreate15) held in Johannesburg over the weekend.
They are 'Guptas in Binary', a team from mostly from Hellocomputer comprising Werner Bihl, Zia Dee, Matlhaloganyo Khalo, John Mthembu, Coco Lupo, Ndumiso Mcube. 'Guptas in Binary' won R10 000 for a simple and intuitive time tracking solution called Sidekick.
Taking home R5 000 each were the runner-up teams of 'Red Hot Techie Peppers' with Project Angle, and 'Deez Nuts' with a boss approach warning system.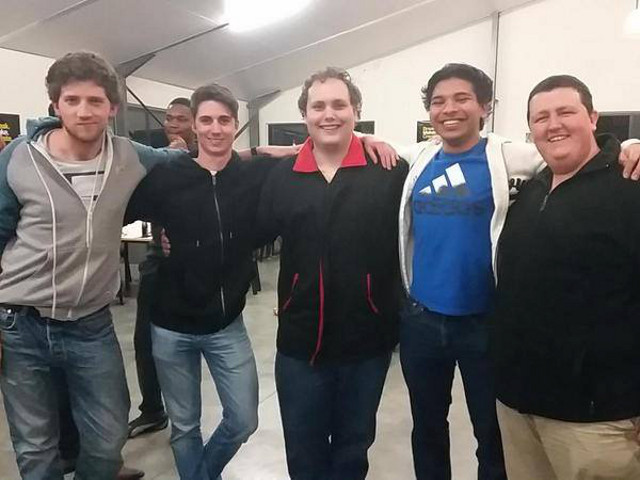 2nd Place - Red Hot Techie Peppers
'Red Hot Techie Peppers' comprised Ross Guy, Wald Bezuidenhout, Waseem Nabi, Wade Smith, Kyle Welsh, students at either University of Johannesburg or University of Pretoria, while Deez Nuts comprised John Willis, Matthew Hart, Simon Fabricius, Duncan Bell from Hellocomputer.
Break.Make.Create. is the brainchild of digital and interactive agency Hellocomputer, and is intended to not only improve the skill set of the marketing industry, but to give all creative, technical minded and innovative thinkers the chance to tinker, craft and play.
The inaugural hackathon took place last year in the Mother City, where 13 teams came together to battle it out and win R10 000 in a hack themed 'Hack for Music'. This year, #BreakMakeCreate moved to Johannesburg and, in keeping with its reputation as the City of Industry, the theme was 'Nine to Five', encouraging participants to hack the daily grind.
The 'Guptas in Binary' time tracking solution – 'Sidekick' – works by associating colours to projects, and then automatically tracking time when you leave your phone on your desk on a specific color. No buttons, no interface, just a very simple time tracking solution. At the end of the day, it combines and syncs the day's timesheet to the company's internal time tracking system.
'Red Hot Techie Peppers' made use of technologies such as AngularJS, GoLang, Python, Django, C#, C, Web Sockets, Android, Microsoft Kinect, NFC and Arduino to build 'Project Angle', a dashboard that pulls together the most-utilised 'applications' or systems a person accesses during a day's work such as calendar events, text messages and generic business information. This dashboard also enables the user to control the air conditioning in the office – before he or she gets there – and using the Microsoft Kinect 2.0 added remote control functionality to the office door. For example, imagine people making a noise outside your office when your door is open. Just put up your hand and clasp your fist and the door shuts.
'Deez Nuts' created the Boss Approach Warning System, or BAWS, a networked system of secret signals set up on desks and disguised as every day desk items. When an approaching boss is detected by any one of the employees, they trigger the signal. This sets off different alarms on each desk, giving you that extra time so you don't get caught slacking. As an extra fail-safe the system also hides whatever non-work activity you are doing on your computer and opens an Excel document.
"#BreakMakeCreate 2014 in Cape Town was the first of Hellocomputer's hacks open to the broader industry and public," said Hellocomputer ECD, Mark Tomlinson.
"It was a huge success with the teams interpreting the 'Hack for Music' theme to come up with ideas such as musical chairs with a twist, musical shoes and Lego-inspired DJ set. 'Nine to Five' was a similarly successful theme, with several of the ideas having true commercial application.
"I look forward to seeing those taken forward, refined and coming to market."
#BreakMakeCreate15 Hackathon took place over two days (September 4 and 5) at the Digital Innovation Zone in Braamfontein, the tech and innovation hub of Johannesburg. It was limited to 10 teams competing for a first place prize of R10 000 while the runners-up would receive R5 000.
Videos and photographs can be viewed on https://www.facebook.com/BreakMakeCreate and https://instagram.com/breakmakecreate/.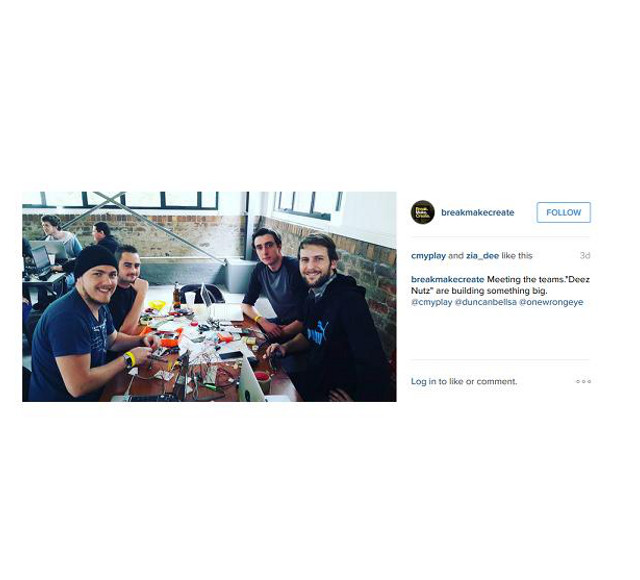 3rd Place - Deez Nuts