Hot hatchbacks come in two personas - those that flaunt their sportiness in your face and those who downplay it with an understated design. The QV falls under the former, and employs some Irish luck (plus a rocker switch) to exaggerate its driving appeal.
When staring at the Mito 1.4 QV Sport, you would not think it was anything but a garden variety Mito hatchback, since its underplayed styling provides few hints of its sporty nature. You do receive some stunning alloy wheels, a splash of carbon fibre on the dashboard, and a strange sight on an Italian car - Irish Cloverleaf badges on the sides.
These coincide with the green stitching on the leather covered steering wheel, handbrake, as well as the seats, and is actually the biggest tip-off for the Alfisti (Alfa Romeo enthusiasts) that this is not an ordinary Mito. Why? Well, because QV in the car's name stands for Quadrifoglio Verde, Italian for Cloverleaf - Alfa's equivalent of VW's GTI badge or Ford's ST moniker.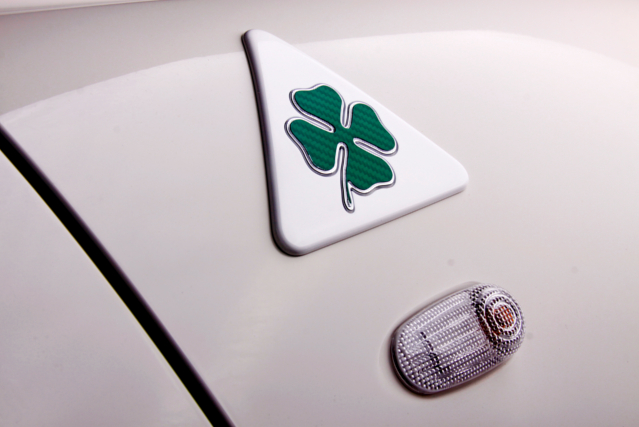 The most obvious hint that this is not your run-of-the-mill Mito is the Cloverleaf badge above the side indicator.
The DNA of a true hot hatch
Beneath the finely sculpted Italian bonnet, lives a 1.4 litre turbocharged engine that is mated to a far too uncommon sight in our test cars these days - a 6-speed manual transmission. This powerplant churns out 125 kW and up to 250 Nm of wheel-spinning torque, which is enough to rocket this Mito to 100 km/h from standstill in a brisk 7.5 seconds. The top speed of the QV is a see-you-in-jail 219 km/h.
Next to the gear lever resides a rather gimmicky DNA rocker switch to select the dynamic driving mode. In this setting, the drivetrain delivers 250 Nm of torque rather than the 230 Nm available in the other driving modes (normal and all-weather).
In normal and all-weather mode, the Mito puts a muzzle on the gem of an engine, and delivers a muted exhaust note and little to no performance zing whatsoever. Average fuel consumption dips to around 8.7 litres per 100 km though, but, for a sportier vehicle driving in these modes are simply too boring.
Luckily, a Jekyll and Mr Hyde transformation occurs when you put the car in dynamic mode, since the lively powerplant sparks into its own. You get a titillating exhaust note, more torque, quicker power delivery, and the shift-up gear prompts below the rev counter and speedometer take longer, allowing you to let the rev counter reach the redline.
All this prompted us to scratch our heads, pondering the question as to the point of the DNA switch. Phrased differently: Why would you ever not want to have the car in dynamic mode?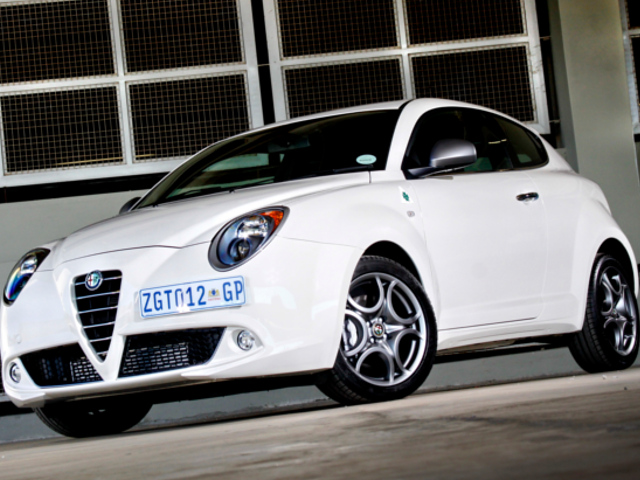 The unassuming styling might not give away too many hints as to the sporty nature of this car, but the eyecatching vehicle still managed to draw its fair share of admiring glances from onlookers and passersby.
Compact car, big fuel drinker
The answer came to us, when looking at the combined-cycle (town and highway driving) fuel economy, which is a claimed 6 liters per 100 km. As always we found that the reality does differ from the manufacturer's theoretical figures (especially true within sportier cars), as we managed an average of 9.6 litres per 100 km. This disparity can be attributed to our affinity for the dynamic driving mode; blasting the aircon in SA's summer heat; and keeping the pleasure pedal floored to get the most out of the little engine that could.
Another point to take note of is that this car has lots of head and legroom upfront, but like most coupés is a bit too cramped in the back to comfortably fit three adults. As with other pocket-rockets, the suspension has been tuned to deliver the best levels of grip and agility as opposed to providing the occupants with a wafty magic carpet ride. Due to this, the ride in the Mito is not as extended road-trip friendly as a Polo GTI for instance.
Check the tech
Like Ferrari and Maserati, Alfa Romeo is owned by Fiat, and thus comes equipped with some of Fiat's tech including the Microsoft co-developed Blue&Me in-vehicle infotainment system.
Blue&Me enables drivers to pair their smartphone and use voice commands and steering-wheel mounted buttons to access features the likes of making- or answering incoming calls. It works quite well, but unfortunately doesn't offer Bluetooth audio streaming.
Instead, users get a auxiliary jack and can load all of their favourite tracks onto a USB memory stick and plug this into the provided port.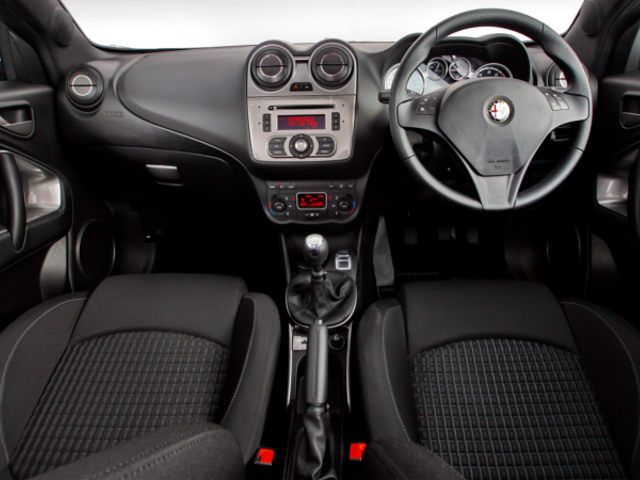 The driver focussed cabin is certainly not the most elegant or feature-rich in its class, but functional, comfortable and well-screwed together none-the-less.
Price of admission
Alfa's Mito 1.4 QV Sport might be down on power compared to most of its rivals, but makes up for it in its headturning design appeal, despite being very understated. When driving the car in dynamic mode it's also no less entertaining than the competition on the limit.
It goes for a recommended retail price of R314 990 which sounds pricey and is, considering buyers can get a Ford Fiesta 1.6 EcoBoost ST (R259 900) and VW Polo GTI for less (R289 600). At least Alfa undercut the price of the less common Fiat Abarth 695 Tributo Ferrari (R550 000) by a country mile, despite the Abarth offering similar performance in a less practical, but more eye-catching package.
Understated design is quite fetching; in dynamic mode it drives like a real pocket rocket should; hands-free Bluetooth telephony offered; and USB slot for playing a plethora of MP3 tracks off of.
Not the most affordable car on the hothatch block; in every other mode besides dynamic, the driving experience is somewhat boring; not the most fuel efficient hothatch either; and Bluetooth audio streaming not offered.