Ferrari and their Italian owner Fiat put their heads together to come up with the limited edition Abarth 695 Tributo Ferrari. Is it a stepping stone to a Ferrari or just an expensive, enjoyable pocket-rocket?
The Abarth 695 has the distinct honour of being the most gawked at vehicle we have ever tested, as petrol pump attendants enquire about "the Ferrari", and passers-by point and snap photos wherever we drove.
Fiat enhanced the head-turning appeal of the standard 500 with, amongst others, a pair of Sabelt racing bucket seats; Racing Grey Ferrari-inspired 17" alloy wheels that are fitted with performance tires, lots of carbon fibre inlays, and a custom Scuderia Red or Modena Yellow (as seen on our test car) body paint. There are also a flurry of Abarth and Ferrari decals that add another 100 kW of power, even if it's just psychological.
Puts a smile on the enthusiasts face
Backing up the Abarth 695's sporty design is a 1368 cc turbocharged four cylinder powerplant that cranks out 132 kW and 250 Nm. This is especially impressive, considering that this Abarth only tips the scales at 1145 kg.
This power equates to a 0-100 km/h acceleration time of less than 7 seconds and an illegal top speed of 225 km/h. Beyond its brisk pace, the driving experience is further enhanced by the sound emanating from the exhausts which definitely encourages one to keep the loud pedal floored. There's a delectable gurgle while the engine is idling. When travelling at speed though the sound transforms into a high-revving shriek that is accompanied by crackle noises when gearing up.
What is less enjoyable though is the automatic transmission which is prone to jump the gear changing gun. When you are driving around town, the fact that the car changes gear rather quickly (around 3000 RPM) is not such a big issue, except when you want to overtake or whilst you are driving up a steep incline.
Drivers can mitigate this somewhat by pressing the Sports button, which allows the engine to rev for longer above second gear (changes at around 6000 RPM) and also stiffens up the steering feel. Alternatively, you can change gear yourself by pressing the A/M button and using the paddleshifters behind the steering wheel for a more involved drive.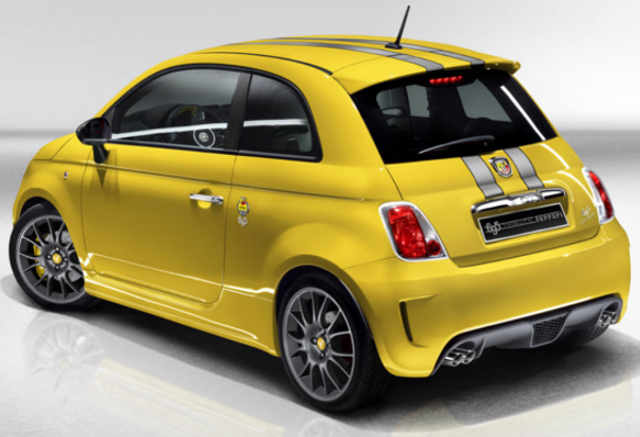 Head-turning styling and attention-grabbing exhaust symphonics meet in the Fiat Abarth 695 Tributo Ferrari.
Living with a hot hatch
Fiat claim that the Tributo Ferrari will deliver a combined-cycle (town and highway driving) average of 6.5 litres per 100 km. We think that this is highly optimistic seeing that we averaged 11.3 litres per 100 km during the first half of our brief week-long test period.
This is probably down to the fact that we kept the sport button on permanently and changed gears manually. Allowing the car to change gears automatically and pretending that there is no said sports switch brought the fuel usage down to 10.2 litres per 100 km, which is still much more than the claimed figures.
Also worth a note is that the sporty suspension of this Fiat is quite firm, which we found to be fine most of the time, but can shake your fillings loose on the bumpy, pothole-filled roads. Equally sporty are the Brembo brakes which is particularly adept at knocking you back into those bucket seats.
Check the tech
The Tributo Ferrari comes equipped with Fiat's Blue&Me in-vehicle infotainment system, which is very similar to Ford's Sync. This is not surprising since both systems were co-designed by Microsoft and boast advanced voice-recognition functionality (supports UK English only).
You pair your smartphone with the Blue&Me system by turning on Bluetooth, scanning for devices and typing in the password provided on the car's central info display, located inside the instrument cluster. This will enable you to copy your smartphone's contacts to the system.
Once done, Drivers can use voice commands and steering-wheel mounted buttons to access functions such as making- or answering incoming calls, or having the SMS you just received read back to you. Unfortunately, Bluetooth audio streaming is not available, but you do get a auxiliary jack and USB port from which users can load all their favourite tracks in many different formats such as MP3, WAV, AAC, and WMA. The USB port can also charge your device if you have the appropriate cable, which is handy if you are using Google Maps on your smartphone to get about.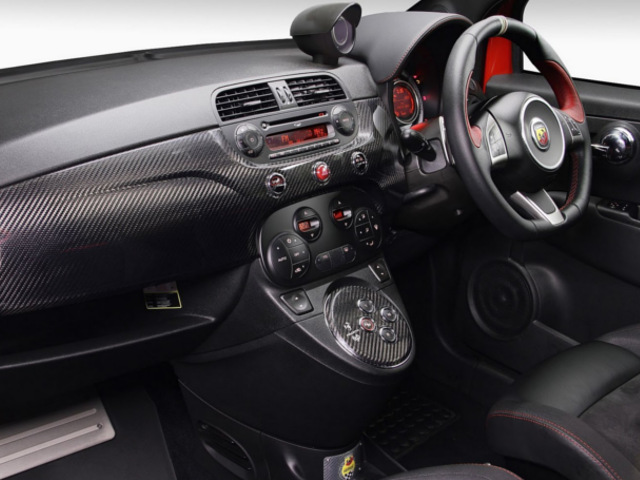 The interior is as flashy as the exterior, whilst remaining practically laid out and roomy enough up front but a bit of a squeeze for rear occupants.
To the point
Fiat's Abarth 695 Tributo Ferrari doesn't feel nearly as special as a Ferrari, but does make for a much more affordable tribute to the Italian supercar maker. Its design will get you noticed wherever you go, while the engine symphonics should put a smile on your face. Also part of the package is some sporty handling and brisk performance. We just wished that Bluetooth audio streaming and better fuel economy was also offered by this little hot hatch.
It goes for a recommended retail price of R550 000, which is very expensive, seeing that that amount you can pick up much quicker alternatives. These include the BMW M135i (235 kW; 450 Nm of torque) at less than R500 000, and the Mercedes Benz A45 AMG (265 kW; 450 Nm) for R600 000.
Looks great, sounds awesome, handles well, and boasts plenty of features.
Expensive, and not the most fuel efficient hot hatch around.