Jeep's Patriot is aimed at outdoorsy drivers who prioritises off road performance and rugged looks over on-road comfort and crossover aesthetic.
Whilst Jeep likes to use the word "classic" as a description for the styling of the Patriot, boxy would serve as a better adjective for the design of this utilitarian SUV (sports utility vehicle). Unlike the Jeep favoured by metrosexuals, the Compass, the rugged Patriot actually looks capable of reaching the top of a mountain, even though it shares the same platform and mechanicals as the Compass. Still the Jeep boasts a good ground clearance (205 mm) level plus full-time four-wheel drive (4WD), which makes it more capable compared to the run-of-the-mill crossover.
On the inside the old-school theme is continued, with the practical and spacious interior feeling a bit dated when compared to rivals like the Hyundai iX35. You do get a lot of features though, including electronically adjustable leather seats and a Uconnect 235 audio system that sports a 6CD/DVD/MP3 changer.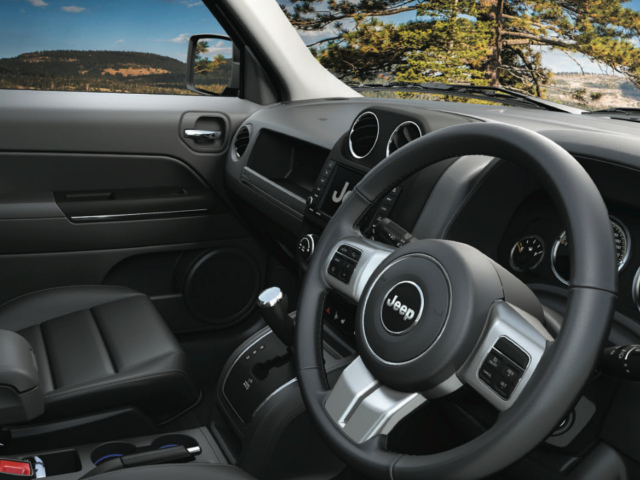 The spacious cabin features plenty of kit including a DVD (plays audio files only) changer that takes six DVDs, MP3 disks, or audio CDs.
Lazy Sunday cruiser
Under the bonnet of the Patriot resides a 2.4 litre four-cylinder petrol engine that delivers 125 kW at 6000 RPM and 220 Nm of torque at 4 500 RPM. This powerplant is mated to a 6-speed automatic Powertech transmission, which ensures that the car unhurriedly wafts about town and on the highway.
If you are craving a more involving driving experience or simply want to put some extra skip in the sedate pace provided by the auto, then you can manually push the gear lever either right (to shift up) or left (to shift down) whilst it is in drive. Just be aware that the car won't go back into auto mode if you stop changing gears.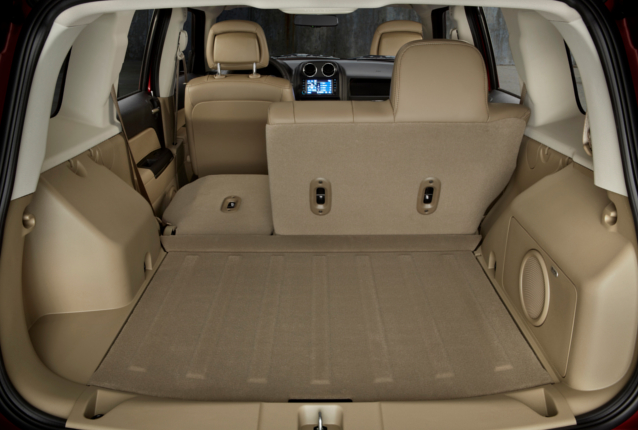 Heading to the coast this holiday? The Patriot has lost of luggage space, especially if you fold down the rear bench seats.
Calling all patriotic Jeep fans
If the most extreme form of off-roading you are likely to encounter are dirt roads, or you were a fan of the original Jeep Cherokee, then the Patriot is right up your alley. It costs R328 990, making the Patriot a tough sell against competitors the likes of the Hyundai iX35 2.0 Executive Automatic (R339 900), Toyota's RAV4 2.0 CVT GX (R300 300), and Ford's Kuga Ambiente (R303 300).
Old school design appeal; can venture further off the beaten track compared to most SUV/Crossover rivals; spacious interior; and well equipped.
Not the most fun SUV in its class to drive; and not the most affordable SUV in its class either.