BMW's 3 series is the best selling executive compact saloon in South Africa, with the polished 330d being the top of the range diesel option. We barely had to get out the parking lot to be impressed.
Under the precision sculpted bonnet of the German saloon resides a 2993 cc turbocharged V6 that efficiently churns out a buttery smooth 190 kw of power and enough torque (560 Nm) to transform Table Mountain into Table Molehill. Unlike the twin-turbo petrol-powered 335i, peak power is delivered at just 4000 RPM (compared to 5800 RPM on the 335i), whilst peak torque is obtained within a narrow rev range between 2000 and 2750 RPM (compared to between 1200 and 5000 RPM in the 335i). Unfortunately this means that when you floor the accelerator, you do not get a pulse raising high pitched engine soundtrack of the 335i, but a steady, unhurried drone of the diesel powerplant.
Power is sent to the rear wheels via a smooth as silk eight speed automatic transmission. Drivers can change gears manually via the pedals on the M Sport steering wheel or by flicking the gear lever to the left and then pulling it towards you to change up or pushing it up to change down. Both of these methods work wonderfully and allows for a slightly more engaging driving experience than a plain automatic.
Performance and fuel efficiency
Thanks to the grunt from beneath the hood and the slick gearbox, the 330d brings up 100 km/h on the speedo in just 5.6 seconds, and is able to reach an illegal top end of 250 km/h. The cabin is so well insulated against road- and environmental noise that it's really hard to tell how fast you are going, without looking on the windscreen in front of you. You do this not to check how quickly the landscape passes by, but to view your current speed on the HUD (head-up display). This figure is projected onto the windscreen directly in your field of vision.
We achieved a decent average fuel consumption figure of 8.6 litres per 100 km over the duration of our week-long test period. The fuel usage figure only ever dropped below 6 litres per 100 km whilst driving around in Eco Pro. Unlike driving in the other modes, the 330d does not take off like a bat out of hell and its acceleration goes from the sportscar pace of Usain Bolt to the unhurried sprint of a youthful Bruce Fordyce, consequently making it a little too boring for our liking.
Besides Eco Pro, you can also select Comfort mode for a smooth cruise around town and on the highway, and our driving drug of choice - Sport mode - which stiffens up the suspension, sharpens the throttle and steering response, and puts a huge smile on any driving enthusiast's face.
BMW claims that the powerplant is able to deliver a combined-cycle fuel consumption figure of 4.9 litres per 100 km, but we were never destined for such impressive figures thanks to our affinity of the Sport mode and keeping the rev counter dial north of 4000 RPM.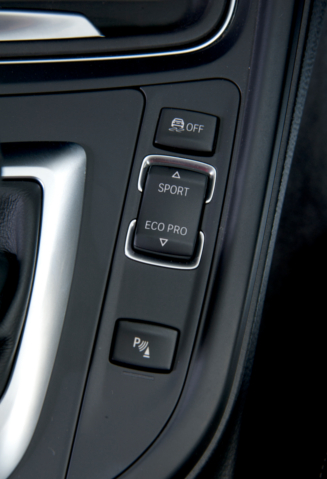 Pick a mode to suit your driving mood: The drive mode button enables you to switch between Sport, Comfort (default), and Eco Pro driving modes.
M stands for Must-have options
Our test vehicle was kitted out with BMW's M Sport package which includes a plethora of extras, such as M Sport suspension that has been lowered by ten millimetres with stiffer springs, damper settings and harder stabilisers. Also onboard the M is a special aerodynamics package with numerous body components, chromium exhaust pipe finishers, and M 19" Sport light-alloy wheels, culminating in an overall stylish package that nabs plenty of envious glares if our rearview mirror was anything to go by.
Beyond the M Sport package, our 330d also packed virtually every conceivable feature on the options list. These include a Harman Kardon surround sound system, Bluetooth audio streaming and hands-free calling, BMW turn-by-turn voice-guided satellite navigation system, rearview parking and reverse camera, and parking assist system with front and rear proximity sensors. All of the sensors and cameras combine to turn even the most difficult of parking manoeuvres into child's play. The rearview camera is handy for checking traffic or passers by directly behind you, whilst the top view delivers a 270° bird's eye view of your surroundings - useful for checking whether you parked nicely in between the lines.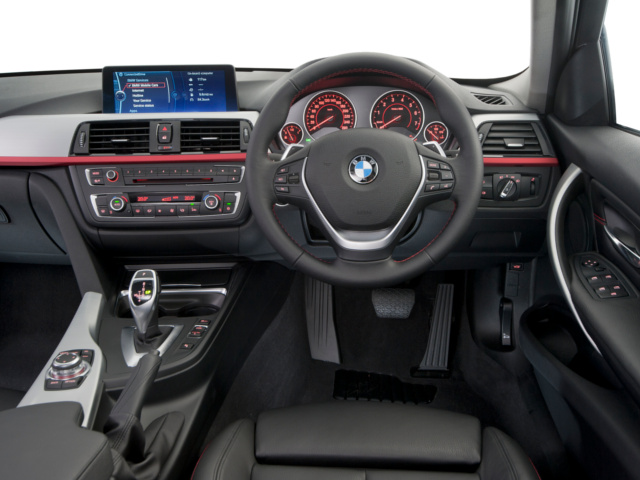 The interior cabin of the 330d is very spacious, with a driver centric control scheme that caters to every need a tech savvy driver could possibly have.
To the point
Money might not buy you happiness, but for R511 000 buyers do get sheer driving pleasure from being in the driving seat of the 330d. That unfortunately is the base price - as tested here with the M Sport package and extra options, our review model puts a crater-sized hole in your bank balance thanks to its RRP of R735 970.
In all we can say is that the 330d Steptronic M Sport provides you with M3-like looks, sportscar performance, plus every conceivable creature comfort you will ever want or need. The only chink in its appeal armour is the fact that we missed the auditory stimulation that comes standard with its petrol equivalent, the 335i.
Pros:
Looks fast.
Is fast.
A plethora of connectivity and safety features.
Different driving modes to suit your mood/driving style.
Most aspirational car badges in South Africa.
Cons:
Like Apple's products, this Beemer ain't cheap.
Diesel engine soundtrack not as orally stimulating as petrol one.
Looks fast; is fast; a plethora of connectivity and safety features; different driving modes to suit your mood/driving style; most aspirational car badges in South Africa.
Like Apple's products, this Beemer ain't cheap; and diesel engine soundtrack not as orally stimulating as petrol one.