The philosophy behind Olympus' PEN range is easy – create a compact size camera with DSLR type performance and an interchangeable lens system.
With their latest, the 13 megapixel E-PL1, they've gone and made the system less expensive while also making it easier to use with for example their Live Guide that takes the complexities out of photography. More crucially Olympus also includes a pop-up flash that was severely missed on previous models and not even included on the pricier E-P2.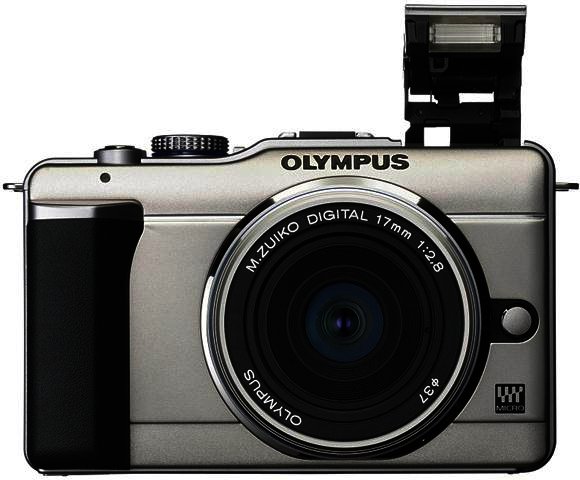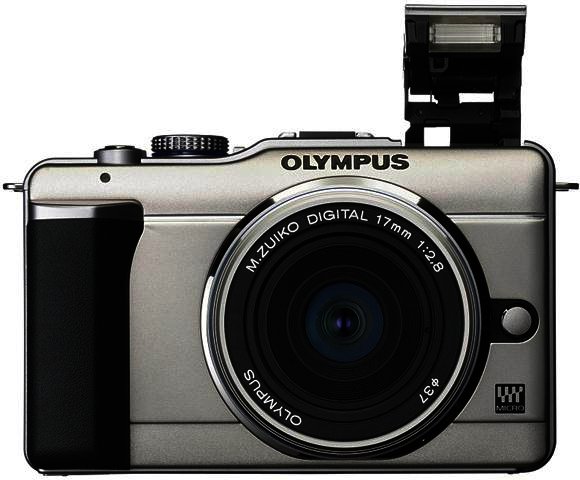 Size
In regards to size the E-PL1 is almost the same size as ultra zoom compact cameras such as Sony's Cyber-shot HX1. The lens is able to retract (and locked) to a more manageable size, and although not as easy to pop in your pocket like as compact camera it is less bulkier than SLR cameras and a valid purchase if you are pressed for size and weight.
Sensor size
Due to its relatively small size, comparisons between the E-PL1 and high performance compact cameras such as
Canon's G11
is inevitable. Although the G11 is much more manageable in terms of size and we feel more of a photography tool than the PL1, the larger image sensor of the Olympus is a massive benefit.
Olympus includes the same sensor found on their DSLR models such as the E-30 and E-62. This clearly shows in picture quality and there's no doubt that the Olympus' results are on par with any entry-level DSLR, and ultimately better than what the G11 can offer.
Interchangeable lenses
The PL1's 14-42 mm lens also allows much more agile movement than the zooms found on compacts. Although the lens is sufficiently wide, it does not really leave much room for zoom. Luckily the Micro Four Thirds mount system allows you to swop lenses, another big benefit this relative smallish camera has over its compact cousins. The amount of lenses available though is far less than those that can be found on DSLR systems – a factor to consider when choosing between the PEN and a DSLR.
Design
An aspect we feel that Olympus could have paid more attention to was design. The E-PL1's design in general looks too plasticy, and although hefty in hand, it simply didn't feel like a trusty photography tool (its more expensive bigger brother, the PL2 has a more studier aluminium chassis). A control ring, which makes aperture or speed change so much easier, is also sorely missed.
What we did enjoy is the ability to reprogram the buttons on the back, for for example changing the function of the video record button to rather deal with quick zoom-in that helps with focusing.
No optical viewinder
When it comes to focusing another major flaw to the PEN is revealed. There is no optical viewfinder present, meaning all the focusing is done on the 2.7" LCD screen. The screen has a pixel count of only 230 000 pixels (compared to the
Canon S9
0's much denser 461,000 across a 3" space) which makes exact manual focusing on it rather difficult (although a zoom-in tool is available). Although an optical viewfinder is preferable, a higher pixel count would have made focusing easier.
The problem is exacerbated by bad screen performance in sunlight and the fact that due to the DSLR feel of the camera you immediately want to move your eye to the non-existing viewfinder. If you move from a compact camera to this model, the transition might be smoother than if you're already a DSLR user.
Easy for beginners
Olympus has definitely tried to make the camera as easy to use as possible, with the Live View functionality a testament to this. Instead of having to deal with speed and aperture the easy accessible Live Guide allows you to choose if you want more brightness or less, if you want your background in focus or not, or if you want slightly more image blur amongst others.
It also includes shooting tips that guides you to shooting for example flowers, food or pets, while also providing general framing guide-lines.
Going arty
Apart from Live Guide the PEN also includes some shooting functionality usually found on compact cameras but omitted from DSLRs. These include a number of artistic filters, some more useful than others. We found the grainy filter and pin hole effect interesting, but the Olympus' Diorama tilt-shift effect is a lot less impressive than the one found on Canon's latest range of compacts.
The fact that a number of these make live viewing of your subject very difficult (the screen starts lagging since processing is done onboard) didn't help much. Like most compact cameras these days we were impressed the iAuto setting that detects the best settings for your shot, without you having to lift a finger.
Video recording
Olympus also includes 720p video recording (1280 x 720, 30 fps in 16:9 aspect ratio) on the Olympus, making it dead easy to start recording by including a quick-press record button at the back. Video quality was impressive plus the art filters can be applied while recording video too.
Conclusion
Olympus' PEN E-PL1 retails for under R8000, which should put its relatively compact body with regular DSLR sensor size and interchangeable lens system in reach of a wider audience.
Although it impresses us with good quality pictures and easy to use 720p video recording, we would have liked to have seen a sturdier chassis and control ring. The 230 000 2.7" screen made manual focusing difficult while its lack of optical viewfinder might frustrate current DSLR users.
That said Olympus has created a great camera for entry-level users who don't want to struggle with DSLR complexities. It retails for about R79999, for more info about suppliers contact TUDOR on 011-803-2226.
Flash included this time, compact size, easy to use guides for beginners.
Chassis has plastic feel, control ring would have made controls easier, too few pixels on LCD screen.